"Jonathan Kuminga Needs To Add This to His Game Consistently!": Stephen Curry and Others Praise Sophomore for Performance Against Grizzlies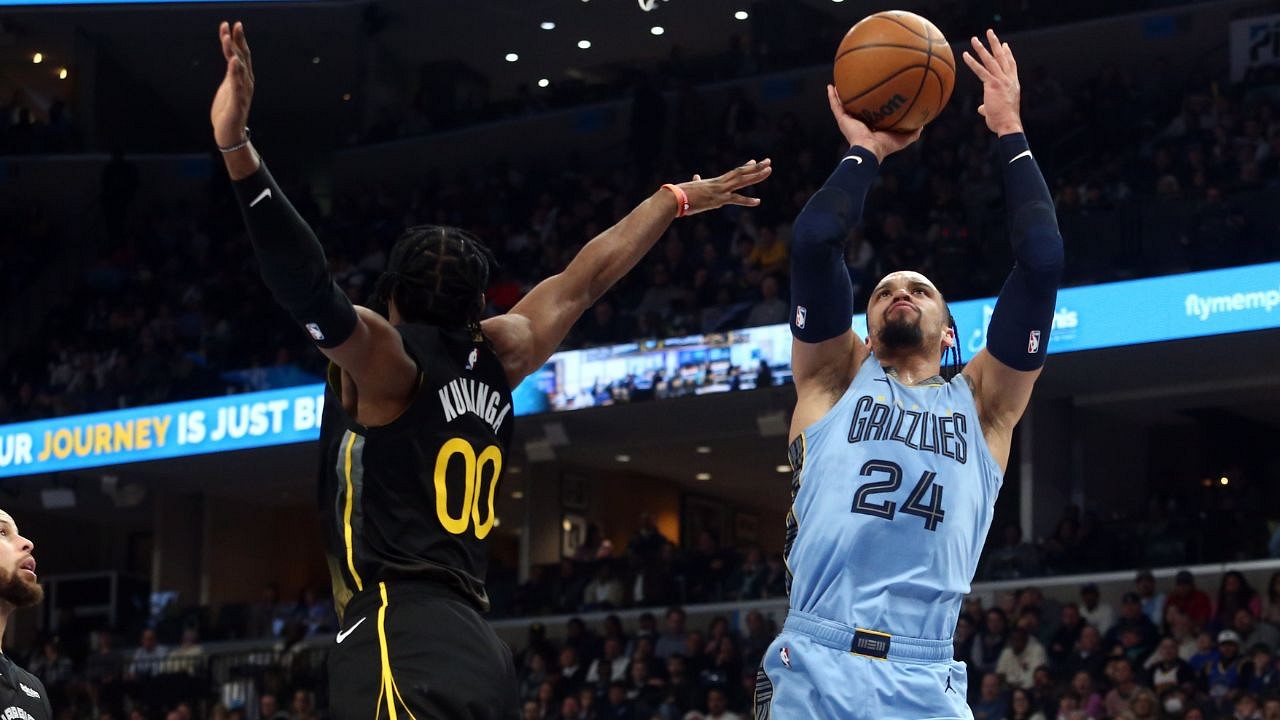 The Golden State Warriors made their way to Memphis tonight, to take on the Grizzlies for the final time this season. In their previous matchups, the Warriors were up 2-1, with the only loss coming a few days ago. The Warriors were struggling on the 2nd night of a back-to-back, and it clearly showed. Despite the 133-119 loss, they do have a positive point to take home: Jonathan Kuminga and his incredible performance.
The Warriors' sophomore has improved a lot from his rookie season. He's been a solid part of the rotation, and does great things for the team offensively, and on defense. Tonight, he had 24 points, eight rebounds, three assists, a block, and a steal. Kuminga was an asset on both ends of the floor.
After the game, Stephen Curry, Steve Kerr, and Draymond Green praised the young man.
Jonathan Kuminga gets praise from his stars and coach
When he first joined the Warriors, JK was a little too focused on getting involved in the offense. However, over time, Coach Steve Kerr and his staff made him emphasize on defense, and let the offense come to him. The result? The Jonathan Kuminga we saw tonight.
Steve Kerr was the first to praise the 20-year-old.
Steve Kerr discusses Kuminga's big game against the Grizzlies pic.twitter.com/6xy0nyH27F

— Warriors on NBCS (@NBCSWarriors) March 19, 2023
As said by Kerr, we need to see more of this from Kuminga consistently. After the head coach, Draymond Green stopped and praised JK.
Draymond shares his thoughts on Kuminga's development pic.twitter.com/L1Cafzww4h

— Warriors on NBCS (@NBCSWarriors) March 19, 2023
In the end, it was none other than Stephen Curry who came to give Kuming his flowers.
Steph breaks down Kuminga's impact on tonight's game pic.twitter.com/W19s61ifuw

— Warriors on NBCS (@NBCSWarriors) March 19, 2023
Even though the result wasn't what we'd hoped, seeing Kuminga mature and play like this is a good consolation prize for the Warriors fans.
How do the Warriors look after this loss?
After this loss, there are just 11 games left in the calender. The Warriors have fallen to the 7th spot, putting them in the play-in bracket. Six out of these 11 games are on the road. The Warriors need Klay Thompson to stop showboating like he did tonight, and actually, go back to the form he was in.
On top of that, Jordan Poole needs to be more consistent, especially on the road. These 11 games will decide whether the defending champions will face the #3 seed or whether they'd fight for their season in the play-in tournament.
---
Share this article