WATCH: Dillon Brooks Jaws at Warriors' Bench, Klay Thompson Reminds Him of His Four Championships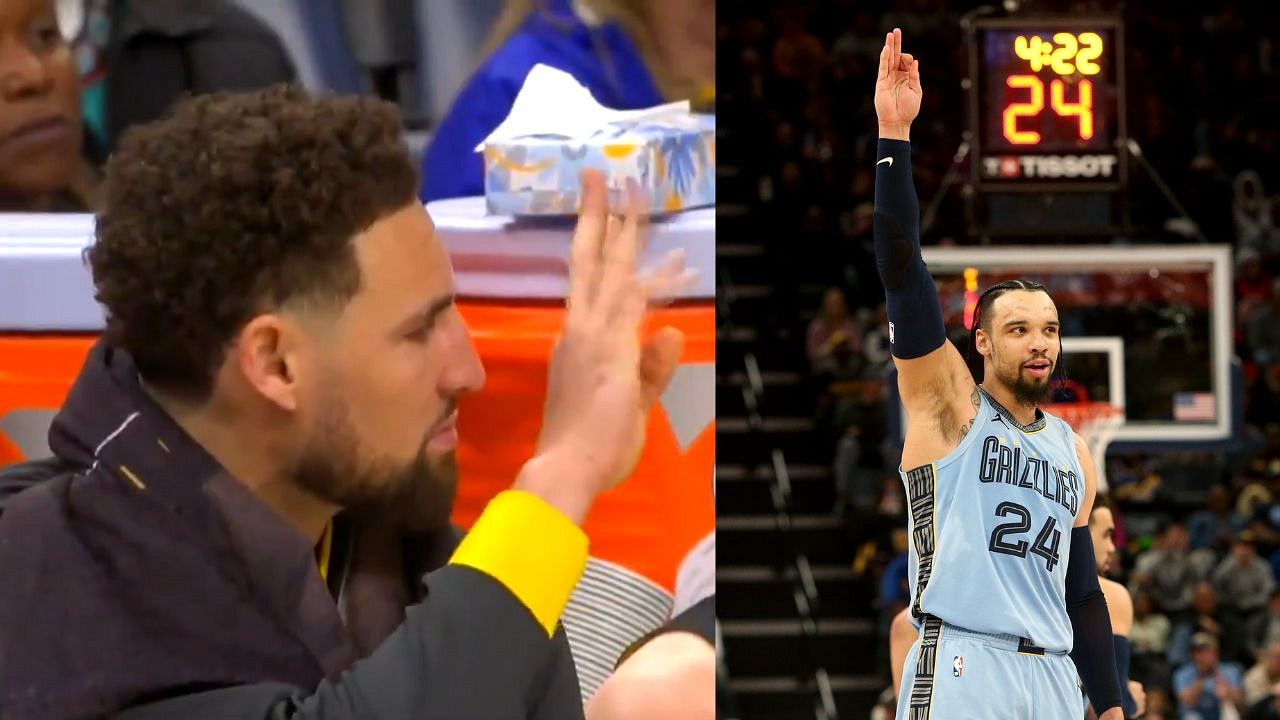 The Memphis Grizzlies hosted the Golden State Warriors for the 2nd night of a back-to-back for both teams. Playing without Ja Morant, Jaren Jackson Jr. and Dillon Brooks took the reins and led the Grizzlies to a 133-119 win. With this win, they have tied their season series with the Warriors at two a piece.
This was a big contest for both teams. On the one hand, the Warriors wanted to avoid an 11-game road skid and avoid falling back to a .500 record. On the other hand, the Grizzlies are trying to regain the #2 seed.
Unfortunately for the defending champions, it was Dillon Brooks and co. who took yet another win home tonight. However, before the game ended, sparks and flares were on both benches.
Dillon Brooks jaws at Klay Thompson and gets a strong reply
As we all know, Dillon Brooks is the kind of player you'd love to have on your team, but the other 29 teams will hate him. After his performance tonight, holding Stephen Curry to just 16 points while scoring 18 points himself, Brooks was sure feeling very chirpy. With less than 20 seconds left in the game, Brooks yelled at Klay Thompson and said, "You suck!"
Dillon Brooks from the bench to Klay Thompson before the game ended:

"You suck!"

— Damichael Cole (@DamichaelC) March 19, 2023
As expected, Klay broke out his favorite response, celebrating his four championships.
Klay making sure everyone knows he still has four rings pic.twitter.com/NUopoRtemj

— Warriors on NBCS (@NBCSWarriors) March 19, 2023
Brooks tried responding to the same in his post-game interview. Talking about getting ready to play the Warriors, Brooks said it's easy because of how much Klay and Draymond talk.
.@thefishnation: "Is this one of those teams that's easy to get up for and easy to get refreshed for?"

Dillon Brooks: "Oh yeah. They got Draymond talking, they got Klay talking, so its easy to get ready for this game." pic.twitter.com/OgL1yVazYO

— Oh no he didn't (@ohnohedidnt24) March 19, 2023
That's big, coming from a man who started a beef with Draymond out of the blue, and then couldn't handle the response. Even though the Grizzlies may have won the last two contests, one mustn't forget that these are still regular season games, and the actual right to talk sh*t is earned in the playoffs.
---
Share this article