LeBron James Cheating: Lakers Star's Admiration Over Rihanna's Super Bowl LVII Performance Has NBA Twitter Speculating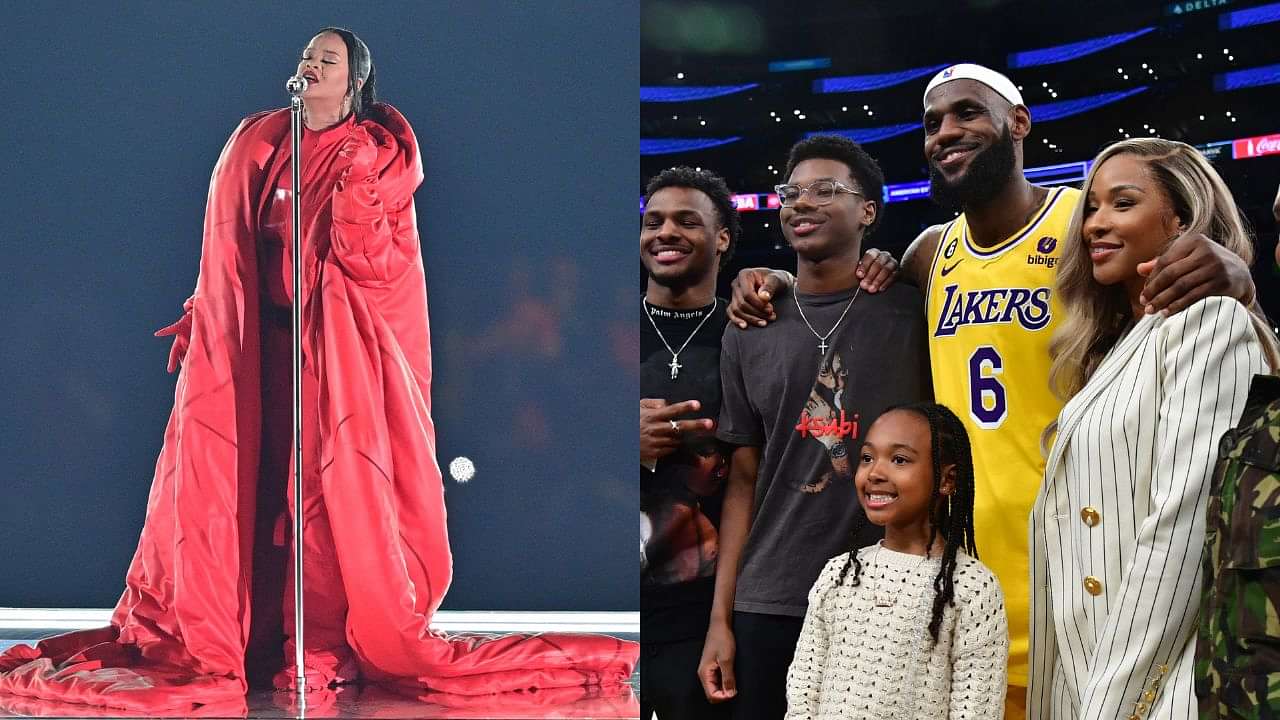 LeBron James has had quite the superfan follow him around during his journey in the NBA over the past decade. Grammy award winning musician, Rihanna, has been a fan of James's ever since he made the move from the Cleveland Cavaliers to the Miami Heat in the early 2010s. 
She posted a picture of James cradling his first ever Larry O'Brien trophy on her Instagram in 2012 as a way to congratulate him and showed up to games courtside in Miami Heat garb on occasion. When he returned to the Cavaliers in 2014, 'RiRi' took her love of the game to Cleveland. 
It was during this 4 year stint from 2014-18 when LeBron was a Cavalier that rumor began to swirl surrounding him and his connection to Rihanna. Many speculated that it was more than just a friendship and that there could be something more.
Also read: Why Is LeBron James Out? Lakers Starting 5 Following Brutal Injury To 'The King'
LeBron James sparks 'cheating' rumors once again
Rhanna returned to live performances after 4 years during tonight's Super Bowl halftime show as the Chiefs and the Eagles duke it out for the 57th SB. As a way to show his support for her, LeBron James, who is at the Super Bowl with wife, Savannah James, tweeted out a congratulatory type message for her.
Loading embed tweet https://twitter.com/KingJames/status/1624945208084533249?ref_src=twsrc%5Etfw
This led NBA Twitter down a path of no return where, with no other information than this tweet, assumed that James was cheating on Savannah with the music icon.
Loading embed tweet https://twitter.com/NBAMemes/status/1624947901289103360?ref_src=twsrc%5Etfw
Loading embed tweet https://twitter.com/MrFilmkritik/status/1624946388407656449?ref_src=twsrc%5Etfw
Loading embed tweet https://twitter.com/kevinterstellar/status/1624944732949614592?ref_src=twsrc%5Etfw
There is however, history behind this narrative. During the 2015 NBA Finals between the Cavs and the Warriors, it was rumored that LeBron James had flown Rihanna out on his private plane to watch the Finals courtside. 
Along with this, she also posted quite the sultry picture of her in a bikini with the number '23' written on her body with sun tan lotion, even tagging the future Hall-of-Famer. 
How does Savannah James feel about these rumors?
Around the time that rumors began to swirl about her husband and Rihanna, Savannah James posted an image on Instagram captioned, "When you start realizing sh*t- I been knew but I'm going with my gut this time." 
It was believed by many that this was her hinting towards the LeBron-Rihanna situation. Years later in 2018, Hollywood life reported that a source close to the situation told them that Savannah finds her admiration towards LeBron James to be a bit odd.
Also read: "Where You At?": LeBron James 'Expertly' Checks Austin Reaves for Concussion After Getting Elbowed
---