"LeBron James is one of the few dictators in the league": DeMar DeRozan professes his love for the Lakers MVP amidst NBA trade rumors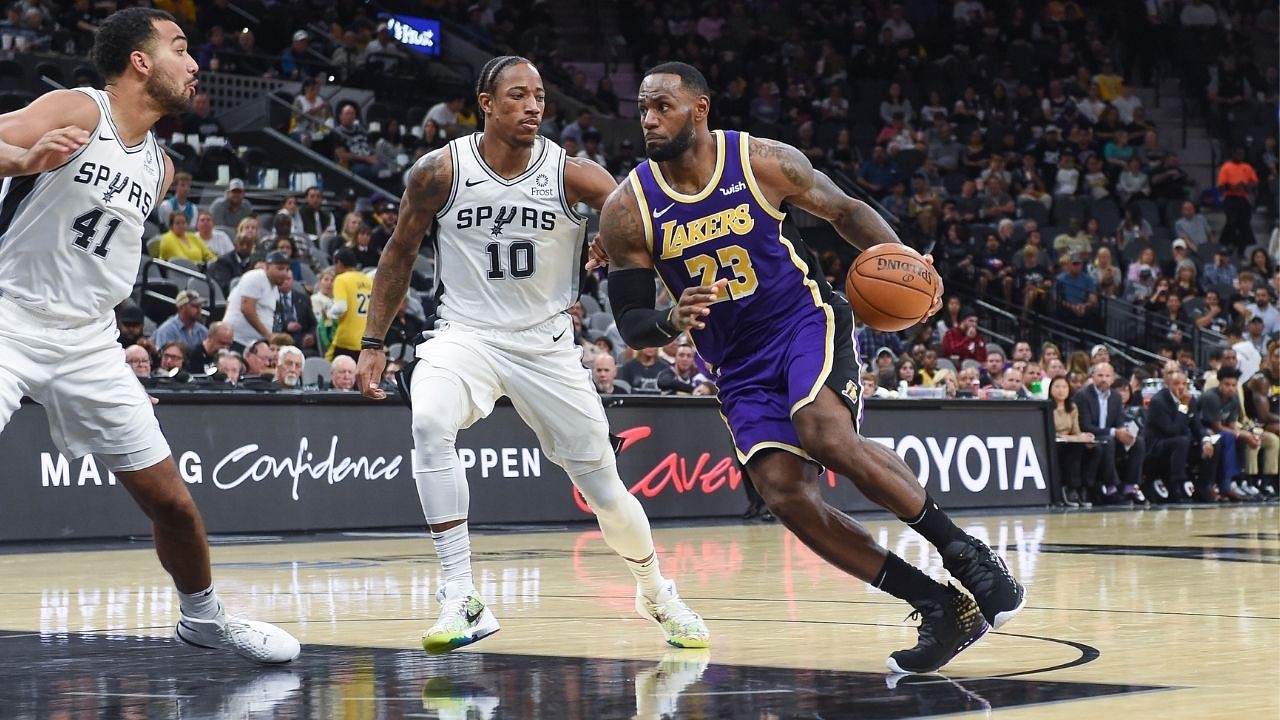 DeMar DeRozan doesn't hold back on his admiration for both LeBron James and Kevin Durant, referring to the former as 'a dictator'.
DeMar DeRozan has officially been cast into the 'veteran' mold of NBA players as he's about to enter his 13th season in the league. This would mean that he's faced off against the league's greatest players on several occasions, with LeBron James and Kevin Durant being atop that list. It also means that he's ready to add some serious hardware to his resume. 
When it comes to that latter half, DeMar Derozan seems to be on the lookout for a trade away from the San Antonio Spurs. After 3 seasons of mediocrity and missing the Playoffs, DeRozan has been linked to several teams such as the lakers, Clippers, Heat, and even the Bulls.
Also read: "The Bulls Hoped Michael Jordan Would Stay Out so they'd have a better shot at the lottery": David Letterman Questions Chicago's Sketchy Management Practices Regarding NBA GOAT's playing time
With the Miami Heat having signed his buddy, Kyle Lowry, luring him to the Heat won't be all too difficult. As for the Bulls, they look to maximize Zach Lavine's prime as much as they can so adding some who can alleviate some of the scoring pressure off of him would be ideal. The Lakers on the hand, simply do not have the cap space to sign DeMar DeRozan.
This will only add gasoline to the DeMar DeRozan and Lakers rumors .

h/t @N_Magaropic.twitter.com/Gq3RdLjsLD

— Laker Central 🎙🎧🎥📝 (@LakerCentral365) July 26, 2021
DeMar DeRozan compliments both LeBron James and Kevin Durant.
DeRozan's appearance on the Club Shay Shay has produced several gems and what he said about LeBron James and Kevin Durant isn't exempt from that. Though DeMar DeRozan and KD have never faced off against one another during the postseason, they have done so in the regular season. 
"Never seen nobody like KD, coming off the injury he had. I had seen him play before the season started and I was telling people, 'It don't look like nothing happened to him.' KD is one of a kind. I compare KD with nobody."
Also read: "That Lakers fan is talking about me eating donuts, look at his fata**!": When Charles Barkley hilariously roasted a fan on NBAonTNT for calling out his Krispy Kreme obsession
As for the man that ousted him from the Playoffs while in the East time and time again, DeMar surprisingly has an incredible amount of admiration for him. He refers to LeBron James as a 'one of the few dictators in the league'. 
"A lot of guys would get off 35 shots. When you're playing against Bron, he's going to dictate the game. He kind of plays chess all night." 
---