LeBron James to Team up with Stephen Curry and the Warriors? NBA Exec Makes Astonishingly Wild Claim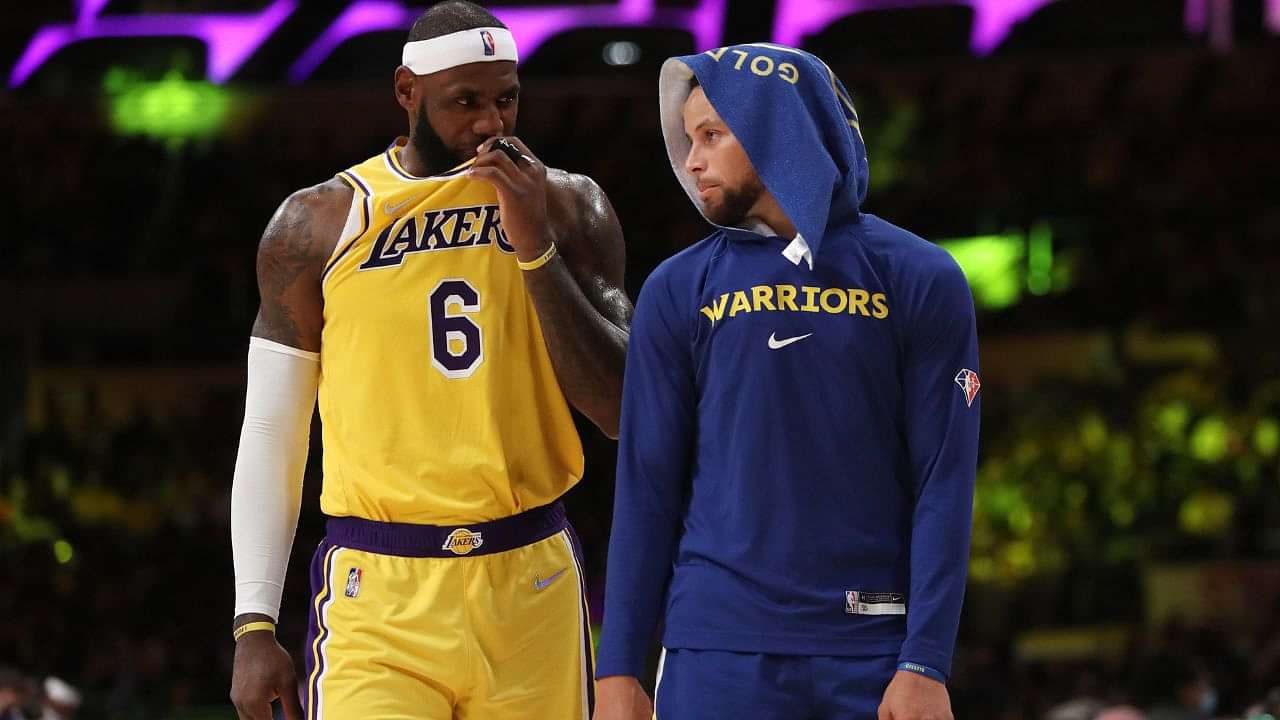 As per the latest slew of rumors that are floating around, LeBron James is discontent with life in Los Angeles. The Lakers are a team that is languishing around the play-in spot. And if all things are to be believed, there is a sliver of a chance that he might even make it to the finals, albeit on a different team.
Yes, rumor mills are swirling and as per the latest news that has dropped on our doorstep, there is a potential trade for LeBron James on the cards.
The 38-year-old is still putting up all-time numbers and there is no doubt that he needs help. The likely destination? The Golden State Warriors.
Also read: "First Klay Thompson, Now Jimmy Butler": Oklahoma City Thunder Falls Prey to Yet Another All-NBA Record
As per an NBA Executive, LeBron James to Stephen Curry and the Warriors is a possibility
LeBron James' displeasure about life in LA is quite evident. The reports from Athletic and the subsequent response he gave all indicate that he is trying to make it look like there are no issues.
However, if we are to believe Sean Deveney from Heavy.com there is a chance that the Warriors might gun for LeBron James. Deveney revealed that an anonymous NBA executive thinks that the Warriors might put together a package for LeBron.
The likelihood of this happening while almost infinitesimal is not zero. Imagine if that does happen. A LeBron James and Stephen Curry team-up will break the internet.
Also read: "Look Me in the Eye, Jamal Crawford!": Shaquille O'Neal Pulls Insane Prank on Inside the NBA Rookie as Welcome
What is the likely scenario?
So, here is the breakdown from the exec, in his own words, "If there is a bidding war going on at some point [for LeBron James], the Warriors are in a great position because they can give you the young guys –  Wiseman or Kuminga or Moody, or Baldwin, whoever the Lakers want,". 
He continued,  "But you have to add either (Jordan) Poole or (Andrew) Wiggins, and that's not easy. But if they want to win now, you can give up Poole if you are getting back LeBron, right? If they keep Draymond and come back with Steph, Klay, Draymond, and LeBron, that would be a fun, fun team to watch."
That does sound good. A LeBron and Warriors team-up would give the vets a superb chance to win. It would give any opposition a tough time.
What do you think? Is LeBron to the Warriors a good idea?
Also read: "Stephen Curry Looked Really Good in the 2nd Half!": Steve Kerr Praises 8x All-Star While Talking About 3-Game Warriors Skid
---