"Meghan Markle Was Running Around With Dwyane Wade": $700M Rich Andrew Tate Recently Made Lewd Comments About Duchess of Sussex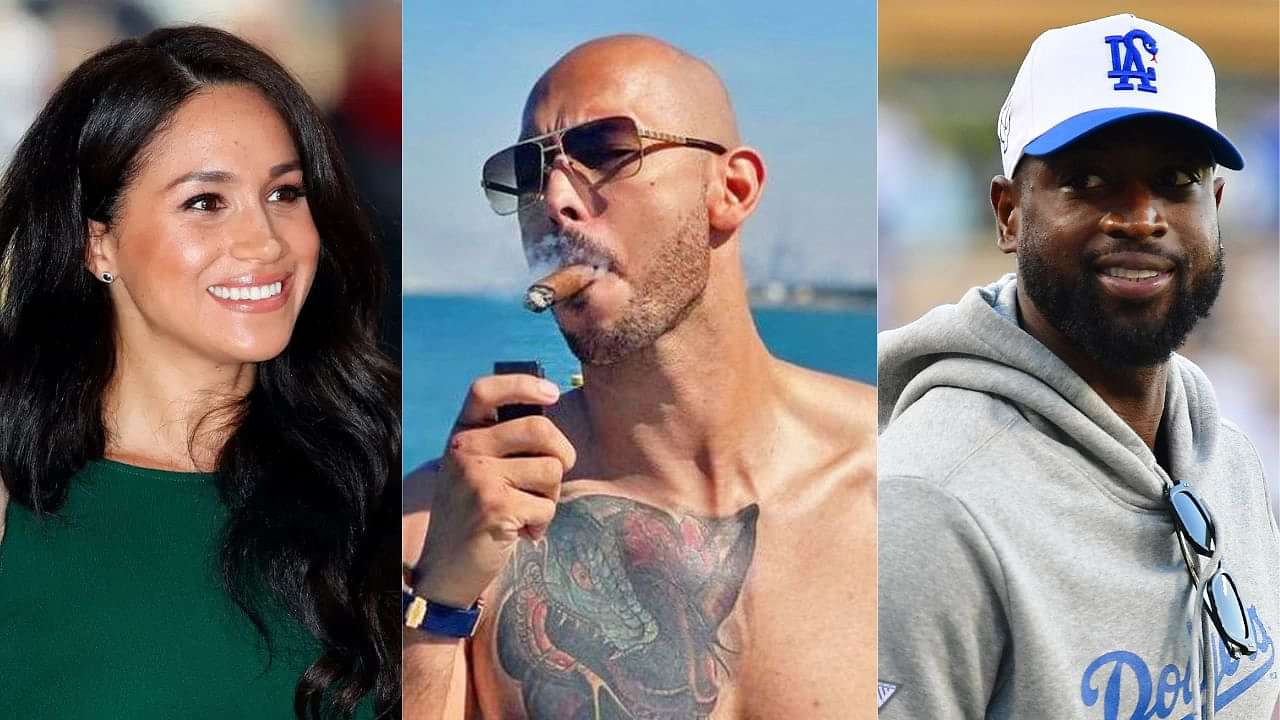 Dwayne Wade is one of the most respectable characters in the NBA. A three-time NBA Champion and a future Hall of Famer, D-Wade has done a lot to give back to the community. Charitable donations, activism, philanthropy, you name it and he has done it.
As such, it is a bit of a shock to see him be named in the same line as Andrew Tate. The internet sensation has made headlines for his unorthodox beliefs, especially with regard to women. So, when a Tik Tok of his revolving around NBA players was released, the basketball community's head was raised.
This particular clip has to do with Meghan Markle. The Duchess of Sussex made her name as an actress, specifically with her work on Suits. However, Mr. Producer has suggested her rise could have something to do with Wade.
Andrew Tate makes lewd comments linking Dwayne Wade and Meghan Markle
Andrew Tate is quite a controversial figure. The man has made enough crass comments to send every left-wing activist group into a fit of outrage. But, there are times when his takes come from a more personal point of view.
It's no secret, that Tate, a British-American is a big supporter of the British royal family. The man has defended them on several occasions. So, when he released a clip criticizing the Duchess of Sussex, Meghan Markle, no one was surprised. After all, Markle isn't the biggest fan of the royal family.
However, what was surprising about the video are the suggestions he makes. He hinted, that Markle made her way to the top by "sleeping around" with several athletes. And, several hints suggest he was referring to Dwayne Wade.
It certainly is quite a statement from Mr. Producer, filled with inappropriate. But, his use of the name Dwayne, and his stressing the letter "D" in his monologue, does send the mind wandering. Could Flash and Rachel from Suits have been an item?
D-Wade has "publically" met Meghan Markle once at an event in New York
Even with Andrew Tate's video, speculating about Dwayne Wade and Meghan Markle's relationship is pointless. There certainly is no evidence suggesting the two had a s*xual relationship of any sort. That being said, the two have met before at a Prada event in New York. Markle even took a picture with Wade and his wife, Gabrielle Union.
Loading embed tweet https://twitter.com/NyakioR/status/1590738231468838915?ref_src=twsrc%5Etfw
At the end of the day, Tate's suggestions are wild. D-Wade is happily married with a loving family of his own, and the same goes for the Duchess of Sussex.
---