Michael Jordan's Clip Silencing Heckler Over $125 Air Jordans Resurfaces Amidst Jamal Murray's Courtside Argument Over Girlfriend Abuse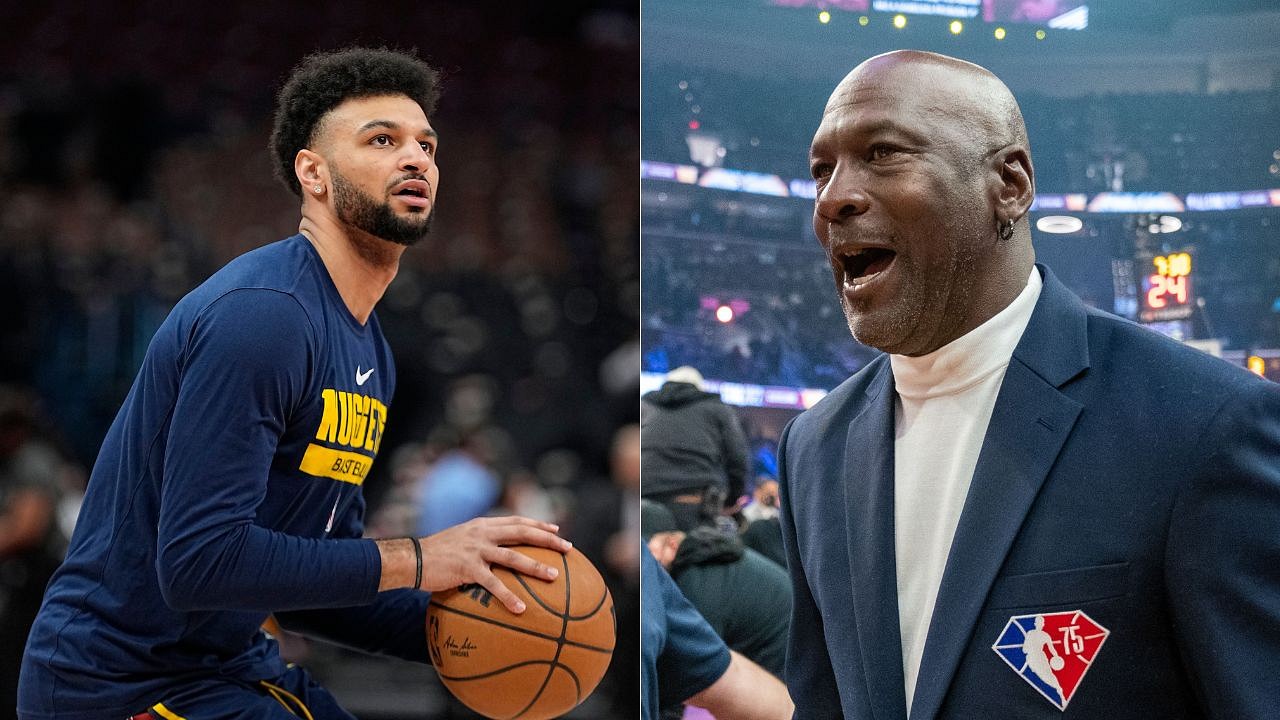 Michael Jordan and Jamal Murray have shown contrasting approaches to dealing with courtside hecklers in their respective incidents, 27 years apart.
Denver entered a 4-game skid this month and looked set to lose a fifth at Detroit. A 33-9 run in the final minutes put them over the top against the league's worst team.
With 1:15 remaining in the game, Murray got into an argument with a courtside fan at the Little Caesar's Arena. The fan allegedly insulted Murray's girlfriend by claiming he'd 'seen her s**k d**k'.
Also Read – Jamal Murray Girlfriend: Harper Hempel's Infamous Video Resurfaces As Disrespectful Fan Yells 'I've Seen Her S**k D*ck'
TMZ Sports reported later on that the fan in question had been ejected from the premises. The Nuggets finished the game with no more incidents.
Michael Jordan reacted very differently when faced by a heckler
The Jordan-led Bulls were on a mission to establish their dominance in the NBA in 1995-96. Though the Cavaliers were the 4th seed that year, it was clear that they were outclassed by the Bulls.
However, when Jordan faced them in November, he didn't exactly have a great first half. His subdued play emboldened a courtside fan, who goaded His Airness by saying "Hey Michael, you were better with your old shoes," and "Take your shoes off!" 
This triggered Jordan, famous for always taking slights personally. The box score reflects that MJ led his Bulls to the dub with 23 second-half points. With the game in their hand, Jordan turned to the heckler and said 'This is all your fault'.
Jordan was wearing the Air Jordan 11 'Space Jam' shoes at the time. These were, incidentally, the same shoes that he wore against the Monstars in Space Jam. Originally released in 1996, the price of these shoes at that time was $125.
Michael Jordan shuts up a heckler. (Courtside fan video, Bulls vs Cavs) It's the 4th game of the season in 1995/96#NBA #BullsNation pic.twitter.com/HvcVAV6aLa

— The Jordan Rules (@Rules23Jordan) November 25, 2021
This early morale booster was one of the factors that triggered a record-breaking run by Chicago. They finished the season with a 72-10 record – the best in NBA history till 2016.
Also Read – "B**ch A** Jamal Murray Had One Good Playoff Run": Bones Hyland's Sister Goes At Nuggets Guard For Posting Cryptic Message
What are Denver's chances this playoffs with Jamal Murray?
Jamal Murray has been having a nice turnaround after a slow start following 2 injury-riddled years. Murray was away from competitive basketball for 18 months, including the entire 2021-22 season.
His resurgence has coincided with the Nuggets surging up the Western Conference standings. Denver has occupied the no. 1 seed for nearly 3 months now.
Although their recent skid indicates some defensive problems, they still have a great squad to rely upon. They're certainly more talented than they've been since the 2020 bubble playoffs. You couldn't put it past Jokic and co making a Finals run.
---
Share this article