Montrezl Harrell apologizes to Luka Doncic for abusive 'white boy' slur ahead of Game 4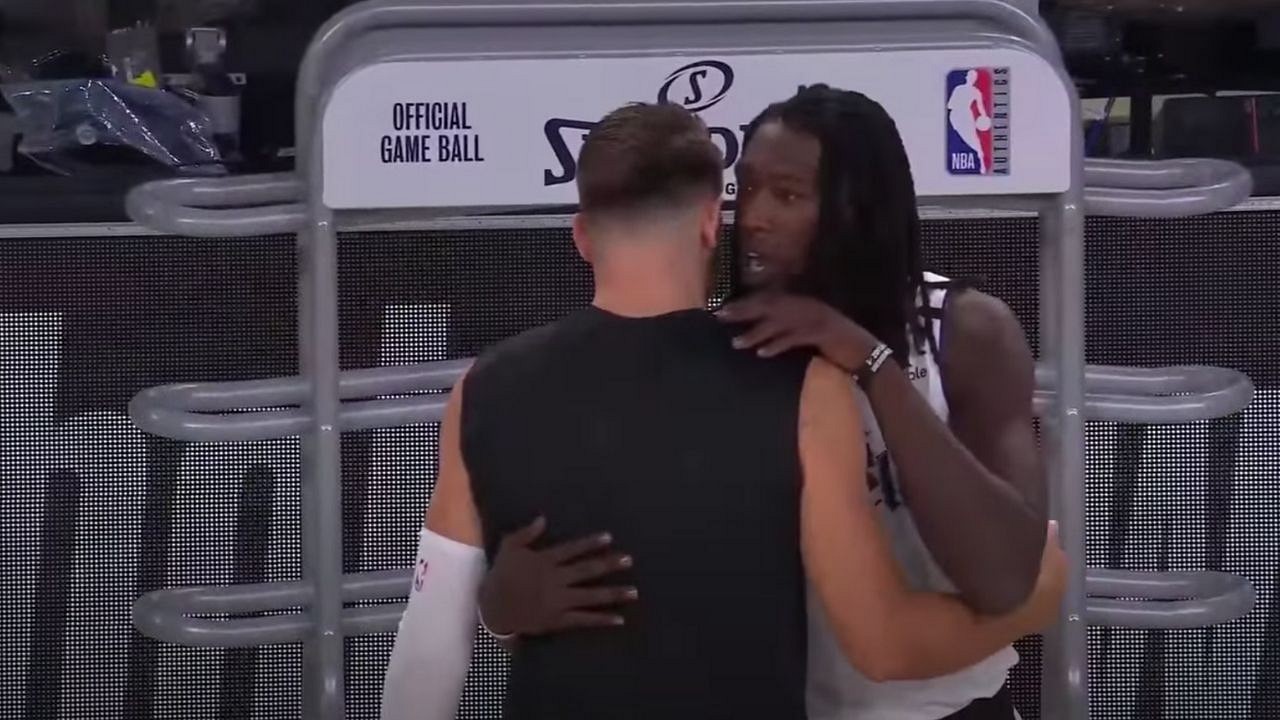 Montrezl Harrell and Luka Doncic, who had a verbal confrontation in Game 3, have put their animosity aside after Harrell apologized to the Slovenian ahead of Game 4 today.
Luka Doncic and Montrezl Harrell had something of a verbal spat with each other in Game 3. They certainly seemed to be going at each other with their words. There were 2 major instances of clashes between the two in that game.
One of the two instances was Harrell calling Doncic a 'b**** a** white boy' while running back on defense in the first quarter. A couple of possessions later, Harrell got tripped up by Doncic. But Doncic went on the offensive. Instead of helping Harrell up, he asked him to 'Stop flopping, big man'.
Montrezl Harrell responds after a putback: "Pu*** a** white boy." pic.twitter.com/3U10GT2quc

— Legion Hoops (@LegionHoops) August 22, 2020
Also Read: Why is NBA not reacting on Montrezl Harrell's abusive 'white boy' Luka Doncic statement; LeBron James called out too
As a result, the two of them got into each other. Marcus Morris Sr was there on spot to play peacemaker before any hint of a physical fight. But the damage was done as the referees intervened and gave a double technical, one each to Doncic and Harrell.
Montrezl Harrell apologizes to Luka Doncic ahead of Game 4
The racial nature of Harrell's insult did not go unnoticed by media members or fans. Harrell received heavy criticism on Twitter, notably from Jay Williams.
Montrezl Harrell apologizes to Luka before the game.

Trez called Luka "a p**sy ass white boy" in the heat of game 3. pic.twitter.com/T2YzZq1enV

— Complex Sports (@ComplexSports) August 23, 2020
Ahead of Game 4, Doc Rivers mentioned that the two of them were just intensely going at each other. Harrell's slur wasn't a premeditated racial attack according to him. It rather happened in the 'heat of the battle'.
Luka Doncic was apparently shocked that a need to apologize was felt by Harrell. As two competitors, both Harrell and Doncic knew that there was nothing personal or offensive intended in the insult.
But given the nature of the anti-racism battle being fought by the NBA and the NBPA together, it was felt by the Clippers that doing the politically correct thing of apologizing would be the best course of action.
---
Share this article