"No Way Bronny James Just Made That": FaZe Clan Showcases $7.5 Million Athlete's Incredible Shot Making Skills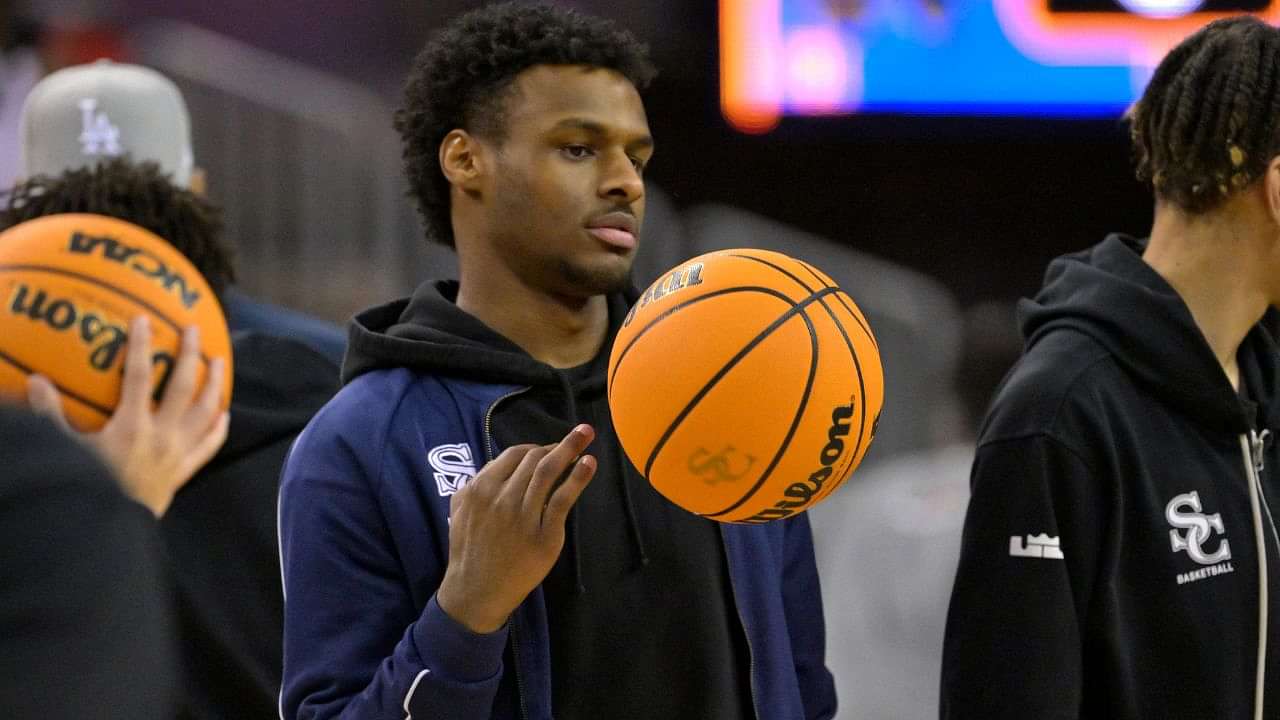 Bronny James, as a mere 18-year-old, has established himself as a near-household name in the basketball community. LeBron James' eldest son has been making waves across the nation for years on end now and most recently, he's taken a major leap in his ranking regarding his class of 2023. 
Bronny is officially ranked as the number 9 high schooler in the nation for his class after leading Sierra Canyon to important victories in the Playoffs in pursuit of a state championship. Along with his basketball prowess, he's also allowed himself to snag a multitude of endorsement deals. 
With the new NIL rules and regulations passed down from the NCAA, athletes can now make money off their own name, image, and likeness. While James Jr isn't in college yet, he can continue to make money off his NIL deals when he eventually chooses which university to play for this summer.
Also read: "Bronny James is Built Like Dudes in Creed 3": LeBron James and Wife Savannah Share Picture of 6ft 3′ Star Flexing on IG
Bronny James shoots a trickshot with FaZe
In the 2020s, gaming and streaming have become quite the norm. FaZe Clan is one of the most reputed gaming/streaming establishments in the world and they managed to sign none other than Bronny James to their roster. He's aptly taken up the moniker of FaZe Bronny. 
In a new video showcasing his skills at trickshots, Bronny can be seen making a 'gramma shot' from behind his back over the roof of his house, leading to an incredible reaction from his fellow FaZe members. This of course, went viral online as fans debated the legitimacy of the video.
Loading embed instagram https://www.instagram.com/reel/Cpf_y0Hg4od/?utm_source=ig_embed&utm_campaign=loading
In short, no, the video is not real and has clearly been edited. This isn't a case where Stephen Curry was seen making 5 straight full court shots and fans pondered over whether the video was real or not. While Bronny is a talented basketball player, that shot seems quite impossible. 
Bronny James and his NIL deals
Bronny James has found ways to acquire wealth from a bevy of different avenues. He's currently valued at $7.5 million in terms of his NIL deals according to Boardroom. This is close to double of what Mikey Williams is worth, the second highest high school athlete on the list. 
James Jr is currently signed to the likes of FaZe Clan, Nike, PSD Underwear, and Beats by Dre. He's since appeared in commercials for most of these brands, earning himself quite a bit in the process.
Also read: With A $7.5 Million Valuation, Bronny James Is Officially Ranked No. 9 In The Country And LeBron James Would Be Proud
---