"Not Kevin Durant, James Harden or Kyrie Irving": Max Kellerman's surprising pick for Nets' key player shocks Stephen A Smith to no end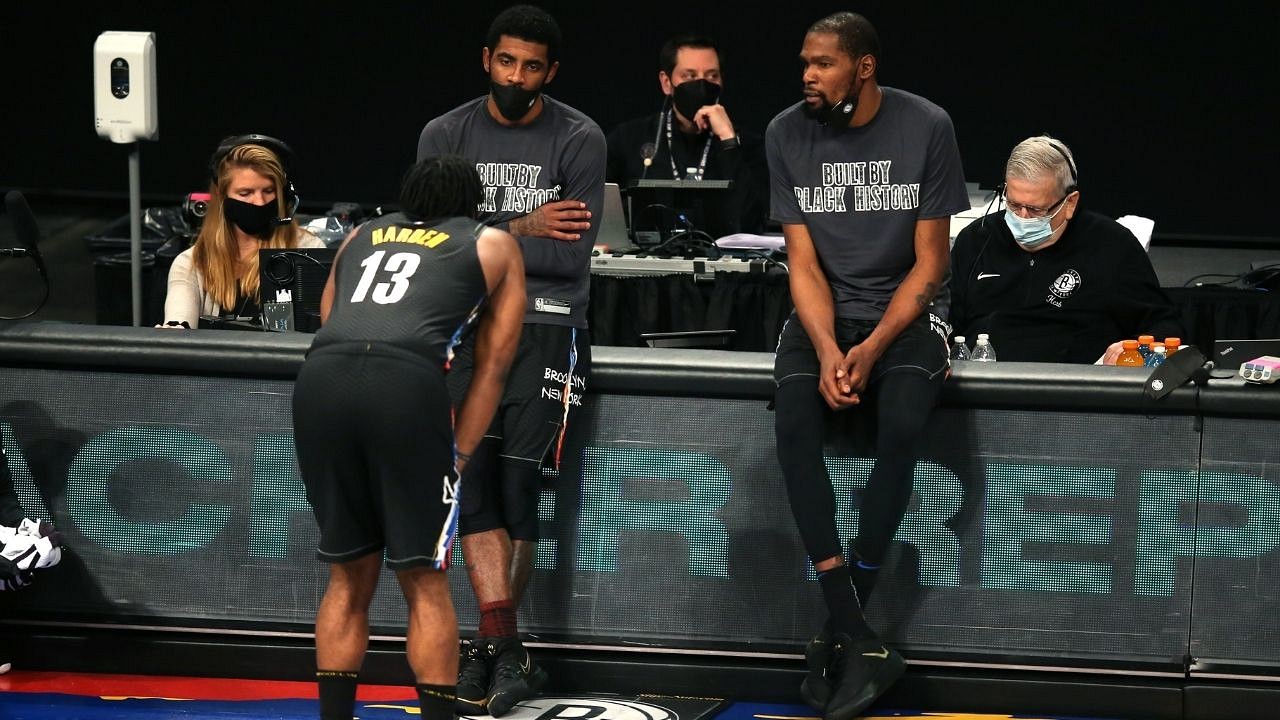 Max Kellerman was asked who he thinks is the key player for the Brooklyn Nets this season. His answer was not Kevin Durant, Kyrie Irving or James Harden.
The Nets have been unable to create clear separation between themselves and the 12 teams placed below them in the East. They're currently placed 3rd in the East at a record of 15-12: an unimpressive 55.5 winning percentage. Teams that are on a roll typically win a lot more games than this.
However, the Nets do have time on their side. 45 more regular season games remain to be played – that is over half a season of ball. Teams have built chemistry and cohesion in much shorter spans than this before. It will, however, take a team effort for the Nets to improve on the defensive end.
Also Read: "Slam Dunk Contest did not line up with LeBron James' brand at the time": A close aide of the Lakers superstar explains why LBJ never competed in the dunk contest
Acquiring James Harden has supercharged their already-elite offense into the league's de facto best one. But they have been a historically bad defensive team over the past 4 weeks. This needs to be changed, and fast, if the Nets are to contend seriously.
DeAndre Jordan, not Kevin Durant, is the Nets' key player according to Max Kellerman
As the Nets' starting big man, DeAndre Jordan can feast on the alley-oops he gets every game from his 3 stars. But it places the onus on him to be elite at paint protection – something he hasn't done in many seasons. However, Max Kellerman still believes that DeAndre Jordan  – not Kevin Durant – is the Nets' key player.
"What they (the Nets) need is defense, in fact, Steve Nash and DeAndre Jordan got into it the other day. DeAndre Jordan can still bring size and athleticism, and he defended rather well last night. Kevin Durant will get his on any night, but you need defense to win championships."
That's right, I said it https://t.co/fScE1r27lm

— Max Kellerman (@maxkellerman) February 11, 2021
Also Read: "LeBron James, Kevin Durant might stop Stephen Curry winning MVP": Dwyane Wade reveals his picks for this year's Maurice Podoloff trophy
The Nets desperately need to shore their defense up. Although they held their own in one half last night, they gave up 62 in the second.
---