"PATRICK BEVERLEY TRIED TO CONVINCE REF ERIC LEWIS USING A CAMERA": A Missed LeBron James Foul Call by Ref Sets NBA Twitter on Fire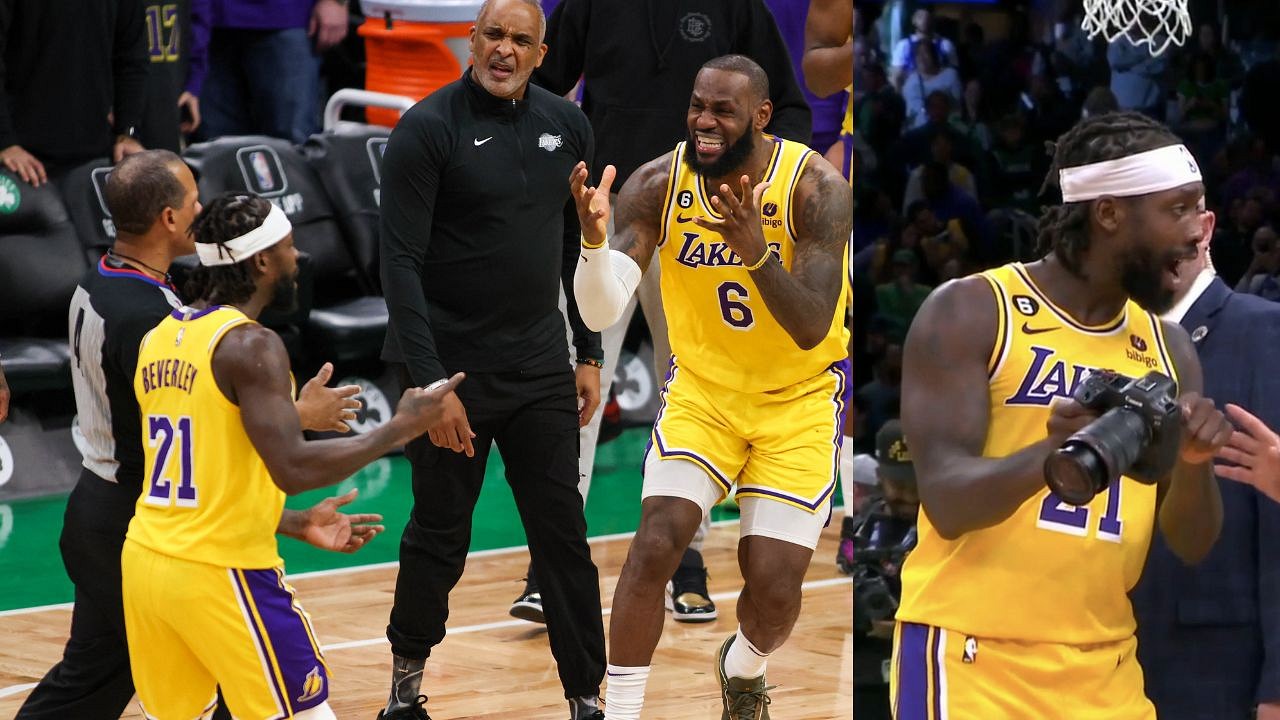 The Boston Celtics and Los Angeles Lakers collided on Saturday and gave fans everything they wanted. LeBron James scored 41 points tonight, but could not take his team past the Celtics. And it certainly came down to a Jayson Tatum foul on LeBron James at the end of regulation.
The game in which The King was playing to lead his team to a much-needed victory, went to overtime and eventually, the Celtics won it 125-121 after an official missed an unbelievably clear foul call right before the final buzzer.
Most Lakers players, including James, and Patrick Beverley couldn't believe what was happening. And the latter obviously, flowing high on his emotions, went a tad too far to make the point to the officials.
Also read: Who Is The Most Clutch Player In The NBA? Has DeMar DeRozan Eclipsed The Likes Of Damian Lillard and LeBron James?
Patrick Beverley brings a camera to an official to show the foul on LeBron James
After James looked all lost on the court in TD Garden, Pat Bev, the 6ft 2" point guard of LA, took matters into his own hands and brought a camera to show referee Eric Lewis the call he missed on LeBron's last attempt.
WHAT IS PATRICK BEVERLY DOING? BRO BROUGHT OUT A WHOLE CAMERA 😭😭 pic.twitter.com/tYVxgvAZVG

— KingCharge (@KingChargeYT) January 29, 2023
It's all about perspective. The T given to Beverley would have been right in any other situation, but the Lakers have lost countless games lately due to bad officiating. So, as Jeff Van Gundy could be heard saying in that video that LeBron "was" fouled.
That was the crux of the matter, and Pat Bev bringing the camera up to the refs wasn't as absurd as it looks. Not today.
Also read: "Is LeBron James The Biggest Hypocrite of All Time?": Big Cat Questions Lakers Star Supporting Shannon Sharpe's Shenanigans vs Ja Morant And Co
Fans also have had enough of the bad officiating
It's time for the NBA to do something before it clearly looks like the officials do have the intention of changing a game and how it should naturally proceed.
If it was a couple of games, it could have been ignored as human error. However, it has been an array of games in which a referee's decision has changed not only the course of the game but the whole result.
And fans have had enough of it.
PAT BEV TRIED TO CONVINCE THE REFS USING A CAMERA And Got T'd up im dyinghttps://t.co/OMyiix5S8h pic.twitter.com/RrzSWugf6L

— Rob Perez (@WorldWideWob) January 29, 2023
He's not wrong. People need to be fired. That was egregious home-cooked bs.

— Mikel Jollett (@Mikel_Jollett) January 29, 2023
You beat me straight up, tip of the cap. You beat me due to something completely out of my control that decides the victory? An absolute joke but as usual we know none of these NBA officials will answer for anything.

— Dr. Rajpal Brar, DPT (@3cbPerformance) January 29, 2023
FUTURE TWEET: NBA announces that officials missed a foul call on LeBron James in the final seconds of the Lakers loss to Boston on Saturday night.

— Lewis Kay (@lewiskay) January 29, 2023
And yes they did.
The NBA has already determined in its postgame review that the officials got the call wrong on the Lakers' last possession of the 4th Q and a Jayson Tatum should have been called for a shooting foul on LeBron James, league sources told ESPN.

— Dave McMenamin (@mcten) January 29, 2023
Even Reggie Miller raised his voice.
It was NON CALLS like that as a former player, Tatum on LeBron, that used to drive me CRAZY!! 6 damn eyes out there and the officials swallow their whistles.. That baseline official had a clear view of it, MAKE THE CALL.. @NBA

— Reggie Miller (@ReggieMillerTNT) January 29, 2023
Also read: "Nikola Jokic is more of a motivation to win the whole thing": Joel Embiid Opens Up After the 47/18/5 Performance in a Win Amidst All-Star Starters Snub
---
Share this article