"Sit Your A** Down, Spike Lee": When Scottie Pippen Posterized Patrick Ewing and Trash Talked #1 Knicks Fan Who Was Crying 'Foul'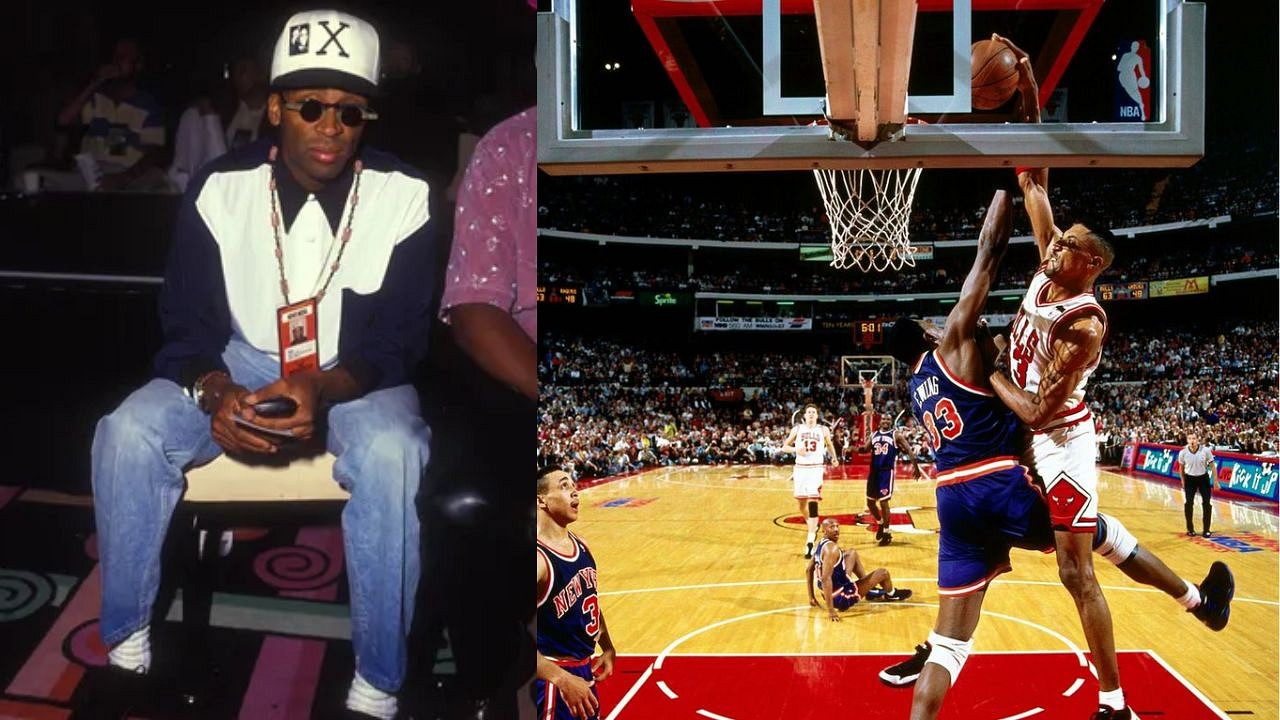 The Chicago Bulls had some of the greatest players in NBA history. One of them being Scottie Pippen.
The star forward was an unstoppable force for Chicago and was one of the hardest players to guard. He showed no mercy, regardless of the opponent.
Just ask Spike Lee. The world-famous director is a die-hard New York Knicks fan. A team who were victims of one of the most disrespectful moments the league has ever seen.
Also Read: "Michael Jordan Needed Everything Done For Him!": Scottie Pippen Once Explained Why LeBron James is the Inarguably the GOAT
Scottie Pippen once dunked on Knicks star Patrick Ewing, a moment that had super fan Spike Lee crying foul
In the 1994 NBA Playoffs, the Chicago Bulls who were making their first playoff run post the Michael Jordan era took on the heavily favored New York Knicks. A team that was led by star center Patrick Ewing.
The Knicks would eventually go through to the next round. But, it didn't come easy. After all, the Bulls still had a star of their own in Scottie Pippen. A man who performed one of the most disrespectful dunks on Hoya Destroya in this series.
Pippen posterized Ewing in one game, sending the big man to the ground. The dunk was so contact-heavy that it had Knicks superfan, Spike Lee crying for a foul.
Only for Scottie to walk up to him and tell him to, "sit your a** down!".
The moment has become one of the most epic moments in the history of the NBA. One that is certainly in every Scottie Pippen highlight reel.
Pippen took over the reins from Michael Jordan and did not disappoint
There were many concerned about how the Bulls would perform after Michael Jordan retired for the first time in 1993. After all, MJ was the star that led the Bulls to three NBA Championships. However, Scottie Pippen did not disappoint and silenced all the doubters averaging 22 points, nine rebounds, and six assists as he led the Bulls back to the Playoffs.
This is what Scottie Pippen did when MJ quit to go play baseball… Bulls still won 55 games without Jordan pic.twitter.com/8ADiXdgBRe

— nick 🇬🇷 (@MidRangeHarden) November 6, 2022
Pippen truly was a heck of a player, and anyone who says otherwise clearly needs to watch some of his clips. He is a basketball legend.
Also Read: "Sorry for what?": Dennis Rodman was Forced to Apologize to Scottie Pippen Before Joining Michael Jordan and the Bulls 
---
Share this article