"What Happened in 2014?": Chris Paul Slyly Dodges Questions About His 2014 Playoffs After Stephen Curry's Trash Talk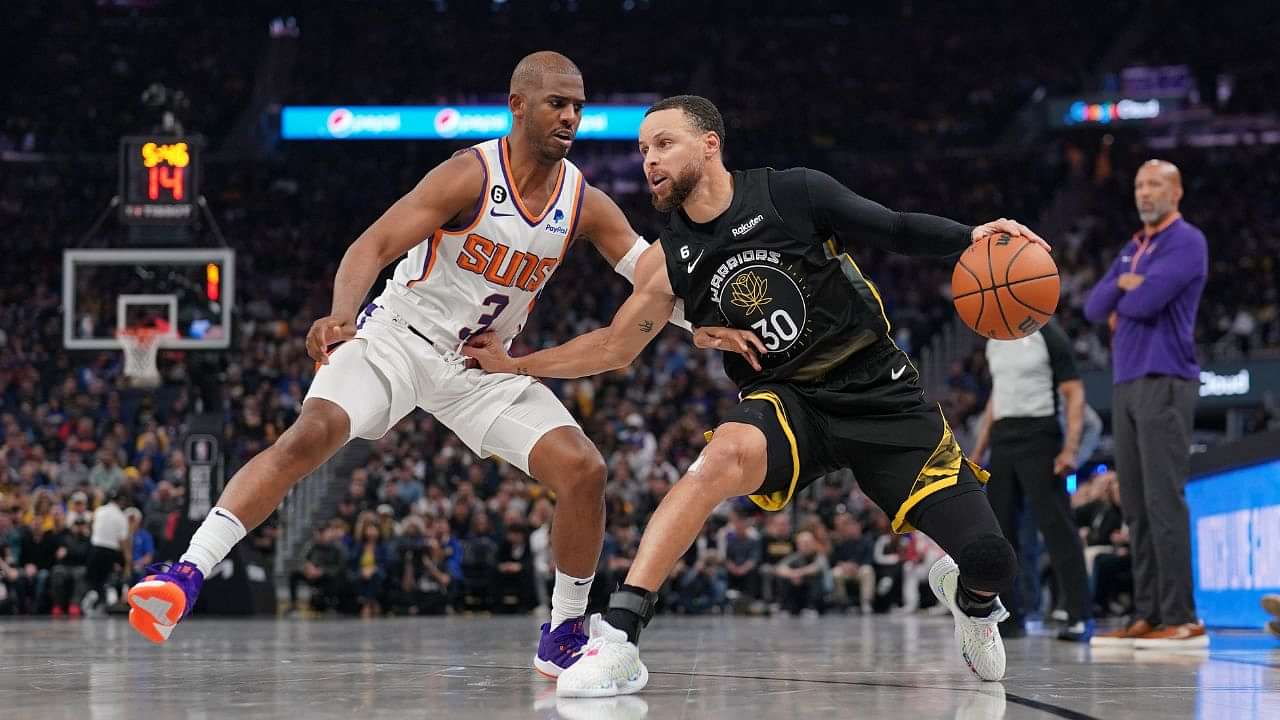 A video of Stephen Curry saying 'This ain't 2014′ after muscling and scoring on Chris Paul went viral during the Warriors' win last night.
The Warriors were favored to win this game given their 7-game winning streak at home. The match fell doubly in their favor once Kevin Durant got ruled out for a few weeks last Wednesday.
Golden State led the game from wire to wire and held a commanding 43-21 lead after the first quarter. Klay Thompson led the charge with 33 first-half points, including 8 3-pointers.
Loading embed tweet https://twitter.com/camisa_23/status/1635480654384168960?ref_src=twsrc%5Etfw
Still nursing himself back to full form after his return from injury, Steph had a lower burden on him. He finished with 23 points on 13 shots, in addition to 5 assists. He made some Twitter waves with his trash talk.
Loading embed tweet https://twitter.com/TheHoopCentral/status/1635481031188029440?ref_src=twsrc%5Etfw
Also Read – "Felt the pressure after dropping Chris Paul!": Stephen Curry Explained his Composure During Legendary Sequence Against Clippers
Stephen Curry and Chris Paul have contrasting responses when asked about Steph's words
Steph was definitely expecting questions about his chatter with CP3 in the post-game presser. He came prepared with a textbook PR answer while describing his emotions in that moment:
"It's all competition. You play against somebody for so many years, the love I got for him and our history."
Chris Paul, meanwhile, played the dumb card and refused to help media members with a headline. His response, nonetheless, represents a level of pettiness we've come to associate with him:
Loading embed tweet https://twitter.com/DuaneRankin/status/1635513267253809153?ref_src=twsrc%5Etfw
Also Read – "If I'm playing CP3, I'mma have some wine… Stephen Curry? I tell my girl not to call": Patrick Beverley continues his assault on Chris Paul
CP3 and Steph had a titanic duel in the 2014 NBA Playoffs
The Golden State Warriors entered the 2013-14 NBA playoffs as the 6th seeds under Mark Jackson. Draymond Green was still a bench player, while David Lee had earned his final All-Star game appearance the previous year.
Their series with the 3rd-seeded Clippers went the distance, with 4 close games and only 2 blowouts. The Game 7 saw Steph going off with 33 points. Draymond also filled in admirably with 24 points of his own.
But the Clippers emerged with the dub on their home turf, with the game finishing 126-121. The Clippers capitalized on 20-point games from all 4 of Redick, CP3, Blake Griffin and Jamal Crawford.
The series was the point when Steph later admitted he vowed never to lose early in the playoffs again. 6 Finals runs and 4 championships later, he seems to have been vindicated.
---