"Stephen Curry creates off the dribble like a motherf***er" : $50 million Worth Podcaster Breaks Down Why the Warriors Need 4x Champ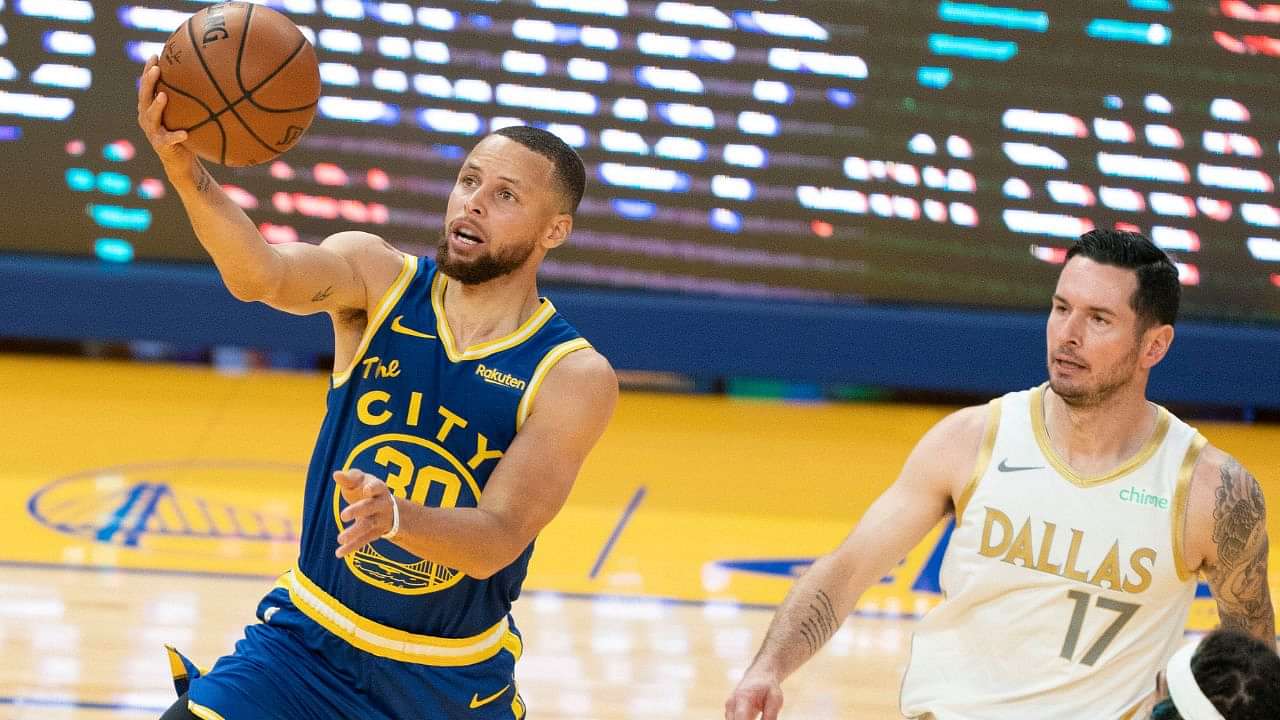 Three-point shooting shifted from a mere analytical trend to the defining factor for NBA success in the blink of an eye. A major factor forcing the shift was one man's individual brilliance – that of Wardell Stephen Curry.
The guard out of Davidson quickly established himself in the league as the NBA's premier marksman. Unprecedented shooting numbers from the field followed as Steph dwarfed everyone in the quantity and efficiency of shots. A Unanimous MVP was the reward for his mind-bending shooting ability.
Also read: "Stephen Curry Has it All!": Allen Iverson Couldn't Believe How 'Unreal' The GSW Man was During His Unanimous MVP season
Curry's shooting ability and his gravity have even shocked fellow professionals. Including individuals considered to be specialists in the same art of shooting that Steph mastered.
One such admirer is former Magic and Clippers shooting phenom, J J Redick. Redick is one of the finest shooters the league has seen and made 3s at a clip of 41% for his career. For a volume shooting specialist, those are some seriously impressive numbers.
Redick got himself the bag too, with his shooting ability, and is valued at a stable $50 million – money he earned as a contributor to playoff teams. These days he runs one of the best podcasts for all things NBA.
In his podcast, The Old Man and the Three, while discussing the importance of Steph to the Warriors, Redick even had to break into expletives to describe Curry's brilliance.
How did J J Redick describe Stephen Curry off the dribble?
While analyzing the Warriors' predicament without Curry, a discussion was prompted in Jordan Poole's direction. Poole is one of the best young players at creating off the dribble and was rightly credited for the same by Redick.
However, on the topic of creating off the dribble, Redick's admiration for Steph was made evident. JJ's expressions reveal how incredible Steph's ability to create off the dribble is. To have an illustrious contemporary break into expletives trying to describe your ability must be quite the feeling.
Redick went on to talk about how Poole could be an efficient scorer off the dribble who covers up in Steph's absence. This goes right in tune with the narrative surrounding Poole as the "Third Splash Brother".
The Warriors have encountered a tough season so far as defending champions. Losing Steph to a shoulder injury, however, might be the hardest test to date. The Warriors have been left clamoring for some offensive stability without many sources of inspiration.
It is at this point that Redick made an interesting observation. JJ mentions how Draymond Green's increased shot volume is a trend to look out for. In their last win against the Raptors, Green took 16 shots, something which hasn't happened in a long time.
Regardless, missing Steph amidst a stellar scoring season shall hurt. Especially when he is the one creating looks for the team with his gravity, like a motherf***er.
How serious is Stephen Curry's injury and when is he expected back?
As discussed by JJ Redick, Curry has been ruled out with a left shoulder injury. The "subluxation" is expected to keep the star guard out of the game for around a month.
However, there is the optimism of a successful return, considering there was no surgery required. Curry is in his mid-30s and an injury to his shoulder at such a stage of his career could have proven problematic. Luckily for the Warriors, no such dire measure was required at this stage.
If the role players find their feet and keep the Warriors competitive, the team can still claim an outside shot as contenders. However, any further absence from Curry will surely be the end of their title defense.
Also read: "Stephen Curry Is A Menace To Society": Ja Morant Gawks At Warriors Star's 5 Consecutive 94-Foot Shots
---