"That's an Importance for the Pelicans' Season": Zion Williamson-Brandon Ingram Chemistry is the Key Says Shams Charania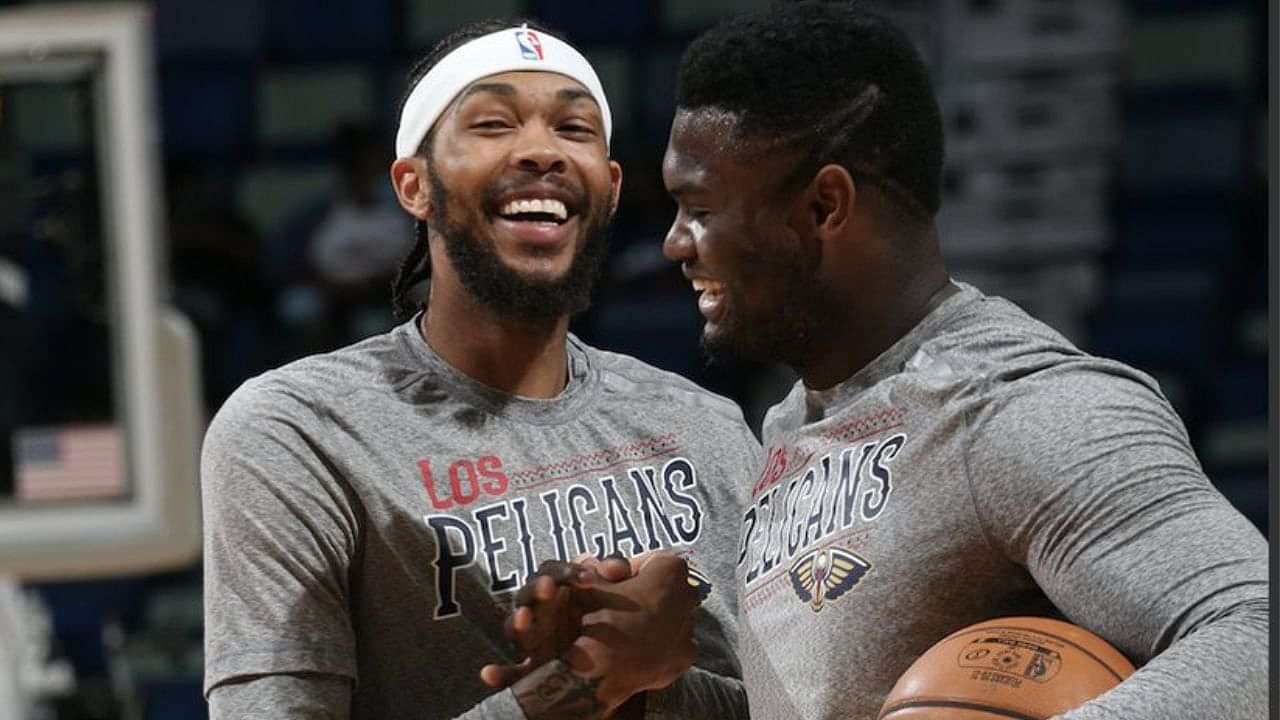 After their playoffs appearance last season, everyone expected the New Orleans Pelicans to be a force to reckon with this campaign. Not to anyone's surprise, with the addition of a healthy Zion Williamson, Willie Green's boys have been one of the best teams in the Western Conference.
Sitting 4th in the West with an 18-12 record, the Pels are merely 1.5 games behind the first seed. In the first 30 games of this year, NOLA has managed to defeat several powerhouses such as the Nets, Grizzlies, Nuggets, and Suns among others.
With Brandon Ingram missing out on 15 games, the fact that this young Pelicans squad has managed to hold a .600 winning record with their All-Star sidelined is even more impressive.
Also Read: Kendrick Perkins Justifies 6ft 6" All-Star's Conference-Leading Campaign Without Brandon Ingram
"It is important for Zion Williamson and Brandon Ingram to get a level of chemistry": Shams Charania
Due to injuries, over the past few years, the All-Star duo of Zion and BI haven't suited up for as many as games as the front office would've liked them to.
However, with the 2020 Most Improved Player out with a toe injury, many believe that the former Duke Blue Devils' chemistry will be of the utmost importance for the Louisiana-based franchise. Shams Charania also spoke about the grave importance of the same on FanDuel TV.
"I think, for him and Zion Williamson it is so important to get a level of chemistry because the last 2 seasons, Brandon Ingram, a couple (of) years ago, him (he) and Zion Williamson played extensively. Zion Williamson emerged as an All-Star, (and) Brandon Ingram had emerged as an All-Star as well.
But last year BI really carried this team and carried the load. Zion Williamson did not play a single game.
With these two back, I don't think there's a clash on how they play, but I know there's an importance on the season, on this roster to get both of these guys chemistry."
Loading embed tweet https://twitter.com/ClutchPointsApp/status/1605221736336588800?ref_src=twsrc%5Etfw
When will Brandon Ingram return to the lineup?
In the Pels-Grizzlies clash, on 25th November, during the 2nd period, the 6-foot-8 forward headed to the locker room with a toe injury on his left foot.
Unfortunately, according to sources, the All-Star even suffered a "setback" during his rehab process.
And things became worse when coach Green gave a concerning update on Ingram's injury.
"It's been better, but it has been a slow progress. We don't have an update on when he'll be ready to play. We're just kinda taking it week by week," Willie Green said.
Loading embed tweet https://twitter.com/FearTheBrown/status/1605245800006696960?ref_src=twsrc%5Etfw
Clearly, judging by what the HC had to say, it feels as if BI is going to be missing out on more games than we all initially expected him to. But when he returns, we will be waiting and for the rest of the league, it will be scary.
Also Read: Victor Wembanyama Coming Into the NBA has Gilbert Arenas and Rashad McCants Excited
---