"These Frog Legs Good!": Shaquille O'Neal Honors His Bet With Ernie Johnson, Eats Fried Horned Toad on Inside the NBA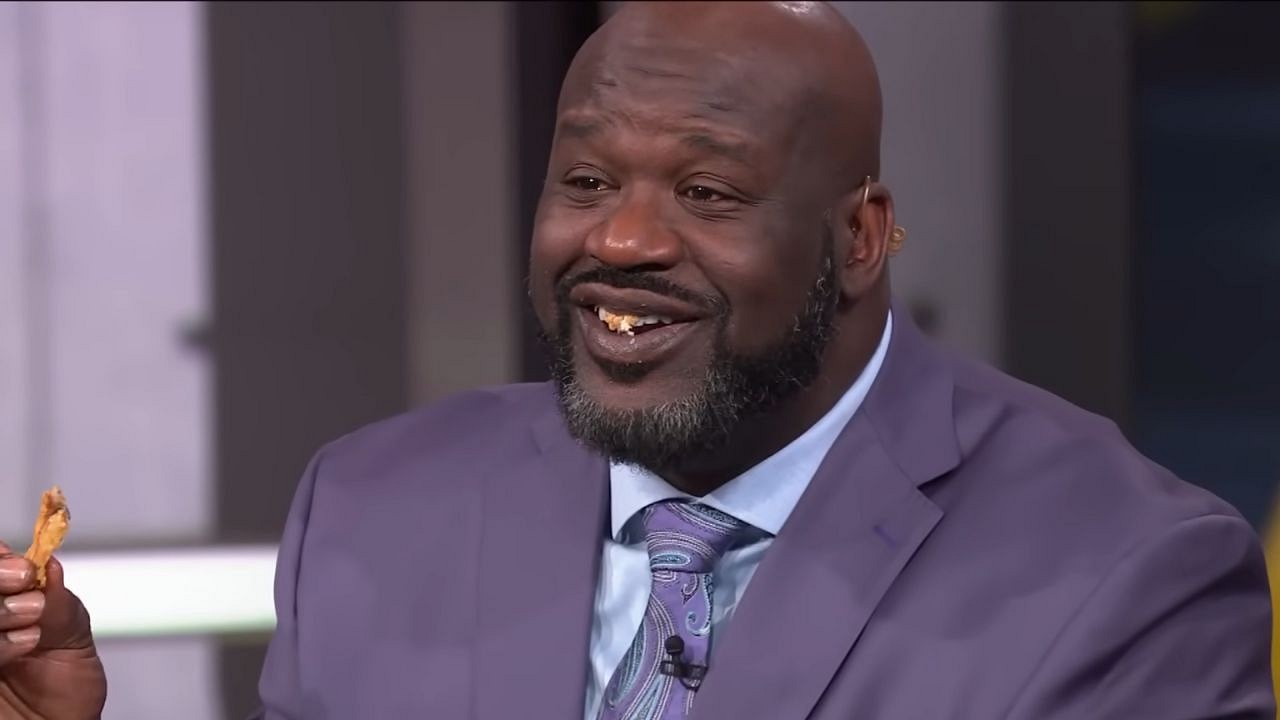 The last week has been quite eventful for Shaquille O'Neal and the crew of Inside The NBA. Last Thursday, the crew was discussing the NCAA Championship game between the Georgia Bulldogs and the TCU Horned Toads. Ernie Johnson, a die-hard Bulldogs fan, was raving about his team potentially winning two NCAA Titles in a row.
Shaquille O'Neal, as expected, wanted things to be a little more fun. He bet Ernie that he would eat Horned Toads on live television if TCU lost in the Championship game.
.@SHAQ said he'd eat a frog if @GeorgiaFootball wins the National Championship 😳 🐸 pic.twitter.com/Z2xn5CNscm

— NBA on TNT (@NBAonTNT) January 6, 2023
On Monday, the Bulldogs handed the Horned Toads a 65-7 trashing in the Finals. Shaq realized he'd lost and took it to his Instagram to own up to his bet and congratulate Georgia.
 

View this post on Instagram

 
Also Read: "Kevin Durant Is Going To Get Drug Tested For That": Markieff Morris and 'Slim Reaper's' Handshake Has NBA Twitter Speculating
Shaquille O'Neal finally eats Frogs on National TV
After losing the bet on Monday, Shaq tried to settle his bet on TNT Tuesday itself. However, he tried to finesse his way and brought chicken instead of frogs. Adam Lefkoe called him out on the same. Upon being snitched on, O'Neal made a statement that he'd eat the frogs on Thursday in front of Ernie.
Well, today's Thursday, and Ernie Johnson made sure Shaq paid his debts. He started the broadcast by bringing a plate of fried frogs. Shaq ate the first one without breaking a sweat. He reached out for the sauce to eat the legs and the second frog. While finishing his frogs, Shaq asked the camera to zoom in and said,
"These frog legs good! This the best frog legs I've ever had!"
While it brought a good laugh, O'Neal really needs to stop making these outrageous bets. One of these days, they may come back to bite him and his health.
Also Read: "Pretty Easy, Rim is Still 10 Feet.": Stephen Curry and Klay Thompson Describe Playing in Football Arena as Spurs Attempt NBA Record Attendance
Shaq once bet Charles Barkley $10,000 to spell a word
O'Neal is no stranger to making absurd bets. He bet Jimmy Fallon over the result of the Super Bowl, even without caring about what team he backed. Once, on Inside the NBA, Shaq bet Charles Barkley $10,000 to spell the word 'spectacular'.
"That Auburn education pulled me through, America." 😂

Chuck accepted Shaq's challenge to spell "spectacular" 🤣 pic.twitter.com/3uZIoesMOg

— NBA on TNT (@NBAonTNT) October 26, 2022
Much to everyone's surprise, the Round Mound of Rebound won the challenge. He might have gotten $10,000 richer, but he remembered to thank his Auburn education for the same.
Also Read: "LeBron James is Extremely Childish!": Lakers Come Clean About the King Right Before Game vs Luka Doncic's Mavericks
---
Share this article