"If Giannis is taking the last shot, we're in good shape": Devin Booker takes shots at Bucks MVP for his missed game winner against Chris Paul's Suns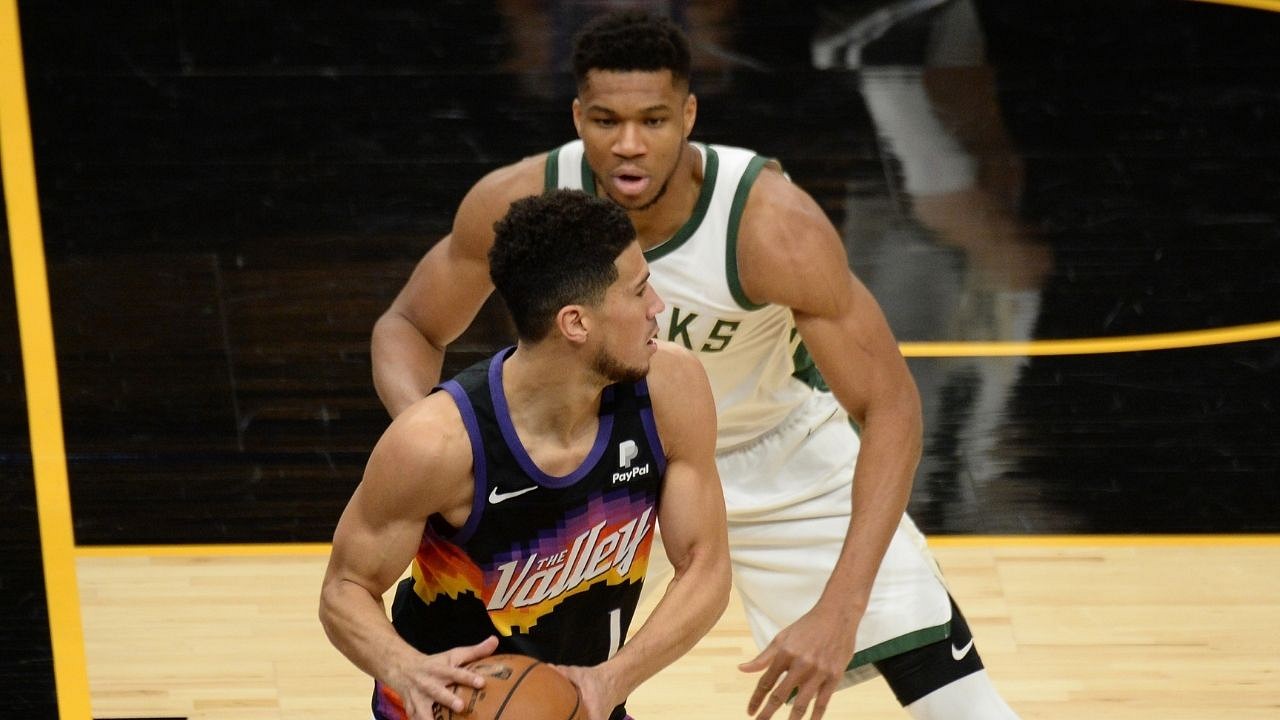 Devin Booker jokes that the Suns were in good shape considering the fact that Giannis Antetokounmpo was taking the potential game-winner. 
The Phoenix Suns faced off against the Milwaukee Bucks last night in a thriller that resulted in the Suns squeaking out a victory off a missed game-winning shot from Giannis Antetokounmpo. The Suns are currently on a 4-game win streak and are back at the top of the Western Conference with the 4th seed. 
Devin Booker and Chris Paul led their squads with a combined 58 points with Booker hitting the game-deciding free throw to put the Suns up by 1. 
Also Read: "Masai Ujiri is taking time to process the ordeal": Alameda county drops suit against Toronto Raptors executive after damning bodycam footage of Alan Strickland emerges
The Bucks di in fact have a chance to steal this one away from the Suns as they inbounded the ball with 2.8 seconds left on the clock. Giannis caught the ball and rose up for a mid-range shot from the free throw line but bricked it and the Bucks subsequently lost the ballgame after leading by 12 several times. 
Devin Booker was massively relieved when Giannis Antetokounmpo took the mid-ranger
Giannis's decision to rise up for a fadeaway middy didn't really make too much sense as Khris Middleton was wide open on the right corner. Chris Paul had rotated all the way over to near the top of the key, leaving Middleton as open as he had ever been. 
Following the game, Devin Booker was asked about how the Suns felt seeing Giannis take the last-second shot. "We're in good shape," said Booker. He later added that they were relieved that they could keep Giannis from bulldozing his way into the paint like he usually does. 
Reporter: "What were you thinking when Giannis got that last look?" (Midrange for a potential GW)

Devin Booker: "We're in good shape."

Via @GeraldBourguet pic.twitter.com/K0nKOLYNjL

— NBA Retweet (@RTNBA) February 11, 2021
Also Read: "Trae Young nutmegs Kristaps Porzingis twice in the same game": Hawks point guard puts the ball between Mavericks star's legs twice in their loss tonight
After 7 seasons and two MVPs in the bag, Giannis Antetokounmpo still isn't a viable threat from beyond 15 feet. Opposing big men leave the Greek Freak open on almost all shots from beyond the arc and rightfully so. He's shooting 27% from 3 point land and hasn't gotten any better with his mid range game. 
---
Share this article