"You Are a Living Legend, Cristiano Ronaldo!": When LeBron James Acknowledged a Fellow GOAT of the Sports World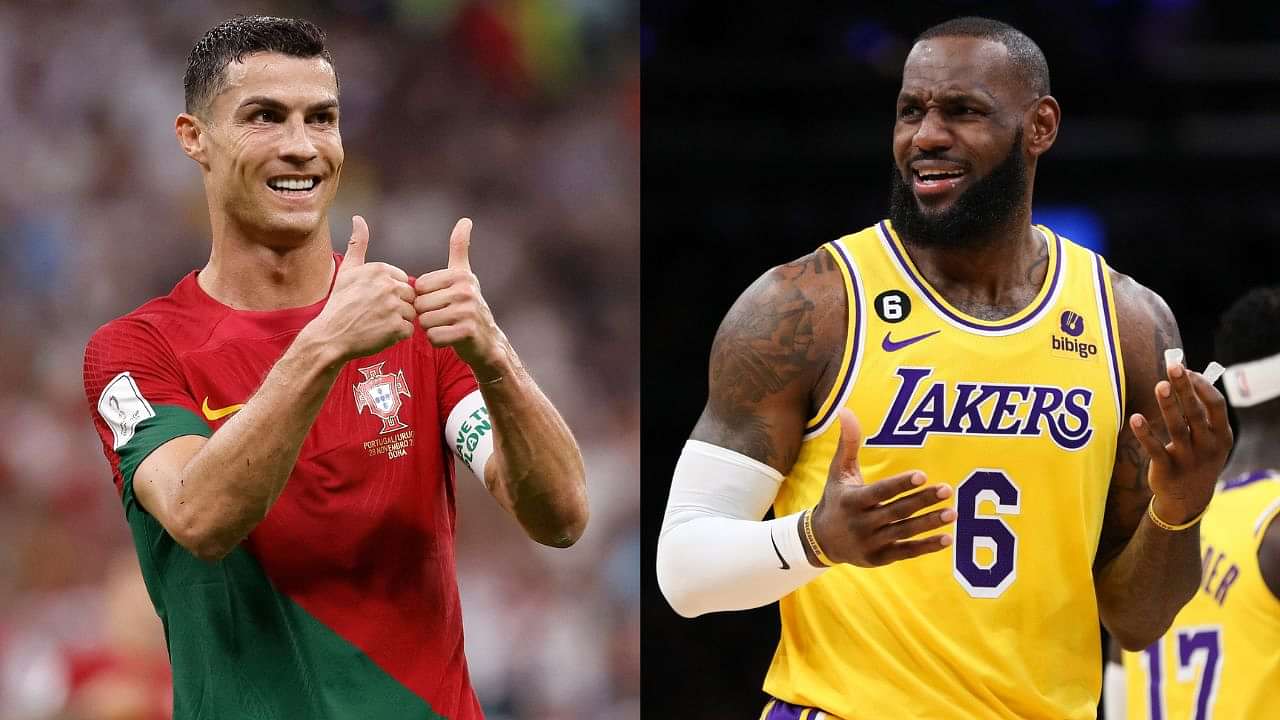 LeBron James has done just about everything he could've possibly done in his NBA career to be proven to be the GOAT. Of course, it is still a toss-up between him and Michael Jordan. However, the fact that this comes down to nothing more than fans' opinions signifies just how great the King has been.
Furthermore, the fact that he has been able to carry this on at the age of 38 years old is phenomenal. In fact, it has even made many questions if he is the greatest athlete of all time across all sports.
Of course, this is one of those debates that can't possibly be solved conclusively. However, if there is any animosity from James's side, he sure doesn't show it. In fact, the man once even went out of his way to extend an olive branch to Cristiano Ronaldo once.
And it's fair to say that it was received with open arms.
Also Read: "Redd Foxx, Princess Diana and A Great Ruler of Africa": Shaquille O'Neal Chooses Three Eccentric Names for a Dream Dinner
LeBron James and Cristiano Ronaldo had a wholesome interaction during the soccer star's birthday
Cristiano Ronaldo is about as close as anybody in the history of soccer to being the GOAT of the sport. In fact, if it weren't for a certain Argentine star, we'd even say he'd be the unanimous selection for the crown.
And it appears that on CR7's birthday, LeBron James decided to publicly acknowledge it on Instagram.
Take a look at their interaction in the image in the tweet below.
Loading embed tweet https://twitter.com/TeamCRonaldo/status/1225163598680424454?ref_src=twsrc%5Etfw
It's always nice to see two legends of the sports world share the proverbial embrace from time to time.
But it doesn't end there.
LeBron James once revealed his favorite soccer player(s)
Now, LeBron James is a basketball. He has enough to worry about in his own sport.
However, that sure didn't stop the man from acting as if he knew about soccer too.
So, when he was asked for his favorite soccer player on Instagram live, he couldn't just say one player.
Instead, here is what he decided to do.
Loading embed tweet https://twitter.com/ClutchPointsApp/status/1240936579176083458?ref_src=twsrc%5Etfw
He owns a minority stake in Liverpool. The rest, are the generic choices you'd expect from the then-endorsers of Nike.
No one can be sure, but this seems like one of those times LeBron James may not be telling the truth.
Also Read: Does the NBA All-Star Game matter: Are All-Star Game Stats Counted in Player's Achievements?
---