5 Instances When Jackson Mahomes Embarrassed Kansas City Superstar Patrick Mahomes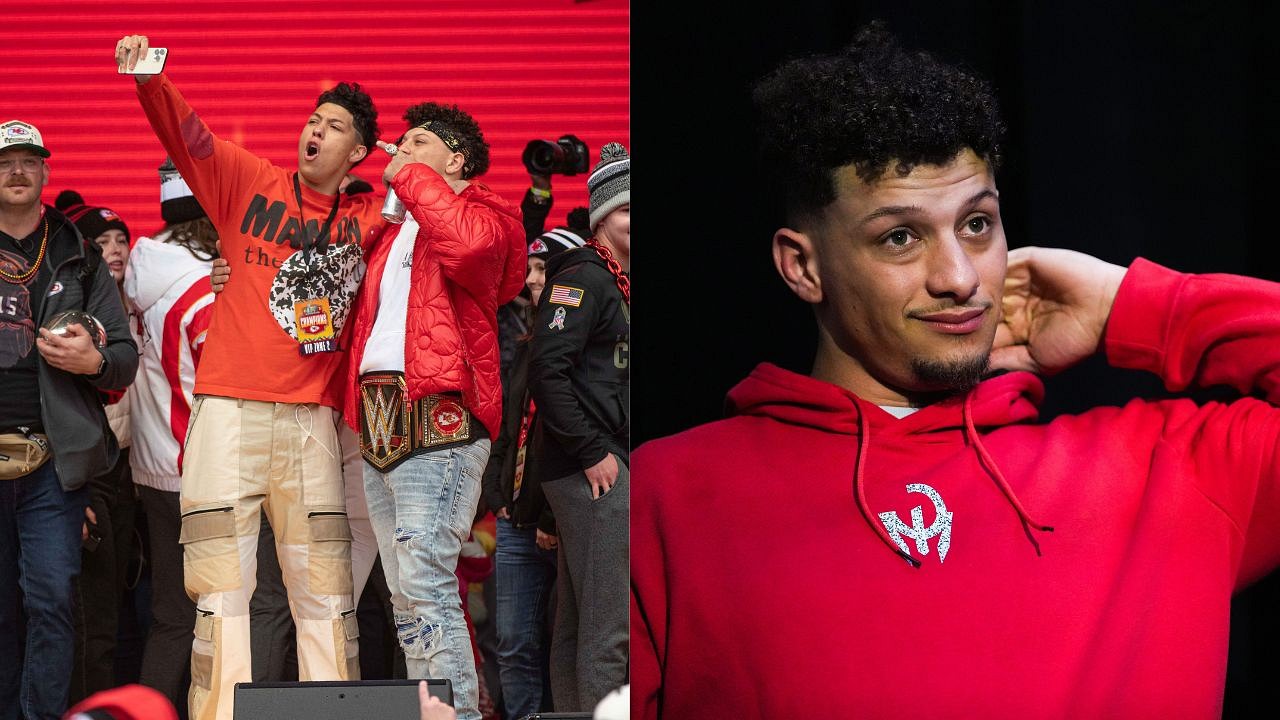 The Chiefs quarterback Patrick Mahomes might be the most loved entity from his family, contributing largely to the game of football. However, his brother Jackson Mahomes has been making headlines with disgraceful acts, tarnishing the quarterback's image in the public eye.
There have been several instances when the signal-caller had to answer for his sibling's mischievousness hurting public sentiments. Here's a look into a few of those incidents.
When Jackson Mahomes forcibly tried to kiss the bar owner
Apparently, this is one of the recent instances when the social media star faced the wrath of netizens for his immature behavior. He forcibly tried to kiss a 40-year-old female owner of a restaurant, located just outside Kansas City.
The video of this incident went viral a couple of days ago, and TikToker is facing investigations regarding the same, per The New York Post. Although Patrick Mahomes hasn't responded to the situation, his followers have been asking for his comment on the entire issue.
Jackson disrespected Sean Taylor
During the 2021 season, the Commanders held a ceremony to honor their former Safety, Sean Taylor, unveiling a number 21 logo. It was a regular season game against the Kansas City Chiefs when Jackson Mahomes went too far with his dance moves.
He was caught in his own world recording his moves while stepping over the restricted area, irking several NFL fans worldwide. Ultimately the kid had to apologize publicly, which was certainly not well received by the netizens.
Jackson Mahomes heckled the Ravens fans
The incident happened last season when the Chiefs played against the Baltimore Ravens in a high-intensity game. The match-up that was supposed to go in KC's favor turned suddenly, giving Lamar Jackson and his team a fabulous 36-35 win. Baltimore fans celebrated every second of the night and booed Brittany and Jackson Mahomes, who were present in the stands.
The TikToker opened a bottle of water, and poured it over them, finally leaving the stadium. During the post-game press conference, the quarterback was asked to comment on the issue; however, Patrick justified the move and defended his brother.
Patrick Mahomes' sibling gets roasted by a KC bar
Last year, the 22-year-old crossed the limit by using his social media reach to destroy a local business in Kansas City. Jackson along with his friends visited a bar cum restaurant where the seating options were limited. It was reportedly a small facility and couldn't accommodate all his acquaintances.
Instantly, the self-proclaimed star shared his reviews online, complaining about bad service. It certainly took a hit on their overall traffic and business. Subsequently, the authorities released a public statement on their media channels roasting Jackson Mahomes for his inappropriate behavior.
Jackson and Brittany Mahomes' social media antics
While the Chiefs quarterback gained popularity from hard work and work ethic, his sibling utilized this opportunity to make cringeworthy content online. Apparently, his wife Brittany Mahomes also accompanied Jackson on this journey attracting severe criticism.
All those clueless dance videos and weird post-game celebrations made netizens question Patrick Mahomes for a reason. Anyways, the quarterback has no other option than to bear these distractions in his successful NFL career.
---
Share this article