After Retiring With 5 Less Super Bowl Titles, Peyton Manning is Finally Getting the Better of Tom Brady as a Sportscaster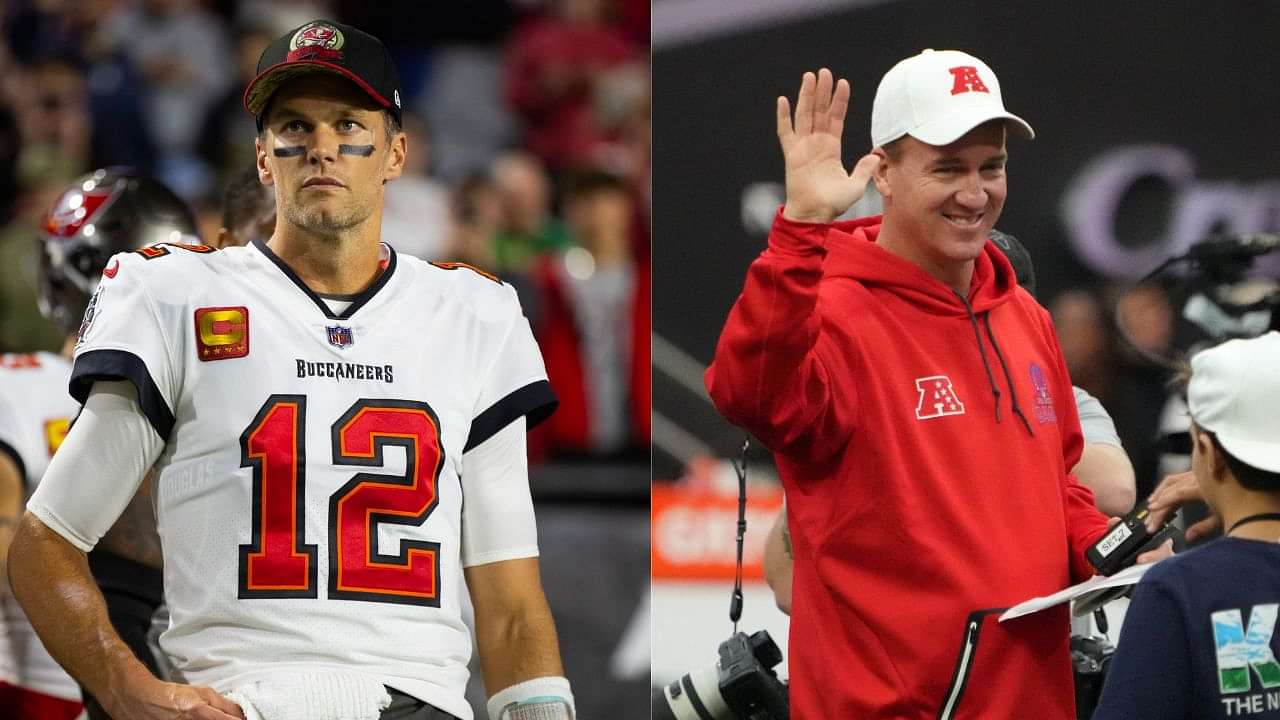 Peyton Manning is an absolute beast. No matter where he goes, success follows him. Perfectly justifying this notion, the veteran was recently nominated for an Emmy and and as expected, he ended up winning the award. No wonder, he is nailing the second phase of his career. While he cherishes the glorious moments of his broadcasting career, fans have been poking Tom Brady for trailing in his second inning, as Manning has already won an Emmy, while the 7x Super Bowl king is yet to begin his FOX gig.
Things have been quite hard for Brady ever since he announced his retirement from the NFL arena this February. He is slowly getting back to work after announcing a one year break. Tom will take up the FOX Sports gig in 2024, and before he enters the broadcasting world, the veteran has extra motivation from his arch-rival, who is having a gala time post retirement.
Peyton Manning vs Tom Brady: A legendary rivalry
When the soccer world boasted Messi-Ronaldo rivalry, NFL fans had Manning-Brady face-offs to enjoy in the last two decades. Both the QBs have been phenomenal throughout their careers, setting a new benchmark in the world of pro football. Per Sporting News, Brady and Manning met each other 17 times from 2001 to 2015, and during this span, TB12 outclassed his counterpart with a record of 11-6.
The former Patriots quarterback played for 23 years in the league, winning seven Super Bowl titles and five MVP awards. On the other hand, Manning could only bag two championship victories, as many as 5 less than Tom. However, Peyton remained at par with Tom in terms of MVPs and Pro Bowl selections.
When both, Manning and Brady departed from the arena, fans thought it was the end of their association with the football fraternity. However, the duo never stopped contributing to the game. Manning decided to make a career in broadcasting and call plays in the coolest fashion ever.
He accompanied his brother, Eli Manning, on this journey and kicked off the iconic Manning Cast on September 13, 2021. The success of this show was evident this week after Peyton won the Emmys in the "Outstanding Personality — Event Analyst" category on Monday night.
Peyton Manning has a fierce competitor coming his way in the form of Tom Brady
It's hard to compare Brady and Manning, if we talk about their broadcasting stints as Manning is way ahead of his competitor. Tom had committed to a ten-year association with FOX and will call plays as one of the top entities in the sports World from 2024. On the other hand, Manning had an edge when it comes to making a name in the second inning, simply because he retired from NFL way before his counterpart.
However, Brady is expected to quickly pick up all the tips and tricks needed to excel as a broadcaster. He will definitely get an ample amount of help from his pal Rob Gronkowski, who is already a pro at this job. No one can underestimate the competitive mindset that Tom has, which guarantees that Manning is set to face a fierce competition in the time to come.
---