Amidst Cheating Allegations Against Andrew Wiggins' Best Friend, Russell Wilson's Ex-Wife's Alleged Affair With Teammate Resurfaces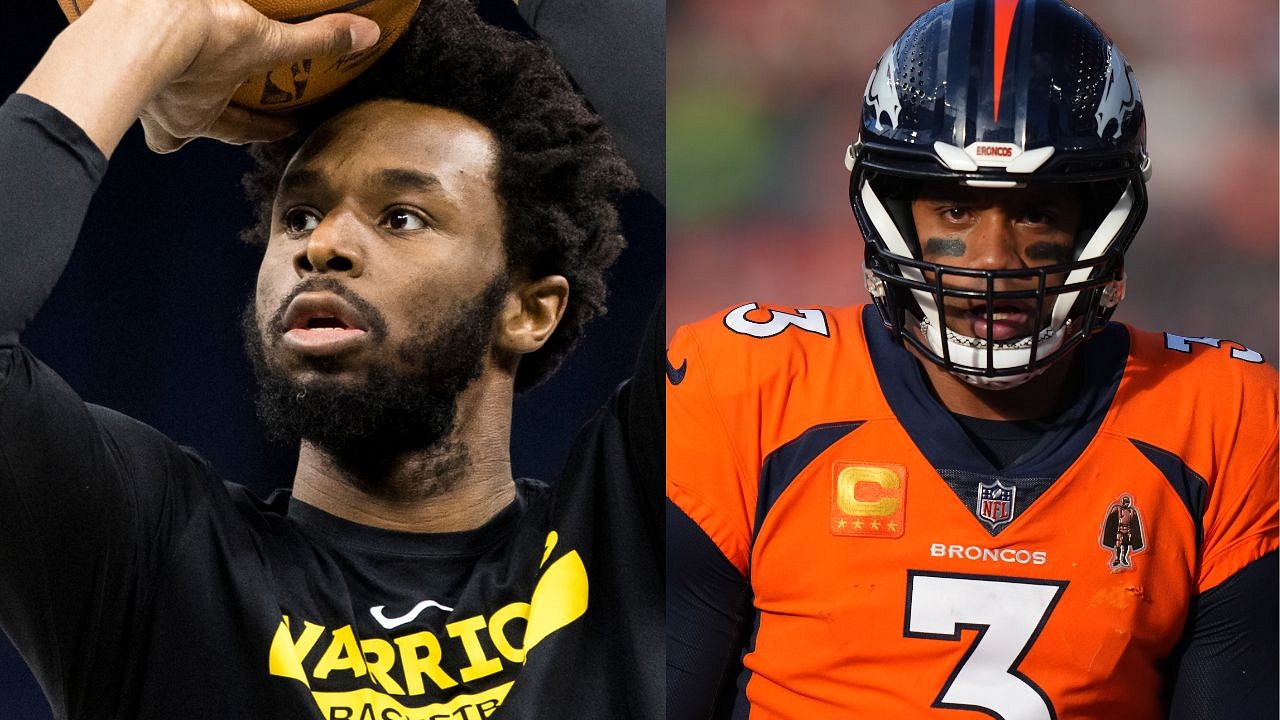 Andrew Wiggins, who started his NBA journey with the Minnesota Timberwolves, has been featuring for the Golden State Warriors since 2020. However, since the past few weeks, Wiggins has suddenly disappeared from the Warriors' roster.
Till now, he has missed 13 games, allegedly for personal reasons. While the exact reason behind his absence is still unknown, several fan theories have already started spreading like wildfire. One such crazy rumor which is gaining the interest of a lot of netizens is that Andrew's partner Mychal Johnson has been cheating on the NBA star with his best friend.
Rumors: the reason Andrew Wiggins has taken the last month or so off from #DubNation is because he found out his wife has been having an affair with his best friend, and all this time Wiggins has been raising their kid?? Nah man that's just messed up bruhhh 🤦🏽‍♂️ #hoes

— MoondomerPlays (@MoondomerPlays) March 16, 2023
Also read: Is Andrew Wiggins Married? Exploring Mychal Johnson And The Warriors Star's Relationship
Andrews Wiggins rumor reminds people of what Russell Wilson faced during his first divorce
The Wiggins rumors sound absolutely obnoxious and they most definitely are as the source which has been spreading them isn't a credible one. Moreover, due to this incident, another somewhat similar rumor regarding NFL quarterback Russell Wilson has now come to light.
Before marrying renowned singer Ciara, Russell had tied the knot with Ashton Meem in 2012. However, their marriage came to an end just two years after that. As soon as the news broke that Russell and Meem are separating, several crazy rumors started spreading.
Some claimed that Ashton had cheated on the NFL quarterback with his teammate Golden Tate which eventually forced Wilson to file for a divorce. Some even gave the rationale that because Russell was betrayed by Tate, he lobbied against him in order to get him out of the Seahawks' roster.
However, both, Tate and Ashton soon came out to deny all such rumors. "I did not have an affair with Russell Wilson's wife, nor did I have anything to do with his divorce," Tate had stated at that time.  "Russell and I were good friends when I was in Seattle, on and off the field –he knows the rumors about me were unfounded, damaging to my reputation, and an attack on my character. Anyone who circulated that rumor was just plain irresponsible," he had added.
Just like in Wilson's case, infidelity rumors regarding Wiggins' partner have no weight
As far as Wilson is concerned, he went on to marry Ciara and has two wonderful children with her. Aston on the other hand, hasn't tied the knot with anyone yet. Looking at what happened with both, Wilson and Wiggins, it would be fair to say that rumor-spreaders utilized ambiguity to popularize speculations.
Theories were created when people couldn't figure out why Wilson and Ashton separated. Similarly, rumors have been dished out regarding Wiggins as people don't know why he is missing games. As Wilson ones turned out to be false, speculations regarding Wiggins will probably face the same fate in the near future.
Also read: Andrew Wiggins Children: How Amyah And Alayah Wiggins Could Be Related To Warriors Star's 'Disappearance'
---
Share this article