Chris Simms' "Anti-Jalen Hurts" Prediction Goes Horribly Wrong as Eagles Lose Two In a Row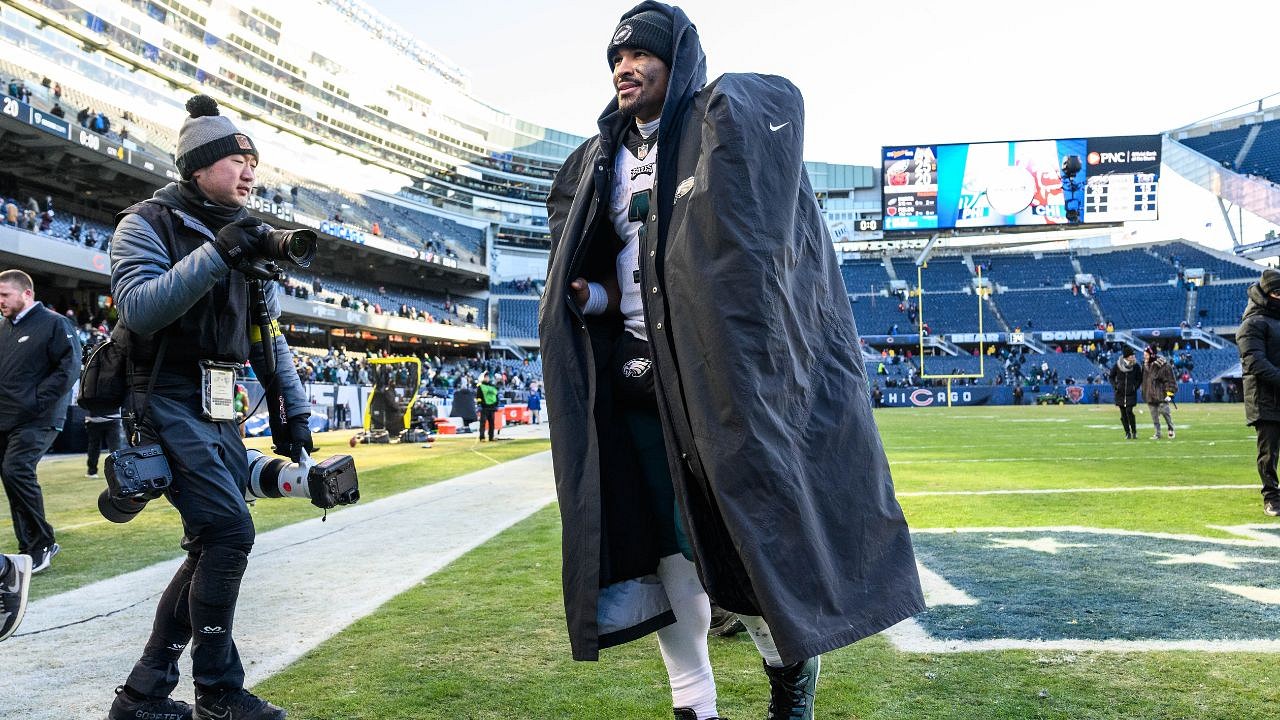 The MVP debates are in full swing, as the regular season ends in just a week. Everyone in the NFL community wants to have a piece of the fun, airing out their potential winners, and backing them ferociously if needed. While some just want to talk about who isn't winning. Falling in that category is former QB Chris Simms. However, it seems he might have made a slight error in his calculations about Jalen Hurts.
A couple of weeks ago, Simms came on 'PFT Live' and spoke about why he will not be voting for Philadelphia Eagles' QB Jalen Hurts for MVP. He says, "There's just no way he's more valuable to his team than Mahomes, Burrow, or Allen. Those teams are not the same teams if they don't have them at quarterback. If you put Gardner Minshew (in for) the Eagles, they'd still be really damn good."
 

View this post on Instagram

 
As if on cue, the Eagles started their next two games without Jalen Hurts, who was sidelined after he sprained his throwing shoulder. Unfortunately for Simms, the Eagles lost both their games, including the last game against the New Orleans Saints which put them at risk of losing the no.1 seed in the NFC. Talk about the need to swallow one's words, it seems to be happening all too fast for Simms.
Also Read: "Shannon Sharpe & Skip Bayless Need To Watch What They Speak": Jaire Alexander Takes a Swing At 'Undisputed' Analysts After Trouncing Vikings
High-flying Eagles falter again without Jalen Hurts
The Eagles are safely perched atop their division, with a guaranteed playoff spot in hand. However, their performances in their last couple of games are concerning. Especially with the playoffs just around the corner. While one could attribute the losses to Hurts' absence, it might just run deeper than that. With just 11 first downs against the Saints, they really struggled on Sunday night.
While their offense struggles to get their bearings straight, the defense is still pumping out numbers for the record books. The Eagles' defense is just 6 shy of the league record for most sacks in a season, set back in 1984 by the Chicago Bears. The Eagles' defense also registered their fifth straight game with more than 6 sacks, and are the first in NFL history to have 4 players with double-digit sacks.
With such an impressive defense preventing the opposition from scoring, the offense will have to step up and ensure their defensive men are not toiling for nothing. Maybe Hurts' return will return the offense to its former glory, but they need to be ready for all scenarios if they intend to win the Super Bowl.
Also Read: What Is a Franchise Tag In NFL? How Does it Work & Why Do Players Hate It?
---
Share this article