"Dak Prescott is A**": Former Super Bowl Hero Sean McCoy Tears Apart Cowboys QB For Underwhelming Performance in Loss Against Jaguars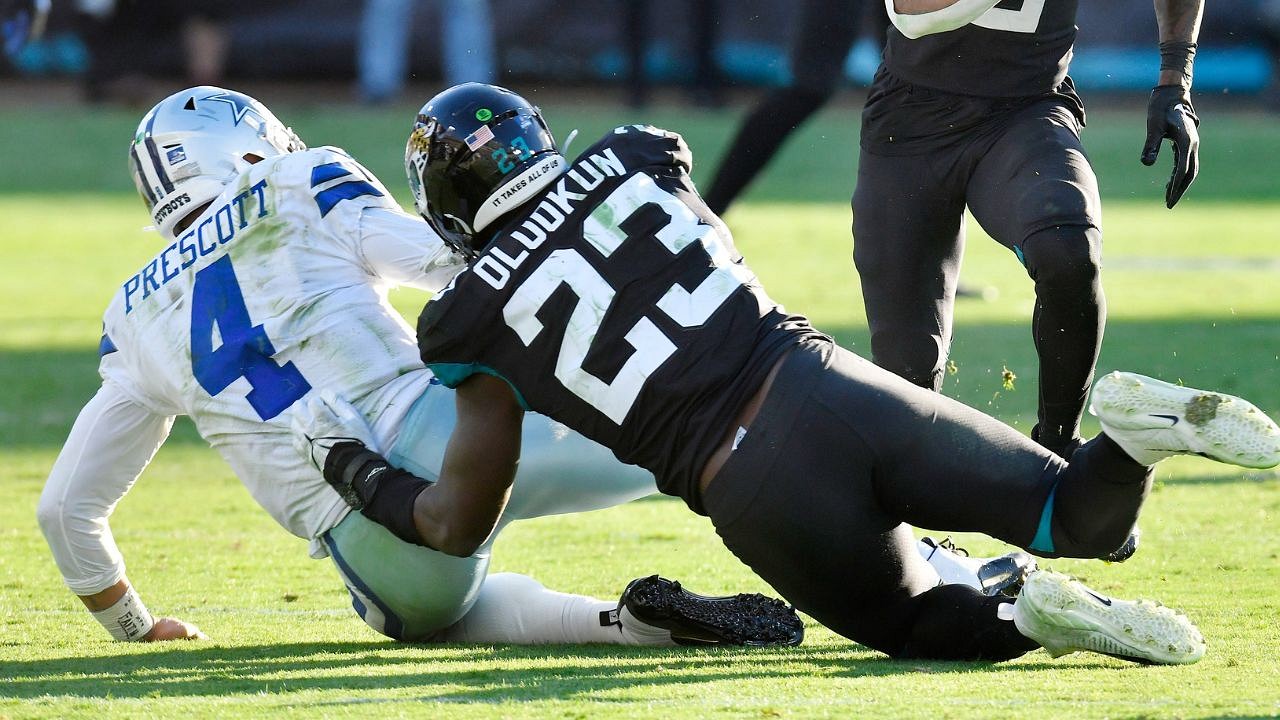 The Dallas Cowboys may have secured themselves a playoff spot, but it seems their troubles are far from over. With the postseason closing in, it seems their star QB Dak Prescott has yet to find his footing. Their week 15 loss to the Jacksonville Jaguars showcased some confusing and disappointing plays from Prescott. So much so, that 2 time Super Bowl winner LeSean McCoy thinks there is no way to defend Prescott's game.
Appearing on Fox Sports 'SPEAK', he is bewildered and amused when fellow analyst and co-host David Helman calls Prescott's performance "outstanding". McCoy then proceeds to remove his watch, and figuratively roll up his sleeves. He seems ready to fight Helman on this issue all day long.
.@CutOnDime25 had a lot to get off his chest about Dak Prescott, and @DavidHelman_ obviously disagrees. Get your popcorn ready for this one! 😂🍿 pic.twitter.com/7Q5BKFYdDp

— Speak (@SpeakOnFS1) December 20, 2022
"Dak is a**. Can I say that on TV, because he is a**-a**," says McCoy. "This is the second game he's just lost by throwing picks. He threw two picks to the Packers, had a 14-point lead, and lost. They was up 17 [against the Jaguars], 17, and lost."
He adds, "The picks he's throwing, he's not even trying to fit the ball through the needles or small little windows. These are like, easy passes. They run the ball well. What else can you do? I'm paying you $160 million, that's how you play?"
Also Read: After Shannon Sharpe Beef, Skip Bayless Destroyed Yet Again By NFL Fans For Fat shaming Rams' QB Baker Mayfield
Cowboys' Dak Prescott sets a scary trend just weeks before postseason games
Although McCoy's words may have been a little too harsh, his arguments cannot be disregarded. Dak Prescott has had a very tumultuous season. While he is doing good in the numbers department, that is just not enough to win games. In 3 out of 4 losses for the Cowboys, Prescott was the starting QB. Not a good number to have on your record for a highly-paid QB.
Another stat that is concerning when it comes to Prescott is his interception rate. After last Sunday's loss to the Jaguars, Prescott now has 11 interceptions in just 9 games. Compared to that, he had 10 last season, in 16 games. During his injury, his replacement Cooper Rush became a fan favorite, leading the Cowboys to a string of wins till they lost to their division and conference leaders, the Philadelphia Eagles.
With just 3 games before the playoffs, Prescott will have to make amends for his mistakes up until now. He will have to put up a string of exhilarating performances to ensure that he does not get passed over for the QB1 spot. Unfortunately for him, he cannot rest easy like many other QBs in the league, with the knowledge that he is the only option for the spot.
Having already proven his worth to the Cowboys, Cooper Rush will be waiting and watching, ready to pounce on any opportunity that comes his way. Who will lead the Cowboys during the playoffs? Will Prescott retain his role as the number 1 QB on the team? Or will Rush snatch it away from Prescott?
Also Read: Stephen A Smith Sheds a Tear on Live TV as Swagu Goes on Rant About Cowboys' Dismal Performances
---
Share this article