Stephen A Smith Sheds a Tear on Live TV as Swagu Goes on Rant About Cowboys' Dismal Performances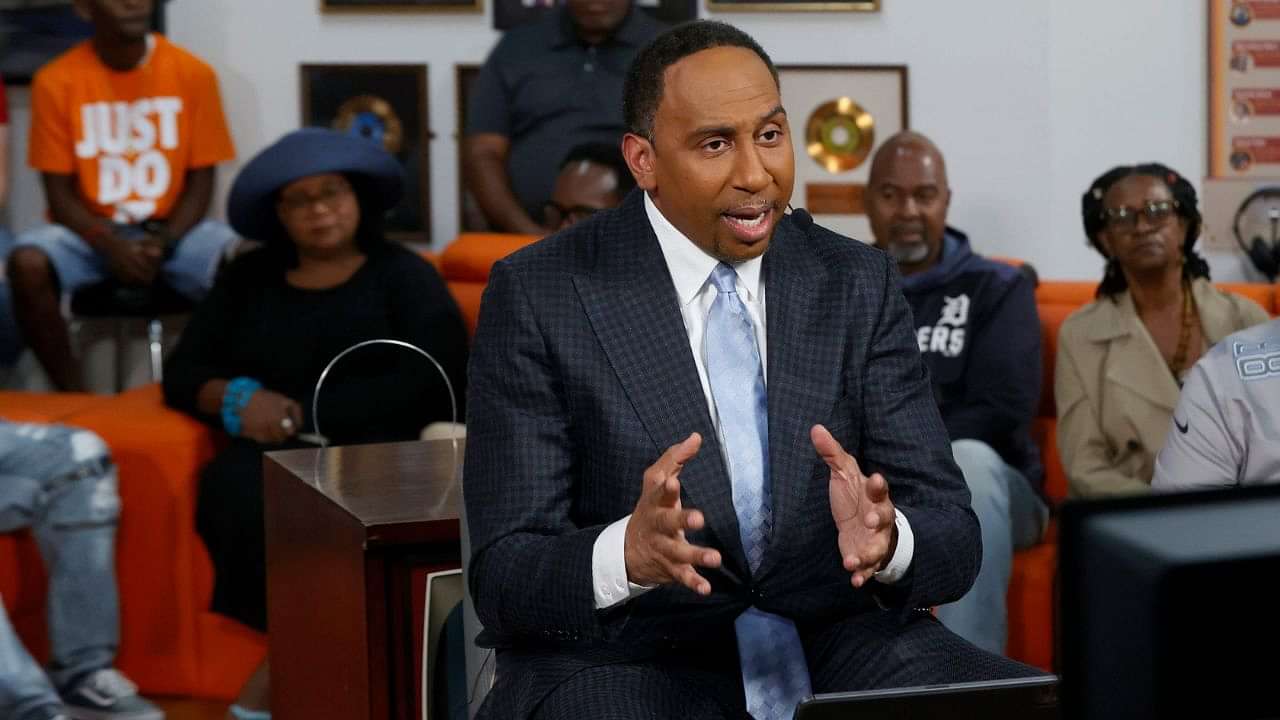 Stephen A. Smith is undeniably one of the best analysts and show hosts in the NFL community. His theatrics and almost comical attitude toward presenting make him one of the most beloved showrunners. But one other thing he is well known for is his unquestionable hatred for the Dallas Cowboys. Something that he never lets viewers forget.
It is this same hatred for the Cowboys that grabbed everyone's attention during the latest episode of 'First Take'. Former Cowboys defensive end Marcus Spears went on a rant about how his team hasn't been doing all that great, contrary to owner Jerry Jones' opinion. And the sheer passion and factual alignment Swagu had with him, brought tears to Smith's eyes. Figuratively, at least.
Swagu wasn't holding back his words when he spoke about the Cowboys. "I would love to come on here against Stephen A and say, 'Nope. Did you see that delivery…. this defense get a key turnover… us finish this game out?' That is the problem…so when Jerry Jones [is] saying Dak (Prescott) played outstanding, you are not addressing what has hampered the Dallas Cowboys based on what we've been watching"
For the first few moments of Swagu's rant, Smith looked as if he was enjoying the melody of a classic by Mozart or Beethoven, waving his hands around. But it did not take long for him to reach for the nearest tissue, and start dabbing his eyes, probably indicating that Swagu's words struck a chord in his heart.
"I have nothing to add to the beautiful, eloquent sermon that my man Swagu just disseminated across the national airwaves. Brings tears to my eyes to see somebody talk about them so accurately, to just highlight everything that I have been saying for years, and to crystallize it in such a beautiful circle. My Pastor A.R. Bernard would be proud of that man Marcus" Smith said about Marcus' words.
Also Read: "Are Patrick Mahomes' Chiefs Collapsing?": NFL Analyst & Kansas City Supporter Nick Wright Is Seemingly 'Nervous' About His Team's Future
Stephen A. Smith taunts Cowboys fans after surprise OT loss to Jaguars
The Dallas Cowboys have had a rather remarkable season this year. So it came as a stunning surprise when they squandered a 27-10 lead in the third quarter to lose 34-40 in overtime to the Jacksonville Jaguars. But a defeat is still a defeat, and Stephen A. Smith wasted no time in taunting Cowboys fans about their latest loss.
In a video he posted on Twitter, Smith declares the end is coming for the Cowboys. He says, "You see it's just about patience that's all I say, like I sprinkled out to you weeks ago Dak Prescott was a reason to be conservative, Do you like how picked out how pointed out how hey you know something?"
He then goes on to mock them about Dak Prescott's interception turned pick six throw, saying, "A pick six or something along those lines about the habit do you like how pointed out that what can go wrong will go wrong?… Because you know what I know. The end is coming. And this gonna be before the Super Bowl."
Is Smith correct about the Cowboys' doom? Although they have secured themselves a playoff spot, thanks to their impressive performance this season, the Super Bowl is still miles away. Will Smith's prediction come true, and will the Cowboys falter in the most critical part of the season? Or will they defy expectations and pose a serious threat to winning the Super Bowl?
Also Read: Chargers' 6-Year-Streak of "No Arrests" Finally Breaks As Cornerback J.C Jackson Gets Booked Over Family Issues
---