"Hate is like a virus. Even accidentally, it can rapidly spread": Patriots WR Julian Edelman Offers A Helping Hand To Miami Heat Forward Myers Leonard Following Anti-Semitic Comments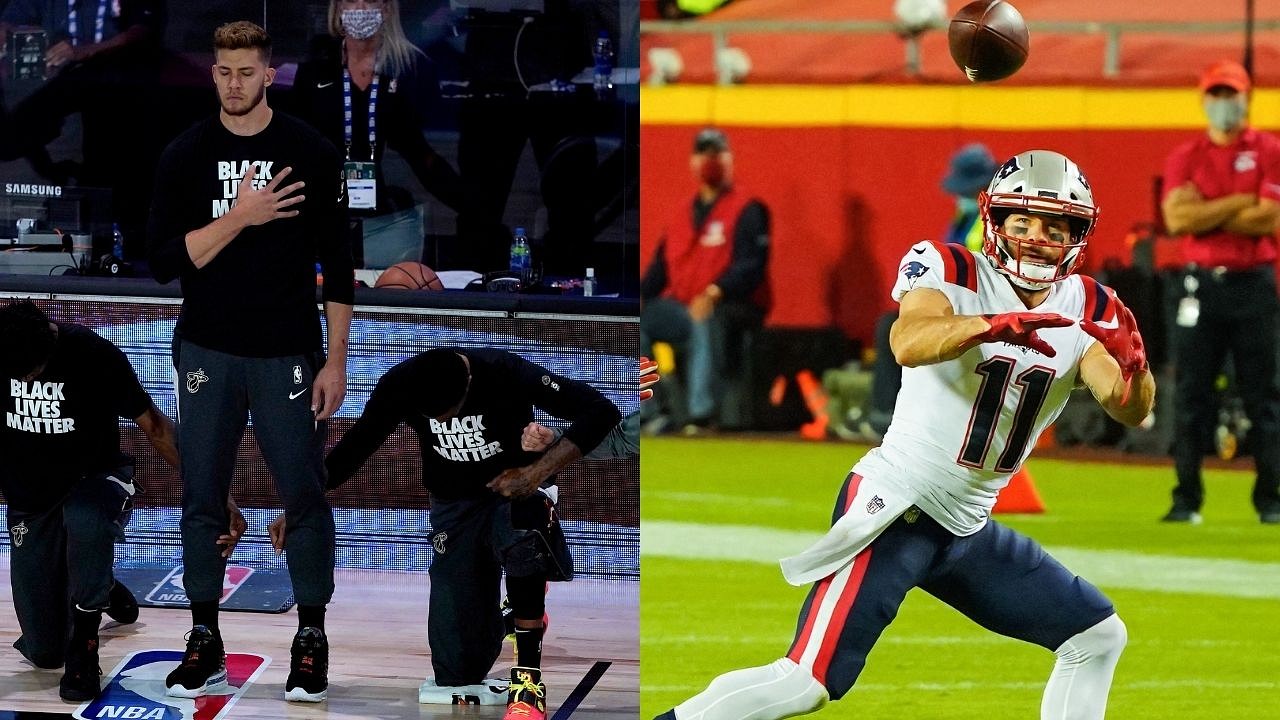 Julian Edelman has once again shown to be a role-model off the field. After, Heat forward Myers Leonard, made an anti-Semitic comment, Edelman offered to help out.
This isn't the first time something like this is happening, showing how he stands strongly against racism against the Jewish community.
"Hate is like a virus. Even accidentally, it can rapidly spread."

Julian Edelman shared a message for Meyers Leonard, who used an anti-Semitic slur during a video game livestream. pic.twitter.com/DMgLI1S0Ny

— SportsCenter (@SportsCenter) March 10, 2021
Also read: NFL Salary Cap 2021: How Much Available Cap Space Does Every NFL Team Have?
Julian Edelman Plays An Active Role in Condemning Hate Speech Towards Jews
As mentioned above, this isn't the first time, Edelman has shown a willingness to step forward and help out someone who may have either intentionally or unintentionally propagated anti-Semitic views.
In 2020, after Desean Jackson posted a series of anti-Semitic content on his social media, Edelman offered to take him to the Holocaust Museum so Jackson could learn about the history behind anti-Semitism.
Edelman took a similar approach with Leonard, telling him that he's often around in Miami if the Heat forward wishes to learn more.
Edelman is personally a member of the Jewish community. Thus, he knows firsthand how horrific anti-Semitism can get. However, he did acknowledge that Leonard's comments most likely came out of "casual ignorance."
What Did Myers Leonard Say & What Will Happen to Him?
Leonard is an avid gamer, and so he can often be found streaming on Twitch. In one of his Twitch streams, Leonard was seen using a derogatory term to describe Jews. The clip went viral quickly.
Leonard issued a formal apology for his comments saying:
"I am now more aware of its meaning and I am committed to properly seeking out people who can help educate me about this type of hate and how we can fight it."
He also added more later. "I promise to do better and know that my future actions will be more powerful than my use of this word."
The Miami heat have suspended Leonard indefinitely:
"The Miami HEAT vehemently condemns the use of any form of hate speech. The words used by Meyers Leonard were wrong and we will not tolerate hateful language from anyone associated with our franchise. To hear it from a Miami HEAT player is especially disappointing and hurtful to all those who work here, as well as the larger South Florida, Miami HEAT and NBA communities."The Heat also had this to say about Leonard's suspension:

"Meyers Leonard will be away from the team indefinitely. The Miami HEAT will cooperate with the NBA while it conducts its investigation."

Also read: "I Could Make LeBron James an All-Pro Wide Receiver": Former NFL Tight End Believes Los Angeles Lakers Superstar Would Thrive In The NFL
---
Share this article