"I like f**king people up.": Detroit Lions new rookie DT Levi Onwuzurike says he ready for the NFL.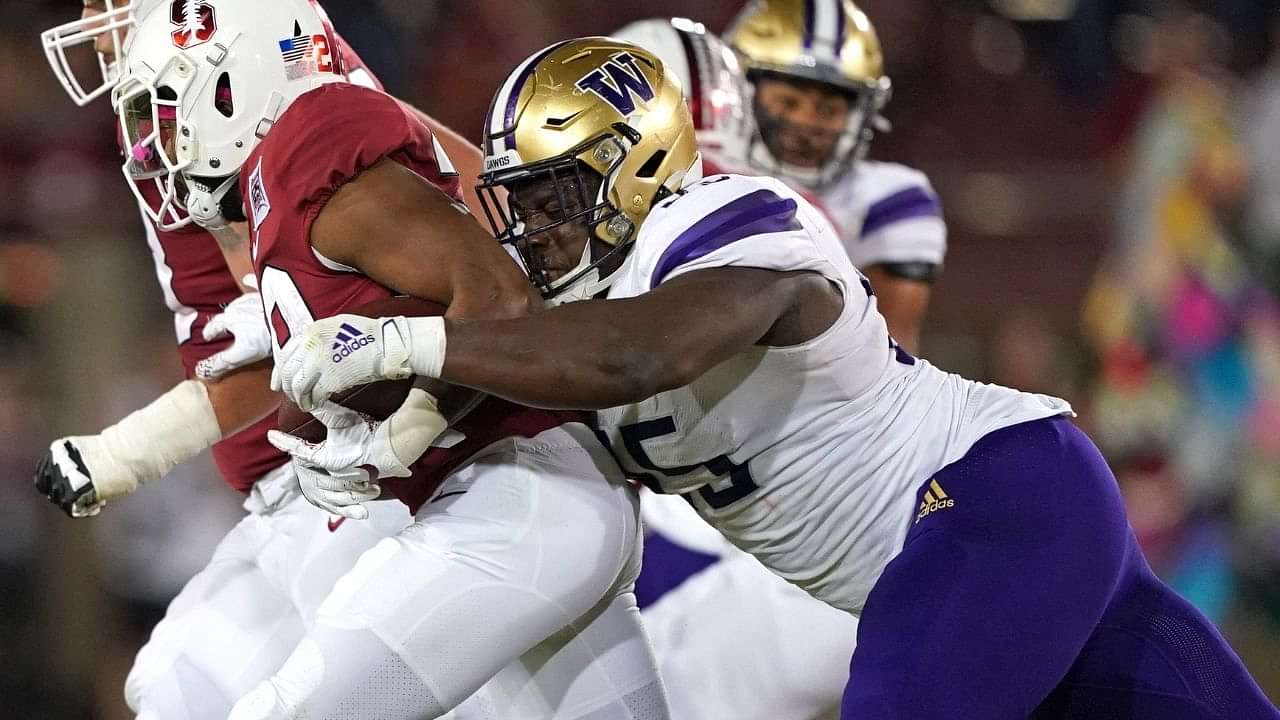 The Detroit Lions drafted another member on the line in Washington's Levi Onwuzurike. But this time on the defensive side of the ball. And the Detroit Lions will hope his game will translate as well as his confidence has.
After changing up the entire organization's structure, the Lions look fresh and revamped under new HC Dan Campbell. Dan has a whole to do before the Lions are competitive again after three straight last-place NFC North finishes, but Campbell has been blunt about one of his top objectives, which is making this team tough again.
Loading embed tweet https://twitter.com/SportsCenter/status/1352318638641065989?ref_src=twsrc%5Etfw
And by the looks of it, Levi Onwuzurike is exactly what he wants for the new culture.
Levi Onwuzurike likes (bleeping) people up.
Levi Onwuzurike was asked what his favorite thing about playing Defensive tackle was. His answer was awesome:
"I really just like exploding out of my stance and (bleeping) somebody up. "I mean, I think it tells you all," Onwuzurike said. "I like (bleeping) people up. I like to get off the line and just put my helmet and my hands on an offensive lineman and (bleep) up an offensive scheme, pretty much. I like pushing them back 2-3 yards and just making them feel like (bleep)."
Loading embed tweet https://twitter.com/barstoolsports/status/1388294370911301634?ref_src=twsrc%5Etfw
The Lions looked to add strength on both sides of the ball. They seemed ecstatic after Oregon OT Penei Sewell fell to them at no. 7. Sewell was one of the top 3 prospects that they wanted before entering the draft. One round later, they drafted a guy who seems hellbent on bleeping people up from the other side of the trench.
"I mean, I think it means a lot (to take two big guys early)," Onwuzurike said. "The trenches are arguably the most important position group in football, so I think it's an honor for me to be the first D-tackle out. It's an honor for me to be playing for the Lions. I think the Lions are trying to build some (bleep) right here, and we got two good-(bleep) parts to build that."
Loading embed tweet https://twitter.com/JRoseWXYZ/status/1387938970470948868?ref_src=twsrc%5Etfw
"You know, at the end of the day, I'm going to have a chip on my shoulder," he said. "If I went fourth round, then I'd have a chip on my shoulder. If I went first round, the first pick, I'm gonna have a chip on my shoulder. Either way, I'm going to (bleep) some (bleep) up. So, I'm not really worried about that."
Levi was great at Washington, finishing his 2 seasons with seven sacks and 16 tackles for loss in 39 games. He will join the Lions' new addition Michael Brockers as they look to strengthen their interior defense. Regardless of whether he starts in week 1 or not, at least we know Levi will always be a great interview to watch.
Also Read: "We're working": Colts GM Chris Ballard had a blunt response to hilarious prank call by Lions executive John Dorsey.
---