Looking at Aaron Rodgers' $50.2 Million Salary, 49ers Legend Joe Montana Wants to Come Back to the NFL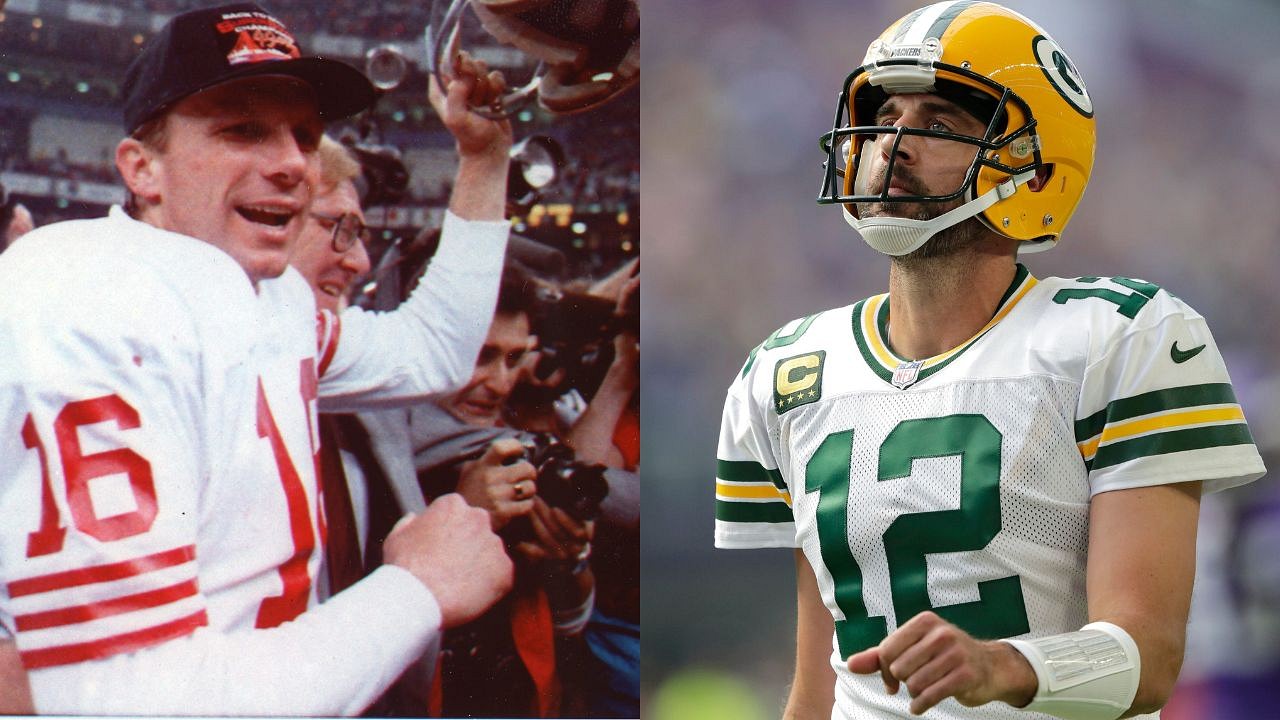 Joe Montana is one of the greatest quarterbacks to ever bless the game of football. The 4x Super Bowl champion started his NFL career with the 49ers in 1979 and went on to play with them till 1992.
The 3x Super Bowl MVP created innumerable records during his playing career. However, despite being one of the greats, Montana made nothing in terms of money as compared to star QBs of today. He signed a $255,000 3-year rookie deal with San Francisco in 1979, receiving $85,000 as average salary. The most amount of money he made was during the final 3 years of his career when the Chiefs paid him a total of $10 million.
Joe Montana eying NFL comeback?
Yes, the figures would look a lot different if we adjust them as per today's standards. However, even then, Montana's final $10 million contract would be worth around $21.5 million today as per inflation calculators. This shows that the league has progressed leaps and bounds over the last few decades and hence, players are now making more money than ever.
Expressing his desire to come back into the league, Montana, who recently appeared on Today's "Catching Up With" alongside Bengals QB Joe Burrow, claimed that if he could run from his chair to the nearby window, he would consider featuring in the competition one more time.
Moreover, when the host asked Montana if he feels that he was born 25 years too early, the 49ers legend's response was a firm yes. The money aspect came into the conversation with Joe Burrow was asked to comment on Aaron Rodgers and Jimmy G trade situation.
In reply, Burrow pointed out that everything in football has gotten better over the years. Right from the coaching at school and college level, to the scale and size of the competition. This is why, the dollar value of the league has gone up to such an extent that players are fetching super hefty contracts.
Several top earning QBs in 2022 churned out dismal numbers
Indeed, the salaries some of the quarterbacks are fetching in the NFL is just insane. Aaron Rodgers received $50.2 million for playing for the Packers in 2022. Whereas Russell Wilson took home $50 million as salary for the previous season.
Kyler Murray was paid $49.2 million salary and Deshaun Watson took home a whopping $46 million. Interestingly, all of these top-earning quarterbacks failed to leave any kind of impact during the 2022 season. While Rodgers did fare well in the latter half of the season, Wilson had a disastrous run throughout.
Moreover, Deshaun's controversy and his 11-game ban pushed him back. Whereas Cardinals' Murray wasn't able to lead his side to the playoffs. With several changes in contracts now being made, it will be interesting to see which QB fetches how much in the coming season.
---
Share this article