Aaron Rodgers Trade: With $60 Million on the Table, Rodgers' Post-Retreat Revelation to 'Not Retire' Sounds Like a Sham to Skip Bayless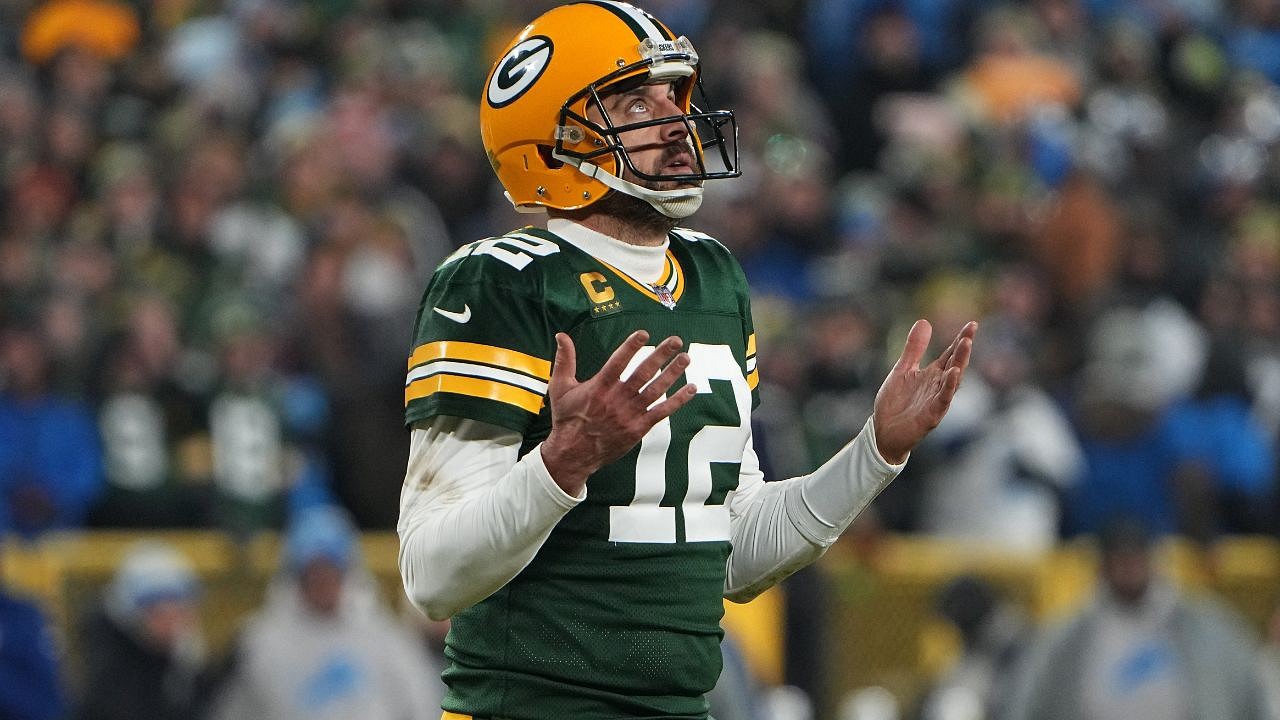 4x NFL MVP Aaron Rodgers finally revealed a couple of days ago that he wants to play for the Jets. Speculations about Aaron calling it quits on his NFL career started arising as soon as his 2022 season ended.
Moreover, upon returning from his retreat, Aaron revealed on Aubrey Marcus' podcast that all the insecurities regarding his retirement from the NFL came back to him while he was in the darkness. However, he had gone on to say that he eventually made peace with the thought of retired life.
Also Read: NFL Combine 2023: Top 5 Most Impressive Offensive Linemen Who Sealed the Deal at Combine This Year
Skip Bayless rips Aaron Rodgers for his "not-retiring" revelation
If giving mixed signals was a sport, Aaron would have had way more than just one championship ring. Even after his return from darkness, Rodgers was making a variety of statements, giving rise to even more ambiguity around his future in the league.
After he finally made his decision clear on his pal Pat McAfee's podcast, several NFL experts latched onto the opportunity to annihilate him for his dramatics. One such experts is Skip Bayless from 'The Undisputed' who stated in a recent episode that Aaron tried hard pretending that he got a massive revelation after returning from the retreat which pushed him to stay active in the league.
"If Aaron Rodgers behaved in a matter of professionalism, he could've had a Coach K career. The Packers didn't wrong him, they just got tired of his bulljive."

— @ShannonSharpe pic.twitter.com/l6dRzjOQWD

— UNDISPUTED (@undisputed) March 16, 2023
"He has a revelation like, 'I am 90% retired. But no I think I am gonna play.'  You're revelation is, you're due $60 million. Who wouldn't have a revelation. $60 million are sitting right there on the table," Skip stated. The renowned analyst suggested that it is impossible to believe that Rodgers had no idea before leaving for retreat that teams were shopping for him.
"He is a classic spin doctor. He is going to spin it back to himself as if he is the victim," Skip stated before quoting USA Today's Nancy Armour who recently claimed that "for someone claiming he is not a victim, Rodgers sure can't play one well."
Aaron Rodgers calls the idea of handing a wish-list to Jets "Absolutely Ridiculous"
There were reports that Aaron had communicated to the Jets that there a few players which he would like to have in the team. However, on the Pat McAfee Show, Rodgers claimed that he never gave a wish-list to the Jets, calling out insiders like Adams Schefter and Dianna Russini.
"From what I've seen, it's like I had a sheet of paper when I met with the Jets and I said, 'Sign these people.' That's not the reality. That's so ridiculous. It's so stupid to think I would do that, number one," Rodgers told Pat. However, very cheekily, Aaron added that they did ask him about certain players he played with and of course, he glowingly told them how fond he was of them.
Moreover, Jets have agreed to sign Rodgers' former teammate Allen Lazard and might even end up getting his friend Randall Cobb in their unit. So one might ask, "why was Aaron ranting against the wish-list?" The answer is, 'that's just who he is.'
Also Read: NFL Combine 2023: Top 5 Most Impressive Offensive Linemen Who Sealed the Deal at Combine This Year
---
Share this article