New York Giants Training Camp 2021: Start Date, Location, Roster Battles, and Fan Policy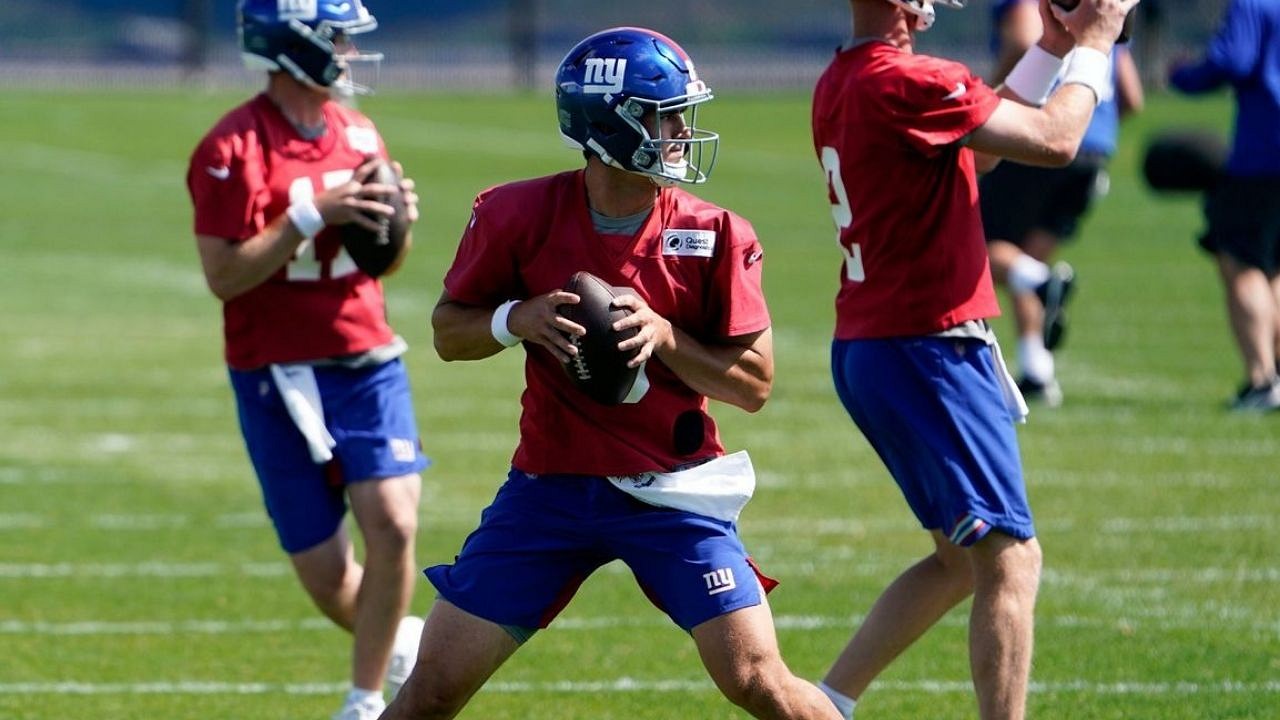 After adding a plethora of weapons to the offense, the New York Giants have a crucial training camp coming up if they want to have a successful season. When does it start, where will it be held, and are fans allowed to attend?
With phase 3 of the 2021 NFL offseason set to wrap up on June 18th, teams are already looking forward to training camp. It is by far the most grueling and pivotal part of a team's preparations.
Training camps often include busy days for players and coaches, sometimes with 2 practices a day, weight training, team meetings, and film sessions.
Per the league's Collective Bargaining Agreement (CBA), no contact is permitted during the first 3 days of camp. Days 4 and 5 will see players at full speed in light equipment called "spiders and shells", day 6 is a mandatory day off, and finally fully-padded practices start on the 7th day.
Along with the strenuous schedule, full-speed practices mean that both contact and non-contact injuries are very common. Regardless, training camp is mandatory for all players, unlike OTAs which are voluntary. If a player doesn't show up, they risk getting cut by their team.
When Does Training Camp Start for the New York Giants?
For the first time in NFL history, there will be a unified start for training camp. 29 franchises, including the New York Giants, will kick off their training camps on Tuesday, July 27th.
But the Cowboys and Steelers, who will play in the preseason Hall of Fame game, are allowed to begin training camp as early as July 21st. The Buccaneers will also be allowed to start training camp 3 days earlier on the 24th, as they play the season opener against Dallas on a Thursday night.
The #Cowboys and #Steelers can report as early as July 21 because of the hall of fame game. The #Bucs can report July 24 because of a Thursday opener. Players from the other 29 teams are required to report July 27, per the CBA.

— Tom Pelissero (@TomPelissero) May 25, 2021
Where is the Giants Training Camp Being Held?
Normally, NFL teams are permitted to hold training camp at outside facilities to improve accessibility for fans, However last year, due to the uncertainty caused by the COVID pandemic, teams were instructed to conduct camp at their own training facilities.
The New York Giants will open training camp at the Quest Diagnostics Training Center in East Rutherford, New Jersey
New York Giants Training Camp Roster: Key Position Battles to Watch
As usual, teams will start camp with 90-man rosters. They must cut down to 85 players by August 17th and to 80 by August 24th, before settling on a final 53-man roster by August 31st.
Who plays corner for the Giants will be interesting to see. James Bradberry will lock up one side of the field. But the Giants have a lot of options to choose from for Corner 2 and their Nickel CB.
The Giants have invested significant resources via the NFL Draft to acquire the likes of Aaron Robinson, Darnay Holmes, Xavier McKinney, and Julian Love over the past two years.
But they also brought in Free Agent Adoree Jackson who will expect to be on the perimeter. Holmes appeared in 12 games last season and allowed an opposing passer rating of just 87.2 so he should be the favorite.
The battles on offense will also be interesting. The offensive line was awful in 2020 and coupled with Daniel Jones' issues avoiding pressure, he was sacked an alarming 45 times and fumbled 11 times in 14 games.
2020 4th overall pick Andrew Thomas had a disappointing rookie season, responsible for three penalties and 10 sacks allowed. But Giants are committed to Thomas' upside.
Matt Peart, last season, rotated in at both tackle positions and more than held his own. As a rookie, Peart surrendered just two sacks and nine total pressures in 84 pass-rush snaps, according to Pro Football Focus. He will have to fend off  Will Hernandez, Nick Gates, Shane Lemieux, and returning veteran Nate Solder.
Will Fans Be Allowed to Attend Giants Training Camp?
Fans will be disappointed to hear that they will be allowed to be present for only 1 practice. Paul Schwartz of the New York Post reports that because of their joint practice road schedule and shortened preseason schedule, the Giants will allow fans to attend just a single practice this year at MetLife Stadium.
Hearing there will not be any fans for Giants training camp this summer. There will be one practice open to the public at MetLife Stadium.
Camp dates at the Giants facility are limited this year, with joint practices on the road scheduled with the Browns and Patriots.

— Paul Schwartz (@NYPost_Schwartz) July 9, 2021
Also Read: Dallas Cowboys Training Camp 2021: Start Date, Location, Roster Battles, and Fan Policy
---
Share this article