NFL Trade Rumors: Top 3 Trade Destinations for Philadelphia Eagles TE Zach Ertz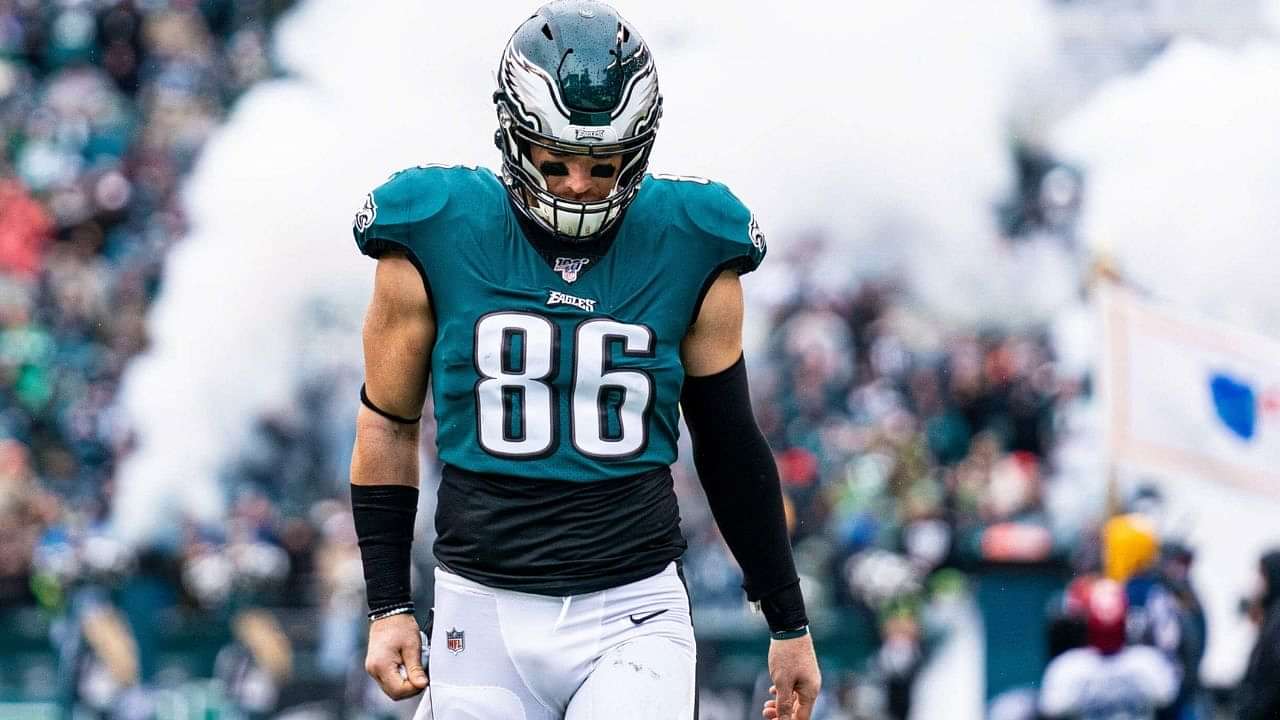 It is a matter of when, and not if, the Philadelphia Eagles will trade TE Zach Ertz. The situation has been developing slowly, but a deal could be closed soon.
Zach Ertz has wanted out of Philly for what seems like forever. After the 30 year old tight end was unable to reach a long term deal with the team, a departure has been looming.
A trade was rumored to be probable during the draft in late April, with the Bills being the reported interested party, but obviously nothing materialized.
Fast-forward a couple of months, and Ertz is still holding out of team activities as expected. The Eagles have made it clear they don't want to release Ertz.
They insist the 3-time Pro-Bowler is still productive, and are hopeful they can get 3rd or 4th round pick in return for him.
Loading embed tweet https://twitter.com/JFowlerESPN/status/1399722795903369222?ref_src=twsrc%5Etfw
Also read: 'Tom Brady Definitely Talking About 49ers' : LeBron James' The Shop New Episode Trailer Shows Tom Brady Talk About The One Team That Rejected Him, NFL Fans React On Twitter
Top 3 Landing Spots for Zach Ertz
#1. Arizona Cardinals
As Jeremy Fowler reported in early June, "at least 3 TE-needy teams have looked into" Zach Ertz. The Cardinals certainly fit the description, and also have an attractive offense that should interest Ertz.
Their current starter at TE is Maxx Williams, who would almost certainly fall down the depth chart if the team traded for Ertz. Moreover, with Kyler Murray throwing to DeAndre Hopkins and AJ Green, who seem to be getting along well, adding Ertz would give Arizona a seriously dangerous passing offense.
#2. Jacksonville Jaguars
They brought in Tim Tebow to play TE, which should tell you enough. Even if Tebow makes the roster, it's likely that he will play the "Taysom Hill Role", meaning there is still a huge hole at TE.
Bringing in Ertz makes a lot of sense for the team. Taking Clemson superstar Trevor Lawrence with the first overall pick means nothing unless he has weapons and is protected.
However, there's a good chance Jacksonville isn't the most enticing location for Ertz, considering that he's 30 and the Jags were the worst team in the league last season.
#3. Buffalo Bills
The Bills speculation has been on and off. Buffalo looked like a likely destination for Ertz during the draft, but NFL insiders have claimed there's no interest from the Bills.
Whether that's true or not remains to be seen, but there's no question that Ertz would be a great addition to an already deadly offense.
Loading embed tweet https://twitter.com/CBSSportsHQ/status/1399720321012441101?ref_src=twsrc%5Etfw
---