NFL Wide Receiver Free Agents 2021: Top 5 Remaining Wide Receivers In Free Agency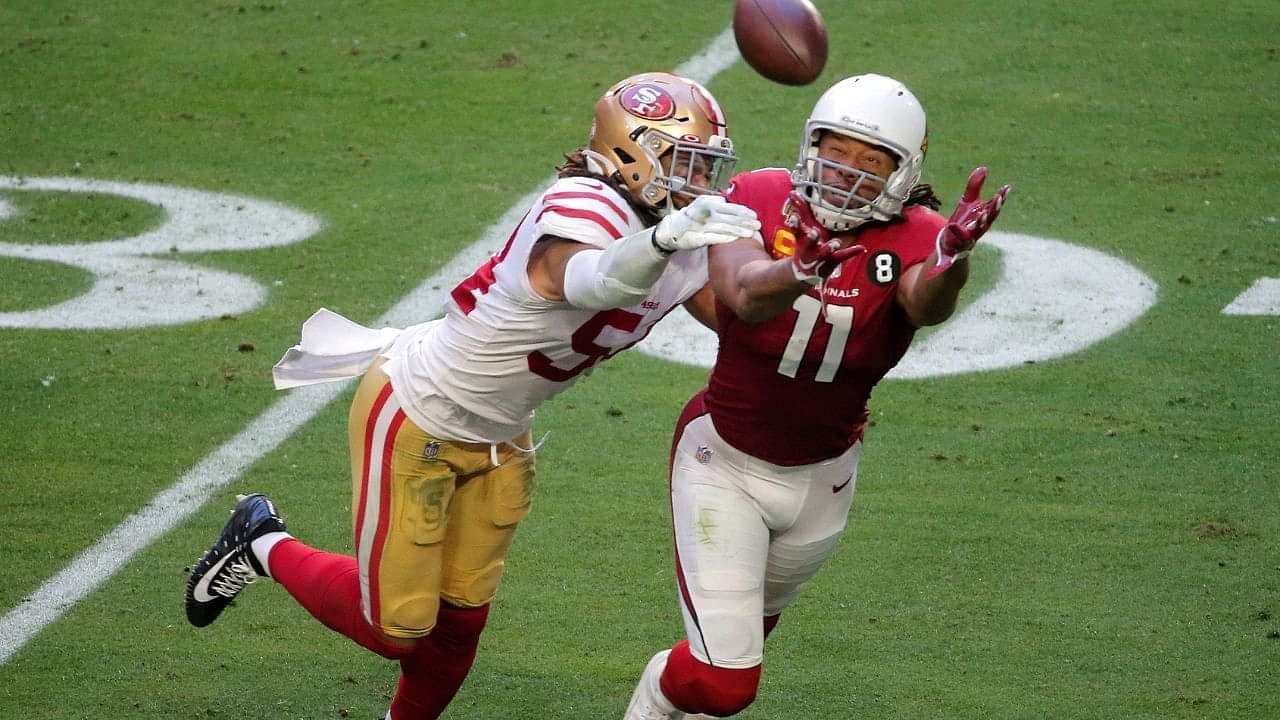 NFL Wide Receiver Free Agents 2021: Despite the bulk of free agency being wrapped up, there are still some key contributors left on the market, especially the wide receiver position.
Reliable pass catchers are a valuable commodity in today's game. Unless you've got a solid running game to lean on, you need good receivers out there. And, even if you do have a great running game, it often isn't enough.
Last year, a record 13 receivers were taken off the board in the first two rounds of the 2020 NFL Draft and this year another 10 were taken.
With majority of the big free wide receivers off the free agent market by now, who remains, ready to be picked up and produce instantly for an NFL team? Here's the top 5 remaining wide receivers in free agency.
Also Read: NFL Trade Rumors: Top 3 Trade Destinations for Philadelphia Eagles TE Zach Ertz
NFL Wide Receiver Free Agents 2021: Top 5 Remaining Wide Receivers In Free Agency
#1 NFL Wide Receiver Free Agent 2021: Larry Fitzgerald, Arizona Cardinals
Fitzgerald's future in the NFL is still up in the air. The long tenured Cardinals receiver hasn't decided if he's retiring or not, but if he doesn't he can still be a valuable piece to a team looking for a little more depth at the receiving position. Or, if not depth, they could simply want a valuable leader and mentor in the locker room.
Fitzgerald has been on the decline for the last several years with last season being his career worst. He caught only 54 passes for 409 yards and only 1 score. However his leadership and experience is something the stat sheet can't tell you.
Loading embed tweet https://twitter.com/NFLonCBS/status/1407334755213922315?ref_src=twsrc%5Etfw
Which Teams Should Sign Larry Fitzgerald?
1. Pittsburgh Steelers
Fitzgerald isn't better than any of the receivers on the Steelers, but he would give an aging Ben Roethlisberger a very reliable option out of the slot. Additionally, he'd be making a return to the city where he played college ball.
2. Seattle Seahawks
The Seahawks have a great 1-2 tandem with DK Metcalf and Tyler Lockett, but outside of those two, their receiving core is very thin, even with their second round draft pick D'Wayne Eskridge coming into the fold.
3. Minnesota Vikings
Like Seattle, Minnesota is a little uncertain when it comes to their WR3. Along with that, Fitzgerald is a Minnesota native and is great friends with Adam Thielen and Patrick Peterson.
#2. Danny Amendola, Detroit Lions
Danny Amendola turned in another solid performance on a very bad Detroit Lions team last year. Coming out of the slot, Amendola still remains a viable option. He's been consistent as ever with his production, showing no signs of a fall off yet.
Last year, Amendola hauled in 602 yards on 46 catches. That gave him an average of 13.1 yards per reception, the highest of his career. He can certainly still produce if any team is looking for someone to take a chance on. His superb playoff experience and performances also make him an attractive target.
Loading embed tweet https://twitter.com/NFL_DovKleiman/status/973662385851518976?ref_src=twsrc%5Etfw
Which Teams Should Sign Danny Amendola?
1. Seattle Seahawks
Again, as with Larry Fitzgerald, the Seahawks are in the market for that solid slot receiver over the middle. Amendola gives them that and much more, and he'll be a good piece to have for the playoffs.
2. Minnesota Vikings
Amendola would serve as the perfect slot receiver for Kirk Cousins to throw to. His production also means that teams can't ignore him, opening up more targets for Thielen and Justin Jefferson.
3. Baltimore Ravens
The Ravens have invested into building their wide receiver core this offseason by signing Sammy Watkins and drafting Rashod Bateman, but they can add an established piece in Amendola to solidify that position even more.
#3. Alshon Jeffery, Philadelphia Eagles
Jeffery has been torn apart by injuries in his last two seasons in Philadelphia, playing in only 17 out of 32 possible games. However, when healthy, Jeffery is still a top tier target on the outside and a major redzone threat.
He's tall, has a big frame, and a large catch radius. For a team lacking a big bodied receiver on the outside, Jeffery is the perfect fit. In 2018, his last season being healthy, he caught 65 passes for 843 yards. He can still produce given the right scheme and proper conditioning.
Loading embed tweet https://twitter.com/NFL/status/1201229563289690112?ref_src=twsrc%5Etfw
Which Teams Should Sign Alshon Jeffery?
1. Indianapolis Colts
Like Carson Wentz, Jeffery could go back to his most productive days as an Eagle under head coach Frank Reich. Additionally, he'd give Wentz a target he's already had good chemistry with and effectively complement TY Hilton.
2. Buffalo Bills
The Bills no doubt have a great receiving core. Stefon Diggs led the league in yards and receptions last year and Cole Beasley is underrated as a WR2. However, neither of them are the big bodied redzone threats that Jeffery is.
#4. Dede Westbrook, Jacksonville Jaguars
Westbrook isn't the flashiest or craziest wide receiver in the market, but the youngster has tremendous upside and could fill the role of a solid WR2 or WR3 for a team lacking one right now.
Westbrook missed the majority of last year with a leg injury, but before that, he's always been a solid contributor, catching 717 and 660 receiving yards in 2019 and 2020 respectively.
Loading embed tweet https://twitter.com/NFLonFOX/status/939995956321202177?ref_src=twsrc%5Etfw
Which Teams Should Sign Dede Westbrook?
1. Arizona Cardinals
While the Cardinals deal with the tenuous situation regarding Larry Fitzgerald, they could look to solidify their receiving core by bringing Westbrook in. His speed on the outside could prove useful and he won't be asked to do too much behind D'Andre Hopkins and AJ Green.
2. Los Angeles Chargers
The Chargers have their star in Keenan Allen and their big outside threat in Mike Williams. Why not give Justin Herbert a security blanket who can also take the top off the defense after losing Hunter Henry?
#5. Golden Tate, New York Giants
Golden Tate is no longer the prolific playmaker he was in his early days with the Detroit Lions, but he still provides good production.
The last two years with the Lions, Golden Tate has averaged 532 receiving yards while playing with some subpar quarterbacking as Daniel Jones struggled to find a groove.
Loading embed tweet https://twitter.com/BleacherReport/status/1191535342215553024?ref_src=twsrc%5Etfw
Which Teams Should Sign Golden Tate?
1. Los Angeles Rams
Why not pair Golden Tate up back with the quarterback who made him the most successful? Tate could thrive in offense under Sean McVay and he'd have much more help to take attention off of him in the form of Robert Woods and Cooper Kupp.
2. Minnesota Vikings
The Vikings make another appearance on this list for the same reasons as discussed earlier. Any good slot receiver is in high demand for the Vikings.
3. Green Bay Packers
The Packers have no lack of passing options but one more wouldn't hurt. Amari Rodgers is still unproven and the Packers lack a true slot receiver despite having solid deep threats in Devante Adams, Lazard, and Scantling.
Also Read: 'Tom Brady Definitely Talking About 49ers' : LeBron James' The Shop New Episode Trailer Shows Tom Brady Talk About The One Team That Rejected Him, NFL Fans React On Twitter
---