Shaquille O' Neal Fanboys Over Tyreek Hill as the 'Cheetah' Flies Across the Turf at USATF 60-Meter Event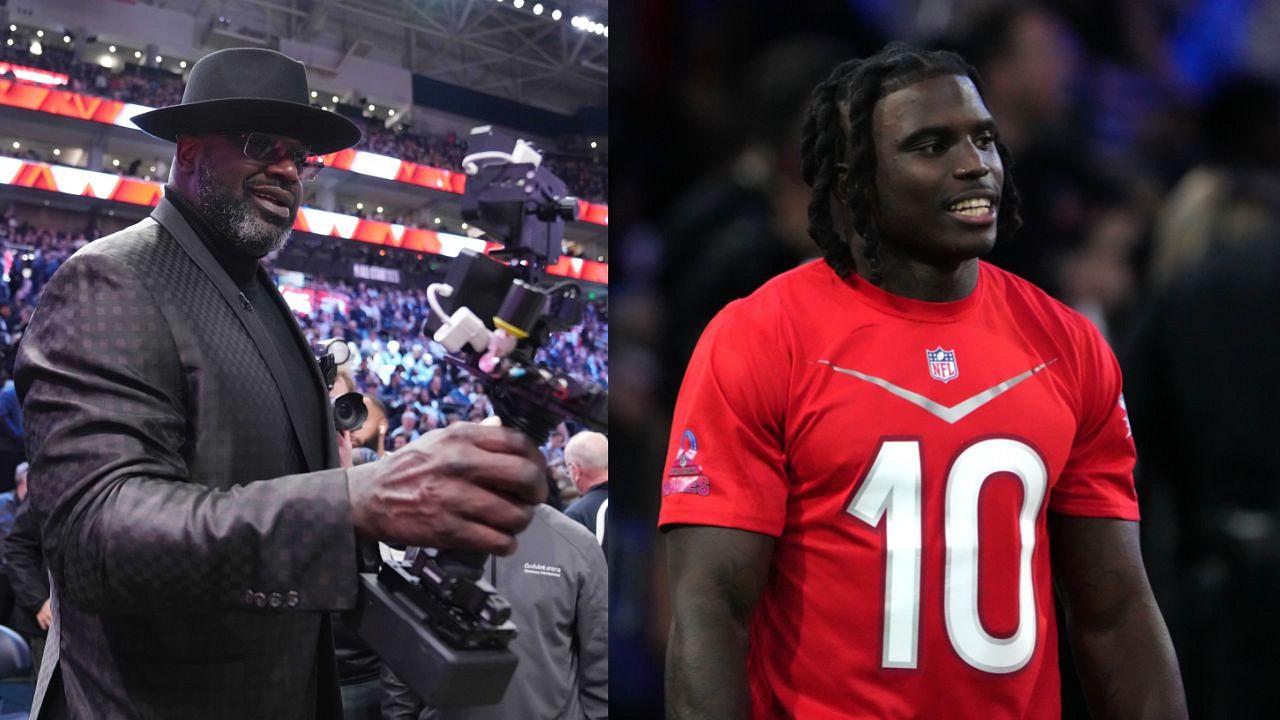 Tyreek Hill, the flamboyant wide receiver from Georgia, possesses an envious physique. While it is true that the WR is biologically blessed, on top of it, the amount of work he has put into becoming one of the fastest runners in the game is just astounding.
The Super Bowl LIV champion began his NFL career with the Chiefs in 2016. However, in 2021, he decided to move to Miami. The 7x Pro Bowler was also named in the NFL's 2010s All-Decade team. All these points suggest that Hill has been around the league for quite a while now.
Shaq O'Neal shares Tyreek Hill's USATF highlight reel
Despite not being one of the youngest in the competetion, Hill surely is one of the fastest. This is because even before achieving anything substantial in football, Hill had created quite a reputation for himself as a track and field athlete. Representing USA at the 2012 World Junior Championships, Tyreek won a Gold in 4×100 m relay and a Bronze in 200 m race.
As it turns out, even at 29 years of age with a stable career in the NFL, Hill is refusing to stay away from the race track. At recently conducted USA Track and Field Masters Indoor Championships, Hill blazed through the turf in the 60 m dash. The star WR completed the race in just 6.7 seconds, bagging the top spot.
 

View this post on Instagram

 
Impressed by his heroics and insane ability to fly when he is asked to run, NBA legend Shaquille O'Neal recently shared a reel on his Instagram account as a tribute to Hill. Originally posted by the USATF's official account, the reel shows Hill, who made his comeback on the track after 2014, leaving his opponents far behind him to grab the Gold.
The video shows how insanely talented and fast Tyreek actually is. 60 m is not that long a distance, however, Hill was still able to take a massive lead over his opponents right from the word go.
Tyreek has redeemed himself after a shaky start in NFL
Tyreek Hill's NFL career started off on a negative note. NFL fans criticized the Chiefs for roping in Tyreek during the 2016 draft because of the domestic violence charges the WR had faced in the past. Back in 2014, Tyreek was accused of assaulting his 20-year-old pregnant girlfriend.
After getting suspended from his then football team, Tyreek eventually pleaded guilty to domestic assault. He was sentenced to three years in probation and was also asked to complete an anger management course. Steadily, Hill was able to mend his public image by excelling at football.
Moreover, after his incredible comeback to the track, Hill's following is only expected to surge upwards.
---
Share this article