"Tom Brady Takes Less Money And Wins With Less While Aaron Rodgers Complains": NFL Fans Rip Apart Packers Quarterback For His Heated Press Conference During Training Camp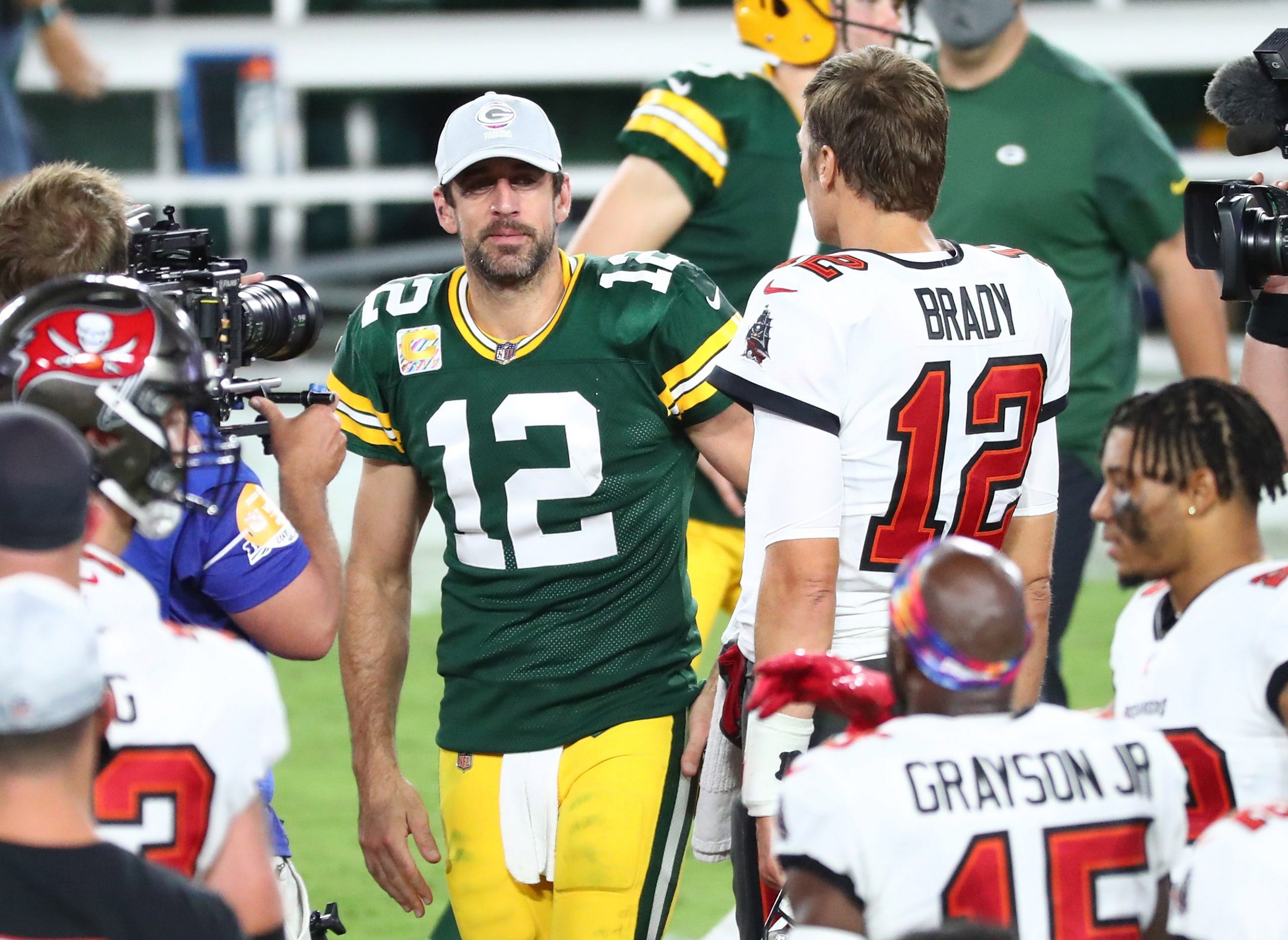 Tom Brady is always going to be compared to Aaron Rodgers, for good or for bad, and the same was true with Rodgers' recent press conference.
The Packers star went into great detail about his mindset this offseason, and what exactly he thought about the Green Bay Packers and why he was contemplating leaving and retiring.
It truly was eye-opening to see Rodgers talk about Green Bay and the front office in such an explicit and unrestricted manner. He was honest, something you don't usually see from athletes these days, and it was something to behold.
Whether his assertions are true or not is a separate thought, but the fact that he was able to go up and publicly highlight all the flaws of the Green Bay organization is pretty wild and unprecedented.
LIVE: @AaronRodgers12 speaks with the media at #PackersCamp

📺: More coverage on @NFLNetwork https://t.co/m8FDAaMjSB

— Green Bay Packers (@packers) July 28, 2021
As with anything any athlete does these days, NFL Twitter was quick to make comparisons about Rodgers 'complaining' to Tom Brady and his winning ways.
Also Read: "People Are Coming Here To Play With Me": Aaron Rodgers Says He Put Green Bay On The Map As Nobody Goes There To Vacation During Brutally Honest Press Conference
NFL Fans Blast Aaron Rodgers With Tom Brady Comparisons
Tom Brady has made a habit out of taking home-town discounts for the betterment of his team. The Buccaneers quarterback in fact reworked his contract with Tampa Bay this year to ensure that the team could retain all 22 starters.
This point, along with the fact that Brady is a seven time Super Bowl winner and beat Aaron Rodgers in last year's playoffs had people shredding Rodgers' press conference, saying he was 'complaining' while Brady was actually winning.
Why did Tom Brady take his "old" "washed" "slow" quarterbacking to Tampa? Built his own team and has been instrumental in seeing that they keep the group together and not sold for parts. This is an easy one Packers, get your shit together.

— Brad Payne (@brad_payne13) July 28, 2021
Aaron Rodgers didn't hold back in his first news conference since returning to the Packers. pic.twitter.com/5O4HIrE2OV

— ESPN (@espn) July 28, 2021
Fans also brought up the fact that Brady was taking less money to further berate Rodgers for supposedly trying to act above his paygrade. Rodgers is definitely justified to speak up about the issues that have been bothering him in his time in Green Bay.
Perhaps, it's because Rodgers knows that he'll be leaving next year, that he feels comfortable taking shots like this against the organization. After all, him and Davante Adams didn't put up those 'The Last Dance' stories for nothing.
However, comparing Rodgers' situation to Brady's is not what fans should be doing. The circumstances surrounding Brady's and Rodgers' careers have been very different right from the get-go.
They've been part of different organizations with different cultures, and therefore, their influence and stand with their respective teams is vastly different, be it when Brady was in New England or Tampa Bay.
Brady has never had any complaints like this about either the Patriots or the Buccaneers, and so it's safe to say that Rodgers and Brady have gone through some very different things. Thus, comparisons between the two with regards to this issue should not be made.
Also Read: "I Just Drank A Lot Of Wine": Aaron Rodgers Drama Had Packers Coach Matt LaFleur Stress Drinking Over The 2021 NFL Offseason
---
Share this article