"Trying to stop Tom Brady from practicing is pretty tough": Bruce Arians comments on Tom Brady and his injury rehab.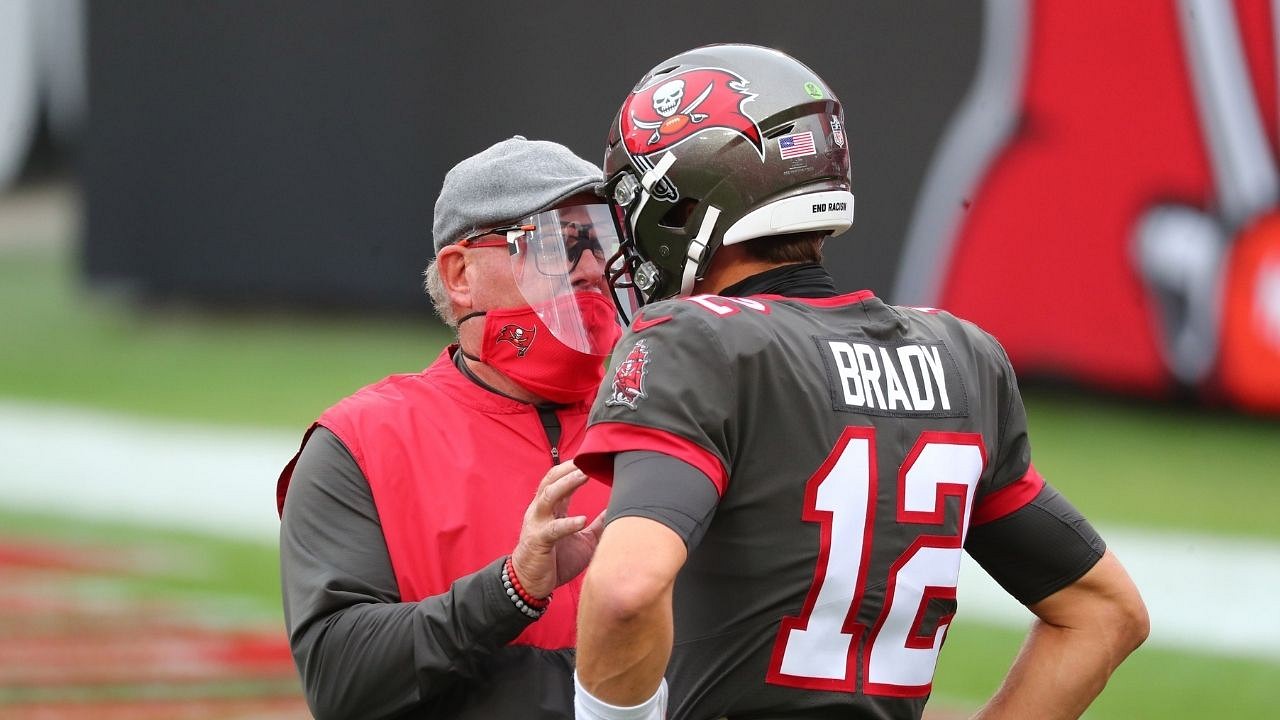 Tom Brady and Bruce Arians led the Tampa Bay Buccaneers to their 2nd Super Bowl in Franchise history in only Brady's first year. But Brady played through an injury in the latter part of the season and got season soon after. Thus HC Arians' understandably wants his franchise QB to take it safe. But Brady isn't up for sitting out.
Brady had knee surgery on his left knee to release some discomfort this past offseason. He was also seen wearing a brace during Super Bowl LV, in which he dethroned the Kansas City Chiefs as he won his 7th championship. And Tom could also be seen wearing the brace at the Buccaneers Super Bowl boat parade.
ONE MORE PASS: Tom Brady successfully throws the Lombardi trophy from one boat to another during the Bucs' Super Bowl championship parade in Tampa. https://t.co/0EHqJvmD6V pic.twitter.com/G4DxTIa07F

— ABC News (@ABC) February 11, 2021
4 months later, Brady seems geared up for Minicamp.
Bruce Arians' wants Tom Brady to take it a little easy.
Brady will turn 44 in August, so it's only natural that the Buccaneers would want to take it easy on him.
"The doctors said he's good to go. We will still be careful with what we do with him. But trying to stop him from practising is pretty tough," Arians said. "We talked to him a little bit about maybe practicing more in the shotgun, just to save those three or four steps," he added said. "They add up, especially through training camp. Maybe put a little pistol in, some things where you don't have to do as man steps, which I've done with injured guys in the past. Just watch him every single day, have great lines of communication. That's why we talk every week throughout the whole offseason."
"Trying to stop him from practicing is pretty tough," #GoBucs HC Bruce Arians on what went into decision to allow @TomBrady to participate in minicamp practice on Tues #Buccaneers #NFL pic.twitter.com/uktcW7Xnzl

— len martez (@LMart810) June 8, 2021
He was reportedly held out of the blitz period today, and Arians said he is trying to get Brady more work in shotgun as opposed to under center.
While Brady is still winning the battle against father time, it will catch up sooner or later. The Bucs are favourites to come out of the NFC next season but the window of maximizing Brady's skill set is not long. It should be very interesting to see if the Bucs will be able to go back-to-back in 2021.
Also Read: "It is what it is man": Matt LaFleur reacts to Aaron Rodgers missing Packers mandatory minicamp
---