Tyreek Hill 40-Yard Time: Is D.J Turner Faster Than the Dolphins WR?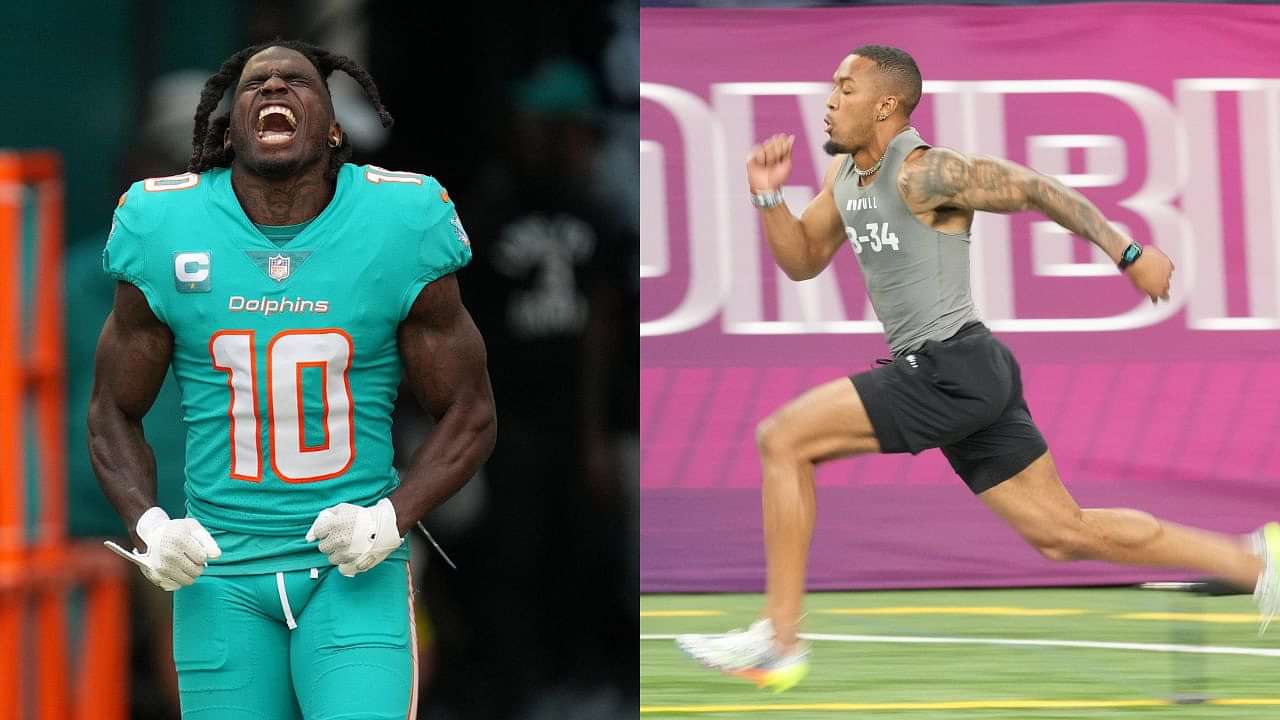 7x Pro Bowler Tyreek Hill is one of the fastest sprinters the NFL world has ever seen. Named High School Athlete of the Year by Track and Field News, Hill went on to establish himself as a star wide receiver by delivering electrifying performances during his college days.
However, despite having enviable numbers, Hill was expected to go un-drafted in 2016 because of the domestic violence allegations that were levied against him in 2014. In fact, he wasn't given a chance to compete at the NFL combine all well.
Also Read: Josh Gordon XFL Stats: Has the Infamous Receiver Started Making a Difference For His New Team?
Is D.J Turner the next Cheetah?
While many teams did remove Hill from their plans, the Chiefs decided to rope him in during the 2016 draft. The Chiefs, despite getting blasted by football fans, gave Hill a 4-year $2.58 million contract after looking at his performance at College Pro Day.
Tyreek completed his 40-yard dash in just 4.29 seconds, registering 19.07 MPH speed. However, as it turn out, the 'Cheetah' has now got some serious competition as a young college cornerback has just broken his 40-yard time.
Loading embed tweet https://twitter.com/NFL/status/1631779480963252227?ref_src=twsrc%5Etfw
Yes, we are talking about D.J Turner, the Michigan cornerback who recently completed the 40-yard dash in just 4.26 seconds at the 2023 NFL scouting combine. Unlike many other prospects who opted for a second opportunity to improve on their 40-yard time, D.J choose not to run again, simply because he didn't need to.
In fact, D.J is now the joint-fastest cornerback to finish the 40-yard dash, alongside Tariq Woolen, in the history of NFL combine. It will be interesting to see if he ends up attaining as much success in the NFL as the Cheetah did.
Tyreek Hill's legal troubles
Tyreek has been named to the Pro Bowl on 7 occasions and has earned a Super Bowl ring as well. While there is no doubt that the star WR has the talent to be recognized as one of the greats of the game, his anger issues and questionable actions in the past have compelled a lot of fans to speak against him.
Back in 2014, Hill was accused of brutally assaulting his pregnant girlfriend Crystal Espinal. He had reportedly thrown and even punched Crystal in the stomach. Eventually, Hill was sentenced to three years of probation was also ordered to do an anger management course.
Moreover, in 2019, Tyreek was once again investigated for alleged child abuse after his 3-year-old son had broken his arm. The case was eventually rendered inactive in 2020.
Also Read: "Help is on the way": Trash-talking maestro Shannon Sharpe once pretended to call the National Guard to save the helpless Patriots
---