"We did a lot of studying at Alabama, but I think here it's reached another level": Najee Harris details the difference collegiate football and the NFL.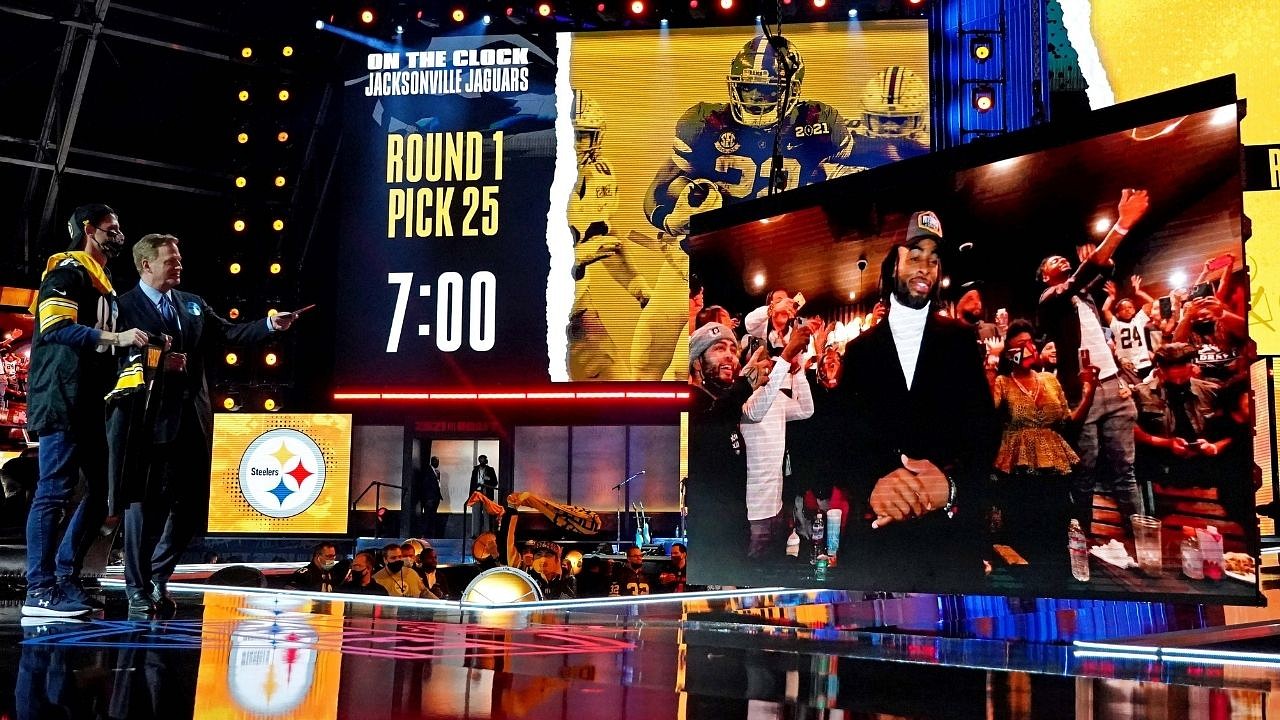 Najee Harris had a storied career at Alabama. And his accomplishments made him the first running back off the board in 2021. Now Harris will hope to become the next great running back for the Pittsburgh Steelers. The Alabama alum detailed the differences in the prep going into the NFL season.
In his final season with the Alabama Crimson Tide, Harris had 1,466 rushing yards, 425 receiving yards, and 30 total touchdowns. Harris was a force throughout his Alabama tenure and was pivotal in the Crimson Tides National Championship charge in 2020.
Top College Rushing Leaders in 2020 💨

1️⃣ Breece Hall: 1,572
2️⃣ Sincere McCormick: 1,467
3️⃣ Najee Harris: 1,466
4️⃣ Michael Carter: 1,245 pic.twitter.com/hD9Frt1Hej

— THE BREAKOUT FINDER (@breakout_finder) May 13, 2021
Najee Harris spoke about the additional prep ahead of the NFL season.
With rookie minicamp finally here, Harris spoke to the media about the biggest difference he's noticed thus far between college football and the NFL. He believes there's a lot more studying that takes place once you reach the pros.
"We did a lot of studying at Alabama, a lot of film work, but I think here it's reached another level, how much time I've spent learning the plays," he said. "I'm going to be utilized everywhere, so they want me to know multiple positions. It's a lot more film work than college, but I don't have school no more, so I'm glad off that. I have no issue with spending that much time in the film room. It's something I like. I'm ready for the challenge. It's something that they picked me for."
Harris also noted the Steelers have discussed deploying him regularly in the passing game and even splitting him out wide at times.
"I've always been catching the ball, man," an incredulous Harris said when probed about his acrobatic reception. "I always do that. I always do that. Not to brag or nothing but it's like, it wasn't luck. I can tell you that. Since y'all was watching, I'll do it again. Nah, I'm going to get in trouble. But it's not something I work on. I just, I've been doing that since middle school. I got big hands, man."
A play that will be part of every Najee Harris highlight video moving forward pic.twitter.com/naN1ZkCrGa

— Matt Zenitz (@mzenitz) September 14, 2019
The Steelers had the worst running attack in 2020. And that played its part as the team couldn't make a run in the playoffs. Pittsburgh hasn't had a true star at running back since Le'Veon Bell back in 2017. We'll see if Harris can snap that drought this fall.
Also Read: "I Thought He Was Fantastic": Kyle Trask Impresses Bruce Arians In Buccaneers Rookie Mini Camp
---