What's Next for the Atlanta Falcons After A Disappointing 2020-21 NFL Season?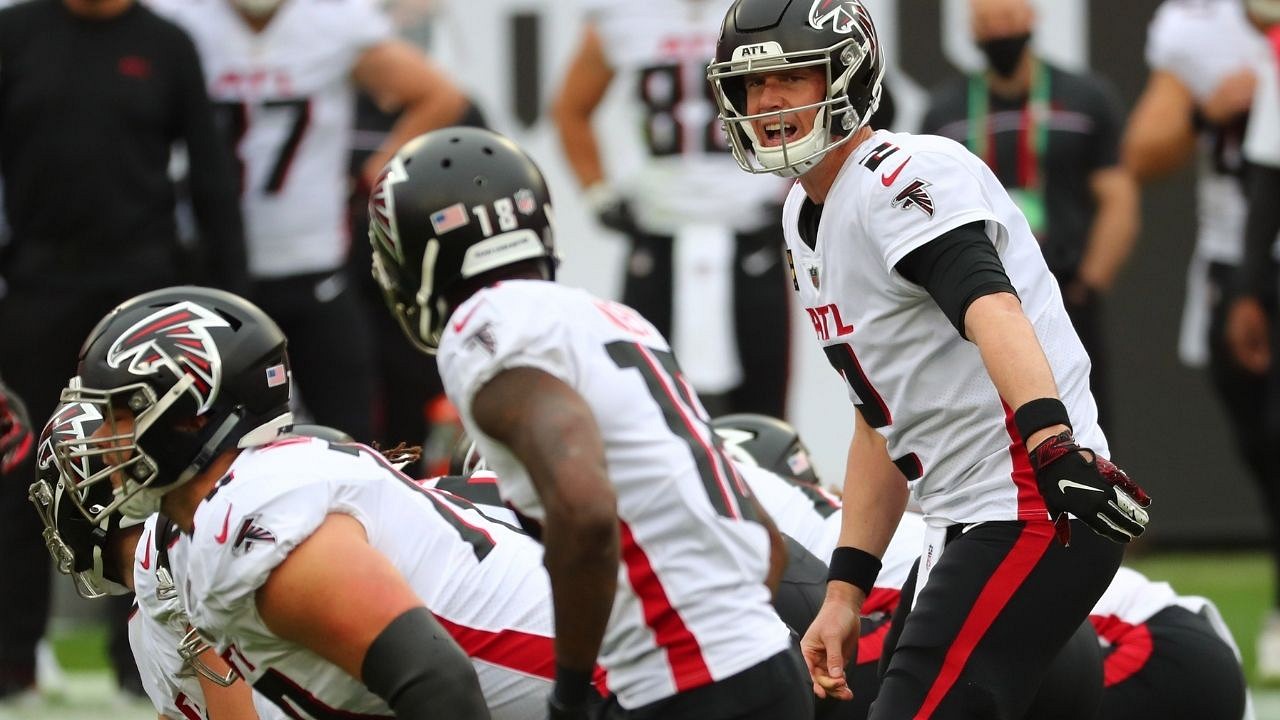 Arthur Smith has already made moves as the Atlanta Falcons' new head coach, working alongside new GM Terry Fontenot, with their hiring of Gary Emanuel, Ted Monachino, Dean Pees, among others. But, what will be Smith's and Fontenot's real impact on a team coming off of a 4-12 season?
A new era in the ATL. pic.twitter.com/Qf9YbUVg0j

— Atlanta Falcons (@AtlantaFalcons) January 19, 2021
https://platform.twitter.com/widgets.js
This 'rebuild' of sorts that Atlanta is attempting is a breath of relief for Falcons fans all around. Blowing leads to the Lions, Bears, and most atrociously, the Cowboys, hasn't been easy.
Also read: 'Tom Brady Is The Patriot Way': Former New England Wide Receiver Danny Amendola Takes A Shot At Patriots Coach Bill Belichick
The Dynamic Duo: GM & HC
The recent employment of Arthur Smith, who's spent a decade as offensive coordinator with the 11-5 Tennessee Titans, might just prove to be favourable to the Falcons. He looks to rebuild the Falcons' defensive staff, but could also use his experience to improve the team's already strong offence.
He's fired up to be here.

We're fired up to have him.

Let's work, Coach! pic.twitter.com/e4jwOtlZ0z

— Atlanta Falcons (@AtlantaFalcons) January 19, 2021
https://platform.twitter.com/widgets.js
Terry Fontenot brings the experience of 18 seasons working with the Saints, finally becoming Senior VP of the team. Under Fontenot, the team had a 138-86 record, a Super Bowl and 63 Pro-Bowlers. He led the team to acquire Cameron Jordan, Michael Thomas, and Alvin Kamara. His leadership will be invaluable to the Falcons' front office.
Defensive Coordinator: Dean Pees
Smith and Fontenot have already hired various coordinators and assistants to rebuild Atlanta's defence. The most notable was veteran Dean Pees coming out of retirement to become the Falcons' defensive coordinator. Pees has two rings; one with the 2004 Patriots as an inside linebackers coach and another with the 2012 Ravens as defensive co-ordinator.
While this looks good at its face value, it must be noted that through the entirety of Pees' career as defensive co-ordinator for the Ravens (2012-17), not once were they a top-5 ranked defence. In fact, they weren't even top-20 for half his time there. Any real impact that Pees may have on the Falcons still remains quite speculative.
Also read: Super Bowl Tickets: Where to Buy Super Bowl LV Tickets and How Much Do They Cost?
Offensive Coordinator: Dave Ragone
Another important hire for the Falcons was that of their newest offensive coordinator Dave Ragone. Ragone has been the quarterbacks coach for the Chicago Bears from 2016-2020, recently landing a promotion as passing game coordinator. Considering the Bears' issues with their quarterbacks (Jay Cutler and Mitch Trubisky to name a few), this hire also remains very speculative.
List of Other Hires:
Defensive Line Coach: Gary Emanuel
Senior Assistant: Steve Hoffman
Tight Ends Coach: Justin Peelle
Defensive Assistant: Matt Pees
Assistant Director of College Scouting: Dwuane Jones
Defensive Assistant: Lanier Goethie
Assistant Defensive Backs Coach: Nick Perry
Passing Game Specialist: T.J. Yates
VP of Player Personnel: Kyle Smith
Running Backs Coach: Desmond Kitchings
Defensive Backs Coach: Jon Hoke
Outside Linebackers Coach: Ted Monachino
Special Teams Coordinator: Marquice Williams
Linebackers Coach: Frank Bush
Quarterbacks Coach: Charles London
Offensive Line Coach: Dwayne Ledford
Offensive Assistant: Danny Breyer
Also read: 'Patrick Mahomes will NEVER be able to surpass Tom Brady as the GOAT.' Stephen A. Smith Highlights How Chiefs Star Can Overtake Buccaneers Quarterback As The GOAT
Arthur Smith & the Atlanta Falcons Offence
The surprise acquisition of Todd Gurley by the Falcons last offseason might come in handy with Arthur Smith as head coach. Smith has worked with Mike Vrabel and Derrick Henry constantly through the last two seasons. His experience with spread run-game offence plays will build upon what Raheem Morris and the Falcons team built with Gurley.
Further, Smith helped in trading for Tannehill, earning him the NFL Comeback Player of the Year in 2019 with career-highs that season. With Atlanta looking to draft a quarterback in the upcoming draft, and with the experienced Matt Ryan on the team, Smith may have a resounding impact on the passing game as well.
Arthur Smith will bring some unique route concepts to Atlanta. @DjShockley3 breaks them down 👇 pic.twitter.com/fdMt2PSYNL

— Atlanta Falcons (@AtlantaFalcons) January 22, 2021
https://platform.twitter.com/widgets.js
The Woes of the Atlanta Falcons Defence
It's no surprise that the Falcons' biggest problem for the last few seasons was their defence. There are great players, no doubt. Grady Jarrett, Foyesade Oluokun, and Deion Jones. They ranked 15th in weighted defensive efficiency last season, but with their roster, they could do better. Smith's rebuild of Atlanta's coaching staff could be the very change that Falcons fans want to see.
Summary
So, in conclusion, there are some huge moves that were made by the Falcons before the offseason even began. The rebuild of Atlanta's defence is interesting, and could be the start to a much better record next season. With Arthur Smith as the head coach for an extremely talented roster? This could very much be the beginning of something extremely special.
Also read: Jimmy Garoppolo is reportedly staying with the 49ers as per Mike Garafolo
---