Pro Wrestling League : Haryana Hammers make it two in two!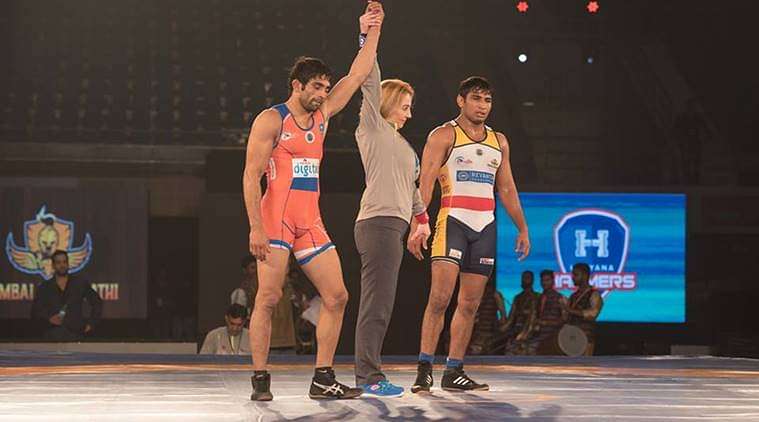 Haryana Hammers on a winning spree!
Haryana Hammers' fantastic run continues in the Pro Wrestling League 2017. After a win in the opening bout against defending champions Mumbai Maharathis, the team now notches up a victory over the UP Dangal. The Haryana Hammers prevailed 5-2 over their rivals in New Delhi.
Much to all the spectators' chagrin, UP Dangal decided to block the women's 58kg category. This meant that the main protagonist of the blockbuster movie 'Dangal' , Geeta Phogat was rendered out of action. Meanwhile, Haryana Hammers won the toss and decided to block the men's 74 kg category.
Review of the bouts
The first bout in the men's 70 kg category was between Amit Dhankar of UP Dangal and Russia's Magomed Kurbanaliev of Haryana.  The Indian turned out to be no match for the 2016 World Championship gold medalist. He easily pocketed the bout 8-0 with his aggressive play.
In accordance to the tournament's ritual of throwing in surprise packages, this day saw a few too. The most prominent of them being Indu Choudhary. She gave Olympic medalist Elitsa Yankova a serious run for her money. The Bulgarian scraped through at the end by the virtue of gaining the last point.
Kiran and Indu emerge as stars of the day
In the next bouts, Haryana's Rajneesh made short work of Andrey Kviatkovsky in the men's 65 kg category. The match started with a prolonged period of passivity following which Rajneesh came back with purpose to finish his opponent off. Also, in another positive for India, Kiran gave a tough fight to Rio silver medalist Maria Mamashuk.
With an ensuing deadlock of 2-2, lots was on the cards for both the teams. World Championship silver medalist Abdusalam Gadisov crushed UP's Mausam Khatri in the men's 97 kg category. Moreover, Sandeep Tomar dominated against Amit Kumar Dahiya of UP in the men's 57 kg category.
Babita disappoints
The anti-climax however came with the disappointing loss of Babita Phogat. She failed to make up for Geeta's absence by going down against the Rio bronze medalist Sofia Mattsson. The Swede would race to a 4-0 lead, handing the Indian defeat and also registering a comprehensive victory for the Haryana Hammers.
---