Andrew Tate Bugatti: 'Cobra' Reveals 'Real Reason' for Buying the $5.2M Sports Car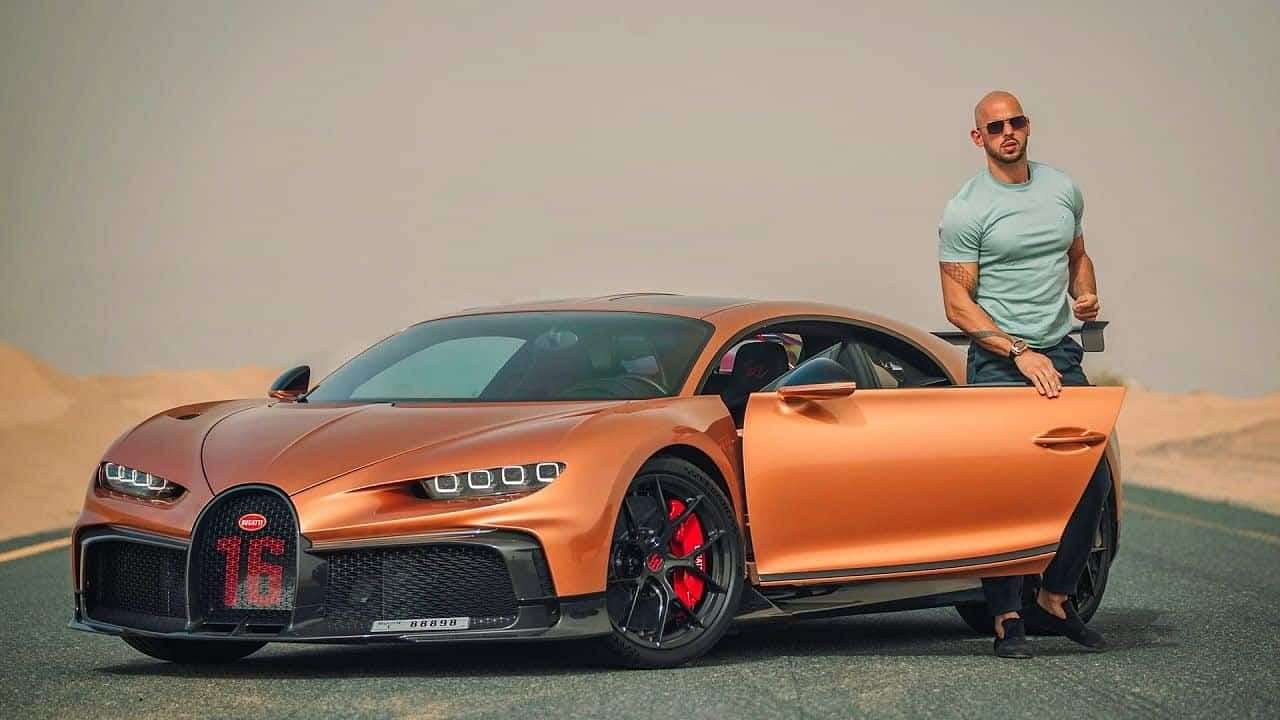 Andrew Tate the social media influencer whose rise was as significant as anything is under Romanian custody. Influencer for some and misogynist for others, Tate has very strong views on women, feminism, money, etc. The Cobra has appeared in many interviews and talk shows and has flaunted money and lifestyle. In an interview, Cobra reveals the real reason for buying his $5.2 million Bugatti.
Andrew Tate and Tristan Tate are currently in the Romanian police custody for allegedly being involved in s*x trafficking, drugs, money laundering.
Andrew Tate Bugatti: $5.2M Sports car
The 'Cobra' in an interview revealed the reason for buying a Bugatti. He said that he bought Bugatti Chiron for $5.4 not to drive the car, but he wanted access to the Bugatti events that take place. After he put the order down, he went to the Bugatti event.
The Cobra said that he went two the event and was sitting there with two blondes, both were Ukrainians. According to Tate, a lot of girls are paid at such events. One can tell by mannerism that these girls are not paid for.
Cobra also added that he was the poorest guy in the room because he was surrounded by billionaires. They all wanted to know him, and people even went up and asked him questions. They were wondering who this guy was, who those girls were.
Loading embed tweet https://twitter.com/Cobratate/status/1615412288617385986?ref_src=twsrc%5Etfw
"Everyone has Ferraris, everyone has Rolexs, but if you are the dude with most beautiful women and they are loyal to you and they wont talk to any other man and they only do as you say, you are rich" – Andrew Tate
Tate added that one guy asked who these girls were, and he told him that they are my wives. When asked if he was a Muslim Tate replied saying no.
"The richest man in the room is the man with the girls (pu**y). Girls are like currency for international ballers," Tate added.
Andrew Tate release date:
Andrew Tate and his brother Tristan Tate's release date has not been confirmed yet. Two women are also imprisoned alongside Tate brothers, who will now be free. These two women will be free from jail but will be under home arrest.
The court has agreed with the authorities to keep the Tate brothers in custody. This case seems to have gotten even more interesting. We have seen Andrew Tate yelling at reporters that there is no justice in Romania. He also yelled that you all know I am not guilty.
What do you think will happen next with Tate brothers?
---