Imprisoned "King of Toxic Masculinity" Andrew Tate Roasted on Latest Episode of South Park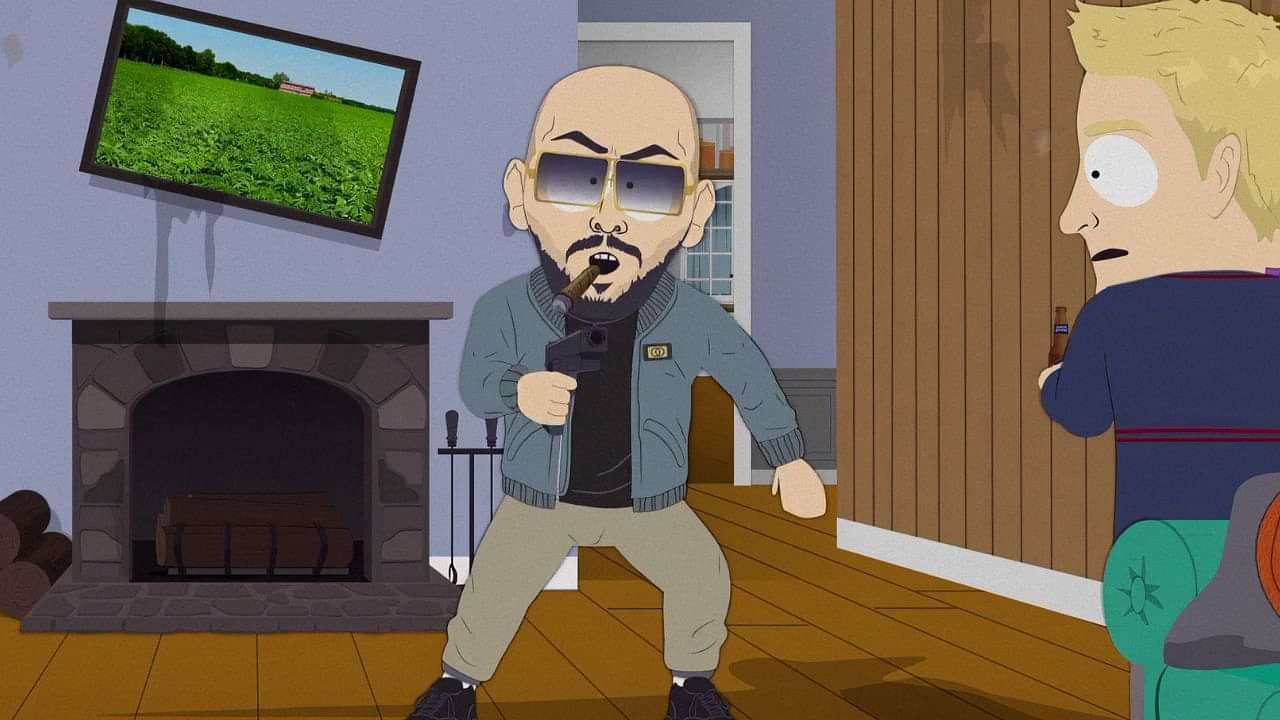 teAndrew Tate and his brother Tristan Tate are behind bars. They have been accused of human trafficking in Romania. The two brothers also threatened to sue their accusers as they claimed to have evidence. This evidence according to them is nothing but proof of them not being guilty. The social media influencer and his brother seem to have a tough time in Romanian police custody. Recently, Andrew Tate was featured in an episode of South Park, where he was shown as a coach of toxic masculinity.
Andrew Tate is famous for his views on masculinity, women, feminism and topics that relate to gender roles. He has his followers and haters based on his views on topics like these.
South Park roasting Andrew Tate:
An American animated sitcom, South Park is a famous show created by Trey Parker and Matt Stone. The series is known for its humor, and also became popular for its profanity and dark humor. Recently South Park roasted Andrew Tate, showing him as a toxic masculine personality on the show.
Loading embed tweet https://twitter.com/Chiefbeef234/status/1641636063574732802?ref_src=twsrc%5Etfw
Many people found it to be funny and have expressed their views on Twitter. Andrew Tate is known for his misogynistic views. He has been very clear views about gender roles and what men and women should do. He also said that where life is tough, men and women quickly shift to their gender roles.
Ta even gave an example of Ukraine where he mentioned that the moment things went bad people shifted to their gender roles. Women were allowed to leave the country, while Men were asked to go to war.
"You are exactly where you deserve to be. Change who you are and you will change how you live"-Andrew Tate
Loading embed tweet https://twitter.com/DannyMinick/status/1641635910117740548?ref_src=twsrc%5Etfw
Andrew Tate in South Park has also been shown as someone who fires at the police. The series has a dark sense of comedy to it as the police arrive to arrest a Romanian s*x trafficking guy while Andrew Tate shoots them. Does this ring a bell with you?
How is Andrew Tate being treated inside the Jail?
According to a report, Andrew Tate has raised concern about the inhumane conditions inside the prison. The Cobra shared an email where he has mentioned his daily experiences in the Romanian jail. He claimed that the conditions are unjust and are designed to break him.
According to him, he was thrown inside a jail without light. The darkness has been causing him significant discomfort and distress. He also claimed that the only creatures keeping him company at night are cockroaches, lice and bed bugs. The unsanitary living conditions that Tate has been allegedly facing are something that took fans by surprise.
Loading embed tweet https://twitter.com/NickMacNCheese/status/1641656514602565633?ref_src=twsrc%5Etfw
Tate has also failed to get any relief from the authorities, as his release was confirmed as a negative. He could be in jail for 30 more days before any further hearing on the matter is done. The case goes on, taking interesting turns, and it is making people curious.
What do you think about this?
---