Islam Makhachev Claims Michael Chandler Lost on Purpose So He Could Secure Conor McGregor Fight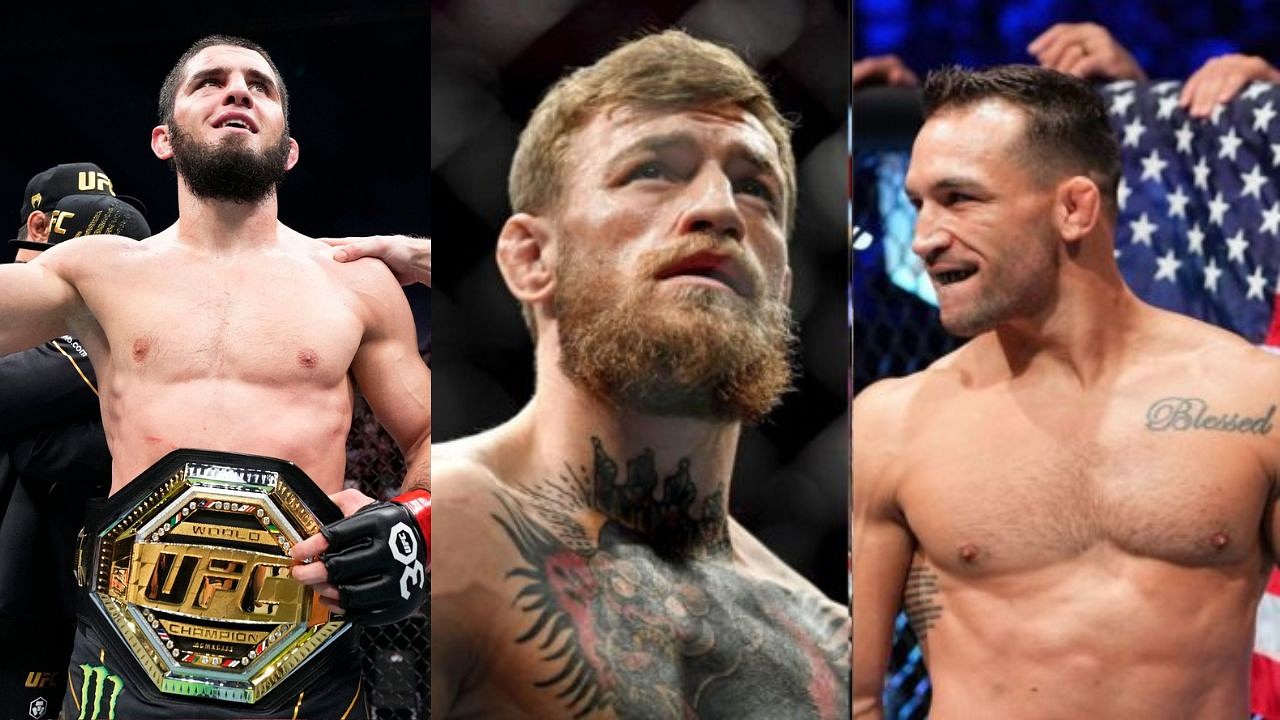 The lightweight division in the UFC is the most talent-stacked division. The champion Islam Makhachev has recently defended his title against Alexander Volkanovski. The division will get interesting as Justin Gaethji is set to fight Rafael Fiziev at UFC 286. We also have two of the talked about fighters coaching the TUF 31 in Conor McGregor and Michael Chandler. Both the TUF coaches have their last loss against the same opponent in Dustin Poirier. Islam Makhachev believes that Michael Chandler lost on purpose to Dustin Poirier to get the money fight against McGregor.
The Notorious broke his foot against Dustin Poirier in his last fight while Chandler lost to Poirier via submission.
Also Read: Did Conor McGregor Train Merab Dvalishvili for His Fight With Petr Yan in Las Vegas?
Islam Makhachev claims Chandler lost on purpose:
The champion at 155 has claimed that Michael Chandler lost to Dustin Poirier on purpose.
"Conor chose Chandler. Chandler lost on purpose because if he beat a couple of guys it was never going to happen, versus McGregor," Makhachev said. "Of course [he lost on purpose]. He fights like crazy, like he comes from the streets. That's why they make the fight."
How much ground could be there for this statement? What made Makhachev make such a statement?
As all the fighters know that the money fight is with McGregor. Every fighter irrespective of the weight class wants to get a money fight with the Notorious one. As we know, Conor McGregor lost two fights in a row against Dustin Poirier, pushing him closer to the title.
Who better for McGregor to fight other than an opponent who also has a loss against 'The Diamond'?
From a promotion standpoint, this fight makes absolute sense as even Michael Chandler got choked out against Dustin Poirier.
Islam Makhachev believes that Chandler lost on purpose in order to get the money fight. However interesting this statement is, we don't believe the reason to be that. The fight was as crazy as anything between Poirier and Chandler. Michael Chandler came out with all bad intentions and even tried to finish Dustin.
who is next?

— Makhachev Islam (@MAKHACHEVMMA) February 22, 2023
The fight unfortunately did not go Chandler's way, as Dustin Poirier was just too good to capitalize on the small opportunity that he got and submitted Chandler in round 3 of the fight. The claims by Makhachev could very well be a part of mind games and nothing else.
Michael Chandler vs Conor McGregor: TUF 31
Going into TUF 31 everything between Chandler and McGregor was friendly and respectful. Recently, while filming a TUF episode, things got heated between the two fighters. Dana white said in a press conference that there were things that happened which shouldn't have happened.
As things get heated up between the two lightweights, the fight is going to get more interesting. It was first discussed that the fight could also take place at 170, but Dana White refused to have the fight at 170. 155 pounds is where both the fighters will clash at the end of TUF season.
Who are you betting on?
Also Read: Andrew Tate Kickboxing Record: A Peek Into 'Misogynist' Influencer's Combat History
---
Share this article