'Oh Damn': Colby Covington and Islam Makhachev Call-Out Leon Edwards After His First Title Defense Against Kamaru Usman at UFC 286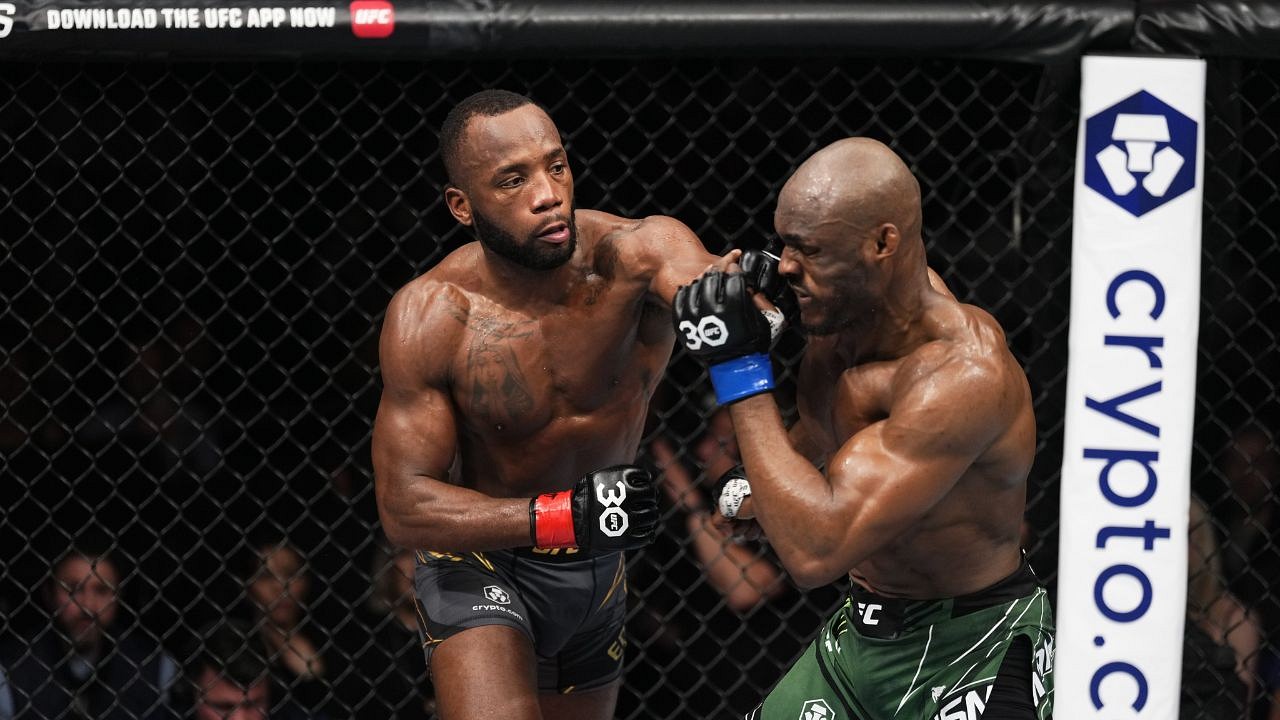 UFC Welterweight champion Leon Edwards puts his title on the line as the anxiously anticipated trilogy between Rocky and familiar foe Kamaru Usman is officially underway. The Brit sensationally dethroned Usman as the former secured himself a last-minute head kick knockout victory over his arch-nemesis back in August to fulfill his prophecy.
In his first title defense, Edwards now defends his throne against the Nigerian Nightmare in their final chapter. Usman will be in pursuit of his claiming his title, as he looks to make a statement.
Usman- Edwards, the old time trainers used to tell me that winning a Title immediately improves u 30%. Let's see. #UFC286

— Teddy Atlas (@TeddyAtlasReal) March 18, 2023
Edwards is undefeated in 11 fights and snapped the reign of terror of Usman the last time the pair met. Brace yourselves, for we have an ecstatic encounter awaiting us.
Leon Edwards vs Kamaru Usman: The Fight!
IT'S TIME! Leon Edwards began the fight with pressure right from the start. In contrast, Kamaru Usman opted to utilize his southpaw stance right from the get-go to mirror Edwards.
Usman utilized a lot of feints to get Edwards to bite. Edwards landed a leg kick late in the third minute, forcing Usman to switch back to orthodox. Edwards landed a couple of pivotal consecutive kicks, one to the body and one to the leg. Usman eventually shot for the takedown.
Rocky landed another body kick as he evaded the pressure from Usman off the cage. Edwards captured the first round in the book.
The second round began with Edwards landing another leg kick. The Brit resorted to s flurry of kicks early on to establish his dominance early on. The pair followed with an exchange of punches.
Usman eventually landed a takedown and landed a few punches of his own, before Edwards got out. Rocky then attempted a takedown of his own, which was shut out by Usman.
The second round was quite competitive, to say the least. However, Usman was more productive and had a higher output in the second, enabling him to level the scores heading into the third.
Edwards began the third with his kicks. Usman nonetheless wasn't phased as he shot for the single leg and put Edwards on the ground, maintaining top control. Edwards managed to get up, but grabbed onto the fence, leading to a point deduction for Edwards.
Herb Dean takes a point from Leon. Warranted IMO. that was really bad. #UFC286

— Spinnin Backfist (@SpinninBackfist) March 18, 2023
A huge blow for the Brit. The 31-year-old fired back with a teap kick, nonetheless which was soon retaliated with a jab by the Nigerian Nightmare. Edwards landed with a knee flush to the chin in the fourth minute. As Edwards beckoned up in the fifth minute, Usman decided to throw a flurry of hooks and body shots to nullify Edwards' kicks.
Championship rounds await. Both men started out of orthodox as the crowd implored Edwards to attack his adversary. Edwards stuck with the game plan with his kicks as he caught him with the oblique, outside low kicks and the inside low kicks.
A slip by Usman implored Edwards to capture a takedown. Usman weathered the storm as the pair rose back to their feet. Edwards continued with his kicks, which has been his leading weapon throughout the fight.
Another takedown attempt by Usman was stuffed by Edwards who rose back to his feet and countered with a jab and yet another low kick. The former champ shot for another takedown which was yet again defended by the Brit.
The fifth and final round is finally underway. Edwards resorted back to the inside leg kick, which found its home throughout the fight. An immensely competitive fight between the leading 170lbers in the world.
Edwards went back to the head kick in the fifth round which found captured him the title in the rematch. Rocky followed with knees and elbows which found their home, whilst simultaneously defending Usman's takedowns.
Back to the stinging low kicks we go. Edwards' clinch and takedown defense has been stellar throughout the night. Usman landed his fourth takedown of the night, to which Edwards responded by getting right back up.
The final minute saw Usman commit a flurry of takedown attempts. However, to the dismay of the Americans, it resulted in no damage. An incredible title fight in the history books.
AND STILL!

LEON EDWARDS REMAINS THE UFC WELTERWEIGHT CHAMPION 🏆 @Leon_edwardsmma l #UFC286 pic.twitter.com/tcV241hVuy

— ESPN (@espn) March 19, 2023
Suffice it to say Leon Edwards quashed all doubts and closed the rivalry, capturing a majority decision. Rocky was awarded a 48-46 by two judges while one judge evaluated it as a draw.
What a moment for the Brit, who felt the love of his hometown fans, cementing his legacy. A moment to bask in his glory, deservedly so. A stellar moment for the 31-year-old. A tremendous performance for Edwards.
MMA world reacts to Rocky vs The Nigerian Nightmare trilogy
The trilogy was emphatic, as expected. Both athletes delivered in their performance. Edwards was immense in his display as neutralized the all-around threat of Usman. Enabling him to retain his title.
In his post-fight interview, it was announced Edwards would face long-time adversary and backup fighter for UFC 286, Colby Covington for his second title defense. An exquisite fight is in store for us.
See you in July @Leon_edwardsmma

— Colby Covington (@ColbyCovMMA) March 19, 2023
The MMA world was ecstatic for Rocky as they overflowed social media in elation for the Brit. Some of the best reactions can be seen below.
Super close fight.. judges probably gave the close rounds to their homie 😅 #UFC286 pic.twitter.com/7HWObFtu7V

— Billy Quarantillo (@BillyQMMA) March 19, 2023
Usman #UFC286

— Umar Nurmagomedov (@UNmgdv) March 18, 2023
Here we go champ!! @USMAN84kg it's ur night 🤲🏾

— Kevin Lee MTP (@MoTownPhenom) March 18, 2023
Former opponents and UFC Welterweights Nate Diaz and Belal Muhammad weren't impressed, to say the least.
Dirty fighter

— Belal Muhammad (@bullyb170) March 18, 2023
Still 👑 pic.twitter.com/QytwN2ucEL

— Nathan Diaz (@NateDiaz209) March 19, 2023
Current UFC Lightweight champion Islam Makhachev called for a Welterweight title shot at UFC 294 in Abu Dhabi in October. Depending on how the contest between Colby Covington and Edwards plays out, time will tell if the 155lbs champion gets his desire.
I want Leon next, October in Abu Dhabi 👊🏼

— Makhachev Islam (@MAKHACHEVMMA) March 19, 2023
Oh damn!! https://t.co/MKBQqawZl9

— Marcel Dorff 🇳🇱🇮🇩 (@BigMarcel24) March 19, 2023
A tremendous night for Leon Edwards who solidified his status as one of the Welterweight greats. The Jamaican-born star is now a perennial star in the history of martial arts as well as the UFC.
---
Share this article