What Role Did UFC Star Kamaru Usman Play in Marvel's Black Panther: Wakanda Forever?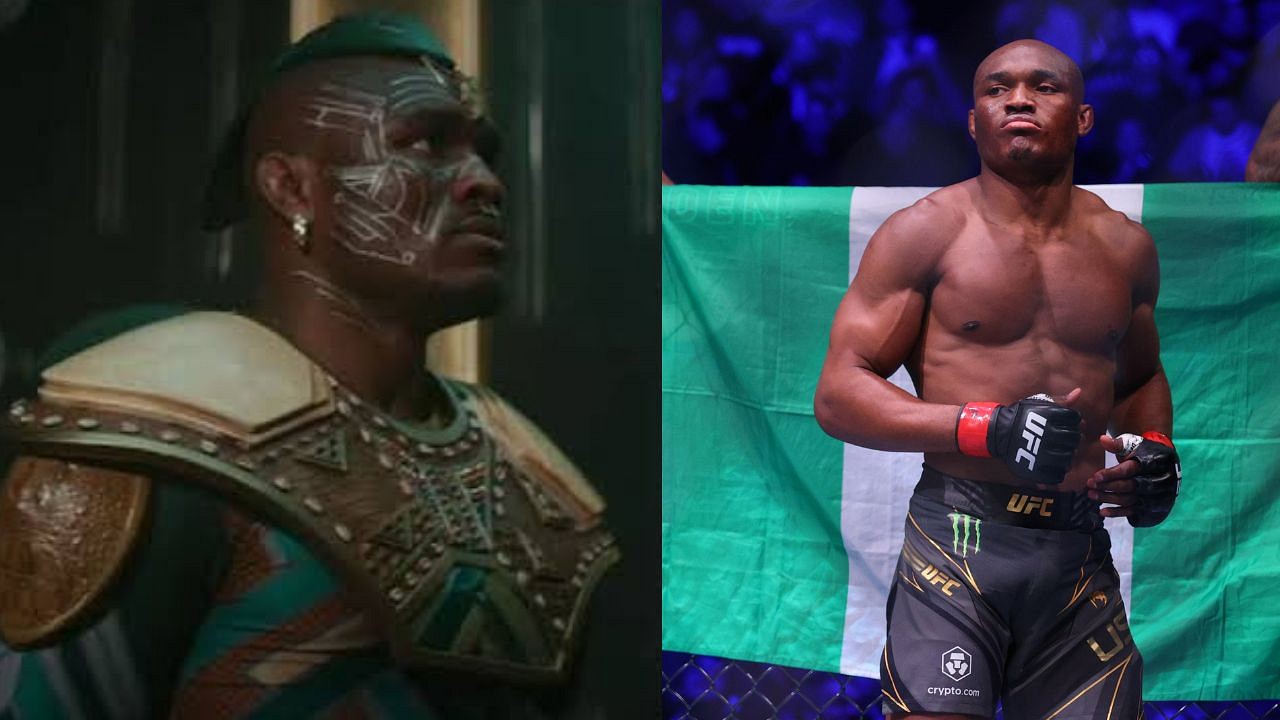 Kamaru Usman is one of the most successful welterweights in the UFC. This league is not an easy league to be a part of. Gorge St. Pierre is the greatest welterweight of all time and Kamaru Usman was very close to being that. His championship run in the UFC bought many eyes on him. He started making a lot of money and with his fashion he probably was noticed by someone from Hollywood. The next thing we know is Kamaru Usman Plays a role in Marvel's Black Panther: Wakanda Forever.
Even though he played a minor role, fans are excited to know the details of the role he portrayed in the movie.
Also Read: UFC 286: Kamaru Usman vs. Leon Edwards 3- Full Fight Card
Kamaru Usman in Black Panther: Wakanda Forever
The Nigerian Nightmare means all business when it comes to performing inside the octagon or in a movie. The intent on him looked good, and he did a pretty decent job acting wise considering this to be his first one.
Kamaru Usman played the role of a Naval officer in the movie. In an interview with Brett Okamoto, he revealed that there was a lot of fighting in the water.
"I played Naval officer 1 and I am in charge of something that's going in the water so, that's as much as I can give away but I can say a lot of this takes place with the water"– Kamaru Usman to Brett Okamoto in an interview
The faces of the fight game pulled up to stand with our brother @stylebender 👊🏿🌍🤴🏿🤴🏿🤴🏿 #AndStill pic.twitter.com/saZXTzrHbe

— KAMARU USMAN (@USMAN84kg) July 3, 2022
The Nigerian Nightmare said that he and his daughter watched the first Blank Panther over and over again. To now go back home and sit in his movie room and watch the new Black Panther, and for his daughter to always remember that her daddy is in that movie means the world to him.
Will Kamaru Usman get his title back?
UFC 286 is around the corner, and it will go down in the United Kingdom this weekend. Kamaru Usman and Leon Edwards will fight for the third time. Their first fight saw a pretty dominant grappling display by Kamaru Usman.
The second fight was also the same, up until Leon Edwards pulled a shot out of the fire and knocked Kamaru Usman into orbit. Despite praising the Knockout, Usman believes the only change needed in his game is for him to keep his hands up.
What's your prediction for the 3rd one?
Also Read: Islam Makhachev Claims Michael Chandler Lost on Purpose So He Could Secure Conor McGregor Fight
---
Share this article