Once upon a time in Manchester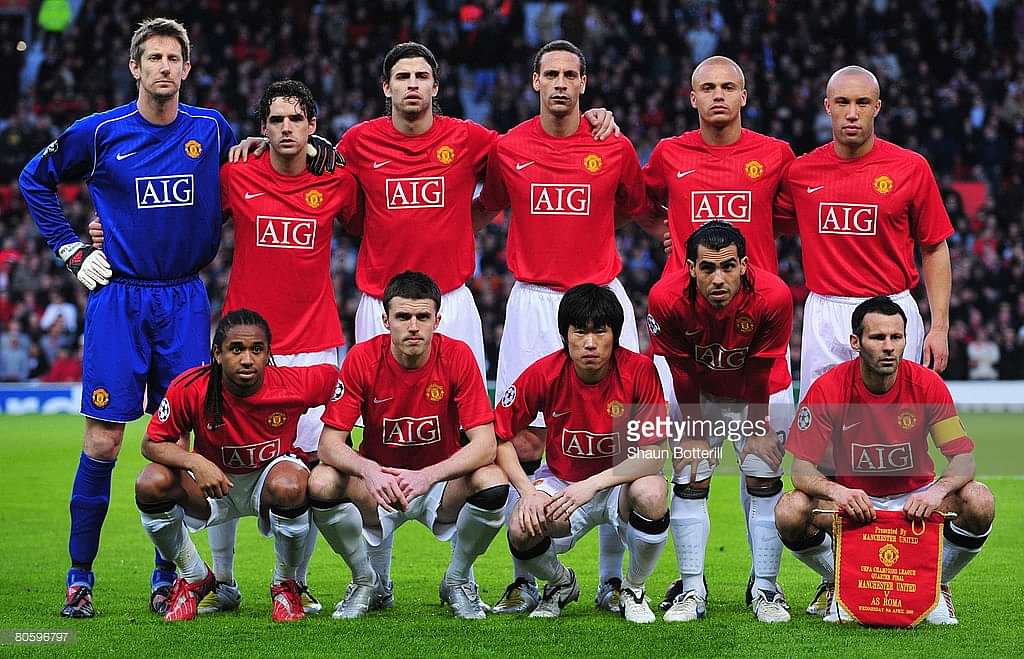 It's been 3 years since United won the league defeating Aston villa at Old Trafford. 3 years since that magical volley from RvP. 3 years since that famous guard of honour from Arsenal. 3years since that 5-5 draw against West Brom. 3 years since Sir Alex Retired. If someone would have predicted back then that united would be playing in an FA Cup final 3 years on, it would've felt normal.
However, no one could have predicted the fashion in which they reached the final or the quality of football on display these days. It is hard to predict of course, because even the players do not know what the manager expects from them. Your team is playing a cup semi-final against a very good team, if that doesn't raise the stakes surely the venue does- Wembley Stadium, you read the team sheet and find the second highest goal scorer in the club's history staring in a defensive midfield position and is making last gasp clearances off the line, the sort of thigs he should be forcing the opposition's players to do. Surely something is not right.
Being a football fan is very easy, you watch a team play, get amazed and identify yourself with them for the rest of your life and identify yourself with them. I fell for football and in particular Manchester United after watching Ryan Giggs and Cristiano Ronaldo charging down the wing terrorising defenders, Ruud van Nistelrooy scoring goals for fun, Rio Ferdinand and Gary Neville making a mockery of the opponent's attacks with Paul Scholes the main orchestrator commanding from the midfield.  The kind of thing you expect a great team to do, except that these players mentioned above will always be in folklore of this great football club.
The problem however these days is that there are no players like those who can make a 10-year-old fall in love with United. Honestly, if a 10-year-old kid watch united play now, he'll be bored to death. Let's face it, apart from three or four good performances all season, the games have been pathetically boring.
We couldn't even finish off the worst team of the year -Aston Villa, and had to take the ball towards the corner flag to run down the clock and that has been the case all season, there have been no commanding wins. In fact, the last player to score a premier league hat-trick for Manchester United was Robin van Persie back in April 2013.
United have never been always about winning trophies and being the best team on the pitch. It's about the style of football. Sir Alex Ferguson once said that It was his duty to entertain the 76,000 gathered at old Trafford. Someone please explain this to Louis Van Gaal, who always talks about his philosophy, in reality there is no philosophy, he always treats all games as the same, whether it's Wolfsburg away or Cambridge United at home, 2 defensive midfielders and try to knick in a goal, that's not the way united play, not that we are used to seeing them. The style which saw United become so successful over the past 2 decades under sir Alex was the simple 4-4-2 with pacey creative wingers on both the sides.
Last week Van Gaal found another excuse on being asked why his team could not challenge for the title with this answer," My players are not used to being champions". You do not become champions until you play fearless football the kind that Leicester has played this season, there is always a sense of fear amongst the united players, the manager has so much negative influence over their game, his possession based football with players being static is too predictive which other teams have read and used against united on numerousoccasions. But again, that's all part of the philosophy.
Apart from all the things Louis Van Gaal has done wrong at united, he has still managed to keep one part of the club's identity alive. The young players coming in from the academy. The likes of Rashford, Fosu-Mensah,Brothwick-Jackson are all destined to be great players. Wayne Rooney is not getting any younger and instead of playing deep maybe needs to lead the line along with Rashford which will ultimately benefit his growth.
Martial is one of the best young Wingers in Europe and Memphis Depay needs to change his attitude if he managesto stay at the club next season. And talking about people staying at the club, even if united win the FA cup, LVG needs to go. He has done nothing ever since taking over from Moyes two years ago always stating that United are a club in transition, instead transition was something he himself wanted. He got rid of almost all of Sir Alex's squad Van Persie, Kagawa,Nani, Rafael and Chicharito, not to mention Danny Welbeck. All of them are proven world class players, and he sold them just because they didn't fit in his plans, and calling it a transition and instead buying underperforming expensive players.
Take Marcos Rojo for example, he's a good defender and has played some decent games for Argentina but he would have not even made the bench under Sir Alex, he always looks nervous on the ball, can't cross it first time and most of the time ends up being subbed at half time if not gets injured. Had most of LvG's players been under Sir Alex, the club would have signed a sponsorship deal with an electronics company owing to increased demand of hair-dryers in the dressing room!
Whatever happens at the club in the summer, one thing is certain that needs to happen -United need to start playing with an attacking flair again, the boring possession based football has done no good over the last 2 years. Louis Van Gaal should probably lose his job in the summer, who comes in remains a mystery, it's a toss of a coin between Ryan Giggs and Jose Mourinho. I'd personally go for Giggs. Mourinho isn't a bad option either- he could be a total disaster or he could take on Pep and Conte to win the league.
---