WATCH: Gonzalo Higuain is absolutely lethal in training ground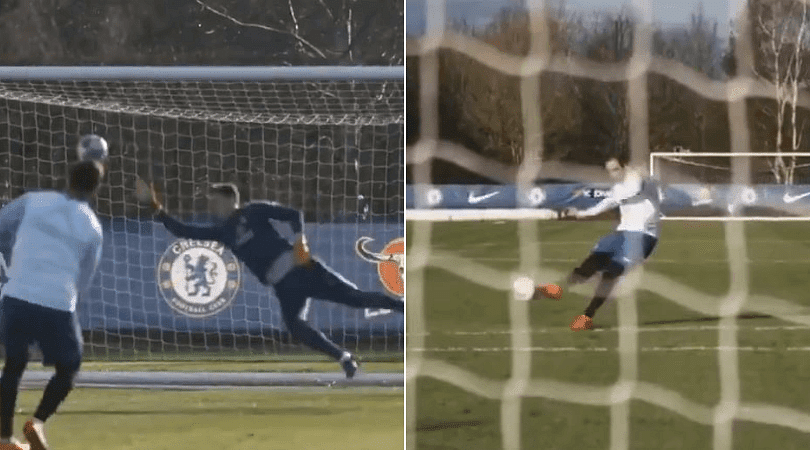 Watch some of Gonzalo Higuain's lethalness in front of goal in the training. 
Chelsea's prayer for a world-class striker has worked wonders as Maurizio Sarri was able to sign Gonzalo Higuain on loan until the end of the season who was spending his first half at AC Milan in a temporary deal.
It has been a tough season for the Blues with Olivier Giroud and Alvaro Morata frustrating Sarri during the first part of the season.
The Spanish striker has scored 7 goals from 25 appearances this term and is currently close to joining the reigning Europa League Champions Atletico Madrid in a loan deal. On the other hand, Olivier Giroud has been dreadful upfront, scoring just 5 goals in 28 appearances.
His record did not particularly look good with the Italian outfit, scoring just eight goals from 22 appearances in the first part of the season. One might question that the Milan outfit does not have much creativity as compared to Chelsea.
However, it looks like the Argentine is in fine fettle at the training ground with his finishing.
🔥 #HiguaIN pic.twitter.com/LV3oGjV4RA

— Chelsea FC (@ChelseaFC) January 25, 2019
🔵⚪️😀🥅⚽️🏃🏽‍♂️👌@ChelseaFC pic.twitter.com/aRIu1bGSsc

— Gonzalo Higuaín (@G_Higuain) January 25, 2019
The philosophy of Chelsea and AC Milan differ. Maurizio Sarri is a manager who intends to attack the game and take the game to opponents half, whereas Gennaro Gattuso focuses much on defensive shape, and chances are a premium under the Italian.
The Argentine striker played under Maurizio Sarri at Napoli and scored 36 goals from 35 games which prompted Juventus to buy from the Naples side.
When Higuain was asked about Sarri in the interview, the striker said "Maurizio Sarri is the coach who, in my career, has got the best out of me as a player. He's someone who knew how to work with me, particularly on the emotional side. T
"That year together was fantastic and in big parts thanks to him, so coming to work with him is very important for me. I'm really happy to have been given the opportunity to do that and I want to get back to that level."
"It was a wonderful season and one in which I broke the goalscoring record, which is very important out there. It was a fantastic year for myself and Maurizio, and a period which we shared together, even though it was a short time.
Now I'm just happy to be working with him again at a big club like Chelsea which has all the history and wonderful team-mates. I think everything is set on the right path to achieve our goals by the end of the season."
When he was asked if he was following Chelsea right from the start of the season "Yes, absolutely. I've been following Chelsea because I know the coach and I have friends here. Now I've joined the club I'm going to give my all to help Chelsea achieve our objectives."
Gonzalo Higuain has taken jersey number 9 at Stamford Bridge. The last time when a striker had success wearing that shirt number was Jimmy Floyd Hasselbaink. Mateja Kezman, Hernan Crespo, Khalid Boulahrouz, Steve Sidwell, Franco Di Santo, Fernando Torres, Radamel Falcao, and Alvaro Morata have all flopped with the number 9 at the back.
Can Higuain break that jinx?
---