WATCH: Loud love making interrupts Tennis match between Frances Tiafoe and Mitchell Krueger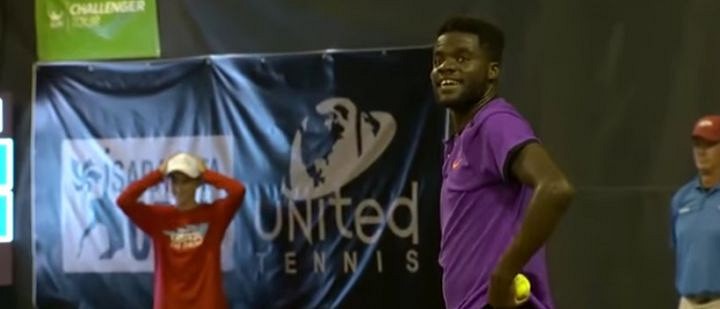 In a  bizarre incident that took place at the Sarasota Open, fans were treated with more than just the action on court. It was during the second set of match between Francis Tiafoe and Mitchell Krueger when the incident happened.
https://youtu.be/jVfZJFNYF0s
The video which has now gone viral on social media shows Tiafoe pulling out of his serve when he hears loud voices coming in from a nearby apartment. It was at that moment when Krueger went up to his chair and struck a ball right into the crowd, hoping for the volume to come down.
The commentator(Mike Cation) was lost for words, describing it as one of the most bizzare incidents that would have transpired on a tennis court.
"That is the most bizarre situation. I don't know how to put this, folks. Somebody's phone…going off in the stands… It was an adult video. I don't know how well you could pick that up at home," Cation says.
"I still hear it. It's still going. What is going on? No, that is not a phone. That's an apartment across the lake. That wasn't a video. At least somebody's having a good night."he added.
Tiafoe too joined in the banter by yelling "It can't be that good".
Even after the match ended, the banter continued on social media, as Bation, Tiafoe and Krueger took to Twitter to discuss about the bizarre incident.
Mitch…when you went to the chair to get the ball, I legit thought it was coming from your phone.

— Mike Cation (@MikeCTennis) April 19, 2017
https://twitter.com/mitch_krueger/status/854518013294497792
Much love to the couple with the windows open across the way! Sounds like you guys had a good time!@SarasotaOpen

— Mike Cation (@MikeCTennis) April 19, 2017
---