Mark Henry responds to claim that John Cena didn't want to work him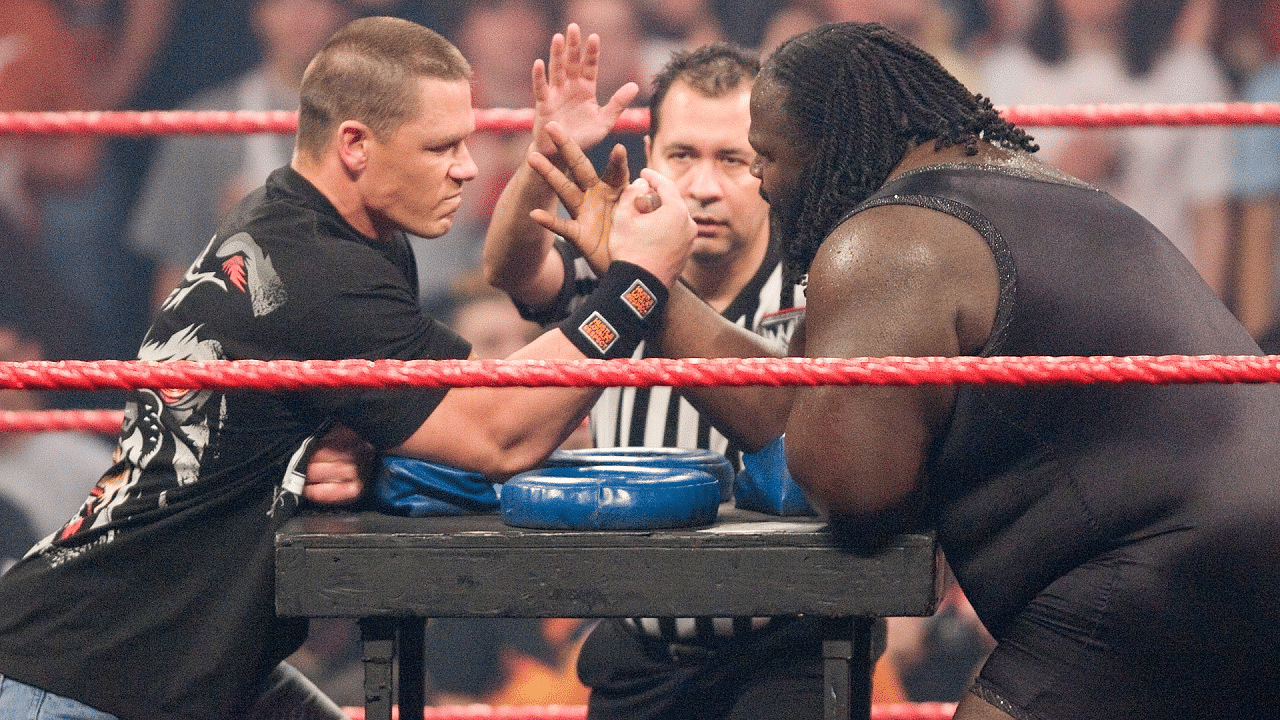 Mark Henry responds to claim that John Cena didn't want to work him. The former World Heavyweight Champion had a lot to get off his chest.
Mark Henry may have retired from wrestling. His feuding days however are still far from over. The WWE Hall of Famer was far from pleased with Ryback for calling wrestling fake on social media and proceeded to have a go at him.
Also read: Randy Orton unveils new masked look on WWE RAW
This irked Ryback who recalled how a WWE Producer called Henry "a fat of sh*t" right before their Wrestlemania match. He also claimed that John Cena did not want to work Henry and he had to step up in his stead. Henry has finally responded to Ryback and it seems like he wasn't holding back at all.
Mark Henry responds to claim that John Cena didn't want to work him
"We've all had our moments. There was a day when, guys, I hate to say it,  I was the shts. It sucks to say it but I'll tell you what. At the end of the day, I was pretty fcking good. Even when I was working with people like Ryback, I could take a nap and be better than that mother f*cker any day of the week. Holla at you boy," Mark Henry said on the  Busted Open Radio podcast.
"WrestleMania, when supposedly some agent said it, yea, ok, I believe that sht," he continued. "I believe that, that I'm the shts? Oh, let me see. After you left, the guy you said John Cena, you put John Cena out on front street and I'm sure John Cena would probably make a statement about how when he first got into wrestling, who did he ride in the car with? Me.
"Who's the guy that went to the office and say, 'Hey man, you all need to see John Cena rap. The dude is talented.' They said, 'You know what, this is awesome.' John was mad at me because he didn't want to be looked at as the rapper guy, but you got Thuganomics. You're welcome.
"Fck you Ryback. You're trying to tell me that I don't know what I'm talking about? That I'm not great? That I was the shts? You based it off and you throw it off an unnamed agent?
"I was famous for taking naps. There's nothing wrong with it. It's great. Vince McMahon himself has ribbed me, poured water on me, while I was sleeping because everybody would go, hey, is anybody got eyes on Mark Henry because he usually naps around this time.
"I challenge anybody, go back and look at the match at WrestleMania with me and Ryback and see if you see any holes in it. I was a hole filler even with people like you who other people didn't want to work with.
"You talk about the work rate, You wanted to get your sh*t in and think that was getting over. You can post as many videos as you want of you giving me finishes. It's not the real thing. Until you walk up to me and punch me in my face, the world won't know how violent I can be. So when you feel froggy like that, you let me know where I need to get a plane ticket to. I will show up for that because even at 50 years old, I'm more man than most men will ever want to be in their dreams.
"When you chopped me with those damn gloves on, I used to tell you every time, 'Hey man, you know you can take scissors and cut that metal bar out of the inside of those gloves and maybe you won't hurt everybody.' 
"Maybe I should tell them how you used to sit in front of Vince's office and beg to change everything because 'That didn't make you look big and strong' when I never did it because I knew I could make chicken salad out of chicken sh*t.
"Biggest guy and strongest guy in the company and I lost to Rey Mysterio, the smallest guy in the company and I didn't complain one bit. It was an honor. It was a privilege. I lost to a guy with one leg, Zach Gowan. Did I complain? Did I say, 'No, we are changing this?' Man, you need to get some business man. You just got destroyed."
H/T  WrestlingNews.co 
Click here for more WWE News
---