T-Bar brings up Sammy Guevara's provocative comment on Sasha Banks during Twitter beef. The Retribution member accused the AEW star of stealing his move earlier.
T-Bar accused Sammy Guevara of stealing his finisher earlier in the night. The AEW star did not take kindly to the accusation and shot back at the Retribution member. The WWE star has now brought up Guevara's sordid past into the mix.
Also read: T-Bar accuses Sammy Guevara of stealing his finisher, the AEW star responds
Guevara was in the firing line for his out of line comment he made about Sasha Banks. Last year an audio clip resurfaced from one of his interviews in 2016. In the clip, he can be heard saying that he wanted to rape the current SmackDown's women's champion.
The clip went viral and AEW suspended the wrestler. Guevara apologized for joking about something "that represent nothing but horror and pain." He also apologized to Banks herself and thanked her for helping him learn a gigantic lesson.
T-Bar brings up Sammy Guevara's provocative comment on Sasha Banks
Many including the two people involved from the story above have moved on. T-Bar however, decided to dig the past to get even with Guevara's comments about him not being used on television.
"Someone tell panda kid I had a singles match on TV last night, and I didn't steal the move from some backyarder," he wrote. "I thought of it in a professional wrestling ring with @Kill4nova. Try being creative sometime, instead of, oh I don't know, making jokes about rape," he wrote.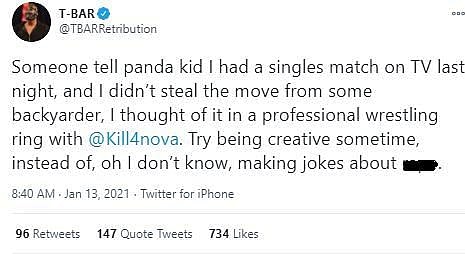 T-Bar has since deleted his tweet. He made one other tweet claiming that this was a dumb argument.
"You know what, everyone is right. This is a dumb argument and I'm deleting my contributions to it," he wrote before deleting that tweet too.
Click here for more WWE News