Why Is the Popular Finishing Move of Rey Mysterio Called "The 619"?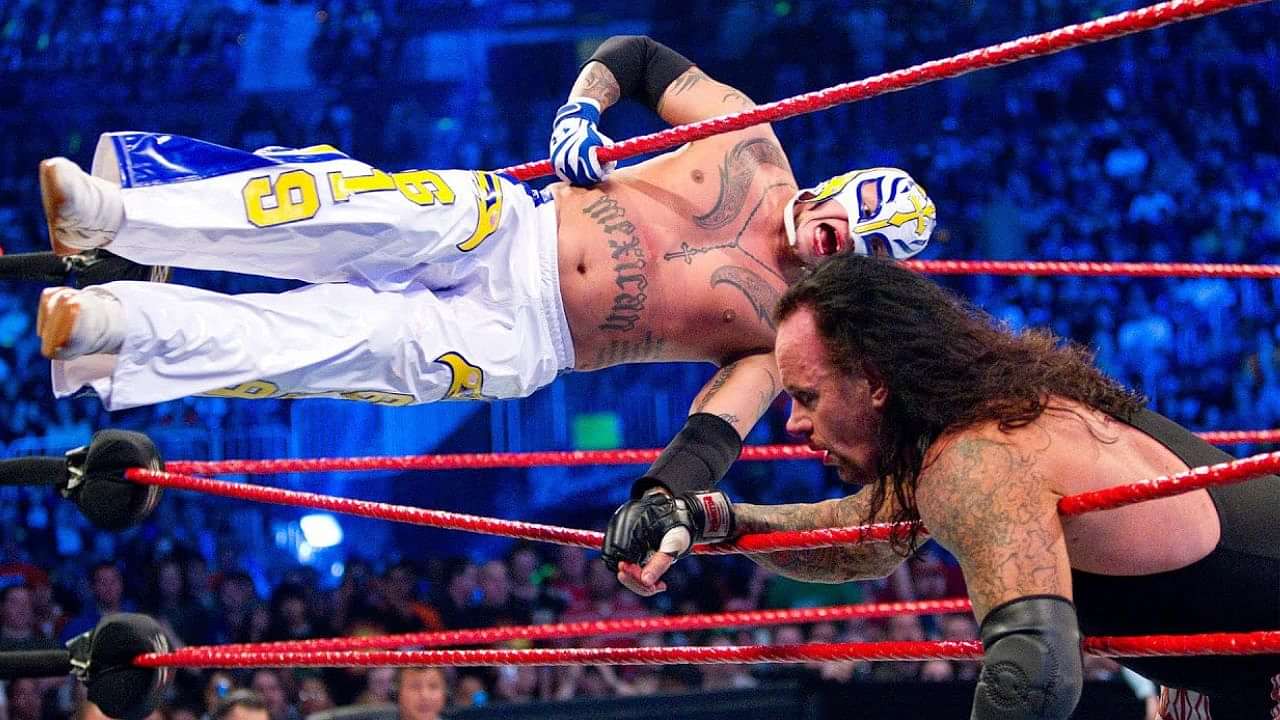 If you talk about the greatest wrestlers in Lucha Libre history, Rey Mysterio will definitely be among the top. Be it NJPW, Mexico, or WWE, The Biggest Little Man is admired across the globe for his outstanding in-ring work. For fans, Rey Mysterio is also a synonym for an iconic finishing move, "The 619". The signature movie is famous not only for its execution, but also for its name. Fans wonder why The Ultimate Underdog has chosen such a unique title.
To name their finisher, most of the wrestlers either pick the initials of their name or something catchy. However, the finishing move of Rey Mysterio is nothing but numbers. Well, let's dig out the reason why.
The finishing move of Rey Mysterio, The 619, Signifies the Area Code of his Hometown
If someone attaches a number to him/her in any way, the common assumption is, it's for luck. Sometimes, it could just be a date to remember. However, Rey Mysterio naming his finishing movie 619 had no such motivation. The number is rather related to an area that holds great significance in his life.
The Ultimate Underdog has named his signature movie after the area code of his hometown. Rey Mysterio is from San Diego, California, whose area code is 619. Instead of using initials or a catchy name, he chose to use the code of his hometown.
Interestingly, the finishing move Rey Mysterio uses is also not his creation. He has adopted it from one of the greatest high-flyers in pro wrestling history.
During the 80s, a similar version of the 619 was used by "Tiger Mask" in Japan. However, after joining WWE, Mysterio used it in his own way and say they say, The Rest Is History.
The Biggest Little Man was inducted into the WWE Hall of Fame Class of 2023
Rey Mysterio has been in the wrestling business for over three decades now. From starting in AAA to Japan to Mexico to WCW to WWE, The Ultimate Underdog has come a long way. He has faced legends like The Undertaker, Kurt Angle, Brock Lesnar, John Cena, and many more.
In WWE itself, Mysterio has held the World Title 3 times, the IC Title 2 times, the US Title 3 times, and the Tag Team title 5-times. The Master of 619 also became the men's Royal Rumble winner in 2006.
Recently, WWE honored his contribution to wrestling history by inducting him into the Hall of Fame. The Biggest Little Man headlined this year's ceremony, the night before WrestleMania 39.
Loading embed tweet https://twitter.com/SanDiegoLoyal/status/1641876225533825024?ref_src=twsrc%5Etfw
For More Wrestling News, Click Here.
---