"You Fu**ers" – Michael Cole Reveals How Triple H and Kevin Dunn Ribbed Him at Royal Rumble 2023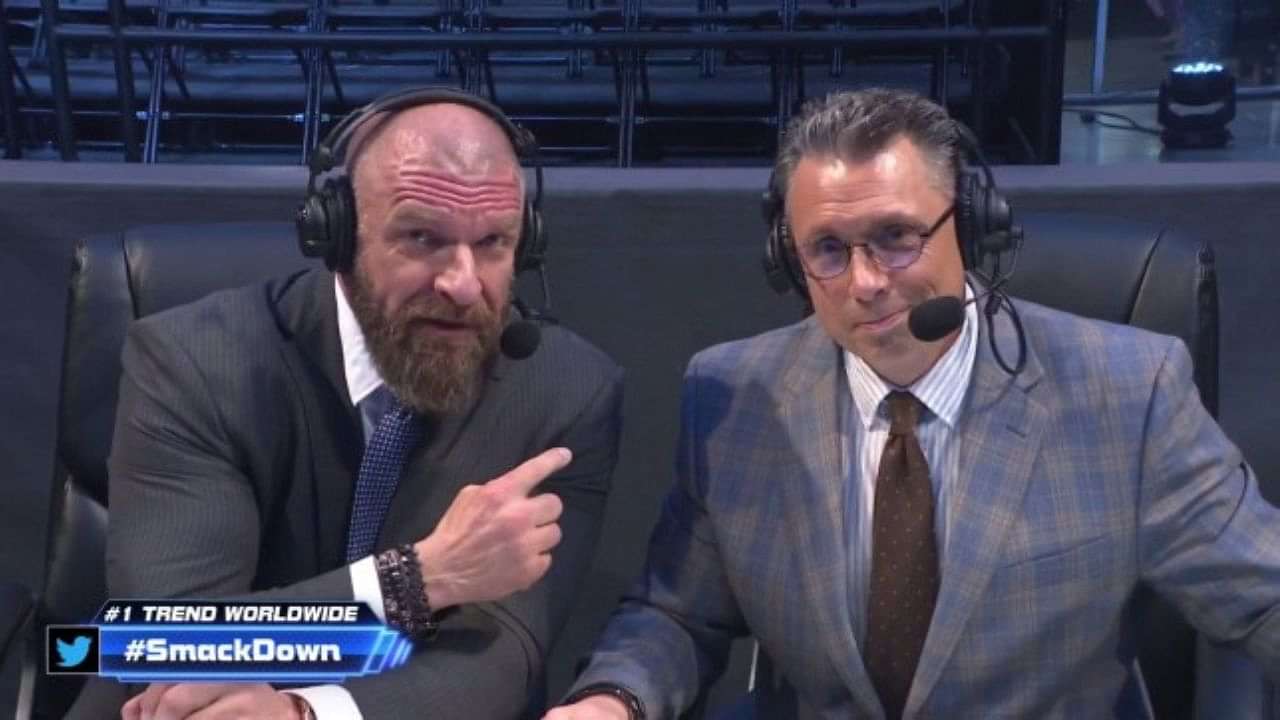 Last Saturday, WWE held the 35th edition of Royal Rumble PLE, where big names like Cody Rhodes and Edge made their return. The event, which broke make past records, also featured an epic main event featuring Sami Zayn and The Bloodline. While Cody and Rhea Ripley cherish Royal Rumble 2023 for their wins, one person will have a rather different memory. SmackDown commentator Michael Cole recently revealed that Triple H ribbed him during the show.
Following the historic event, Michael Cole made an appearance on The Pat McAfee show. During the podcast, the commentator of WWE's blue brand shared the shocker he received during the recent PLE. As a matter of fact, Cole claimed he hasn't been this shocked in the last 10 years.
Michael Cole shares how Triple H ribbed him at the start of Royal Rumble 2023
The show started with "The Boomstick" Pat McAfee making a surprise appearance. Well-known for his color commentary on SmackDown, the former football punter has been absent from WWE TV since the start of ESPN's College GameDay last year.
Anyway, Michael Cole had no idea that Pat McAfee would be making an appearance on the show. Only Triple H and the Executive Vice President of Television Production, Kevin Dunn, and one more person knew he was coming. So, when the music hit, Cole was clueless.
The only memory of McMafee's entrance Cole had was White Stripes, but this time, he had a different song. For the first couple of bars, he didn't know who it was. However, Triple H then spoke to him via headsets and Michael Cole realized he got ripped. Sharing the whole moment, Cole stated:
"When the first couple of bars of the new song hit, I didn't immediately recognize it… Then Hunter, Paul Levesque [Triple H] was in my ear, and he said, 'Are you gonna sell it?'… Then I looked up, and I saw your [Pat McAfee's] video board, and I'm like, 'Oh my God, you're ribbing me.'"
After the event, Michael Cole even texted Triple H and Kevin Dunn and said, "You f***ers, I can't believe that you guys ribbed me."
Well, despite all the things WWE management has to execute on live TV, they do have their fair share of fun moments. And Michael Cole getting ribbed by Triple H, is a good example of that.
Does the Royal Rumble appearance mean Pat McAfee is back in the WWE commentary team?
Outside WWE, The Boomstick is a successful podcaster and a famous sports analyst. Pat McAfee is super busy even if he is not working in the blue brand's commentary team. Last year, in September, McAfee announced he will be leaving to be a part of ESPN's College GameDay. Since then, the recent appearance was his first in the last four months.
Now that he has returned to the WWE at the Royal Rumble, fans wonder if he is back on the blue brand. Well, as of now, there is no official news on whether it was a one-time appearance or a full-time return. Though, he did take to Twitter to express his feelings.
Loading embed tweet https://twitter.com/PatMcAfeeShow/status/1619595440525291520?ref_src=twsrc%5Etfw
For More Wrestling News, Click Here.
---